When you go on vacation, just like when you're at home, you have to eat. And let's face it — theme park food can be quite expensive. But even in Walt Disney World, there are ways to save a few dollars on food and beverages.
One option is to eat outside of the parks as much as possible. There are a number of national chains and local restaurants within a short drive of the resort. But this requires leaving the park and driving to get to your next meal. Before going this route, be sure to factor in the cost of gas, along with the amount of time travelling and being away from the parks. For some, it's just not worth the potential savings. But if you are staying off-site, and plan on taking a mid-day break anyway, eating lunch or dinner outside the parks is definitely worth considering.
For those opting to stay in the parks or resorts for most of their meals, there are a number of options to cut some fat off of your dining budget.
First, try eating a light breakfast in your hotel room. Things like bagels, muffins, and toaster pastries are easy to store and don't require a lot of preparation. If your hotel room offers a refrigerator, microwave, or other kitchen equipment, consider preparing a light meal or snack there instead of eating at the parks.
Another tip is to bring water and light snacks with you into the parks. At Walt Disney World you are allowed to bring in plastic bottles of water, and snacks that do not require refrigeration. Snacks that travel well and don't take up a lot of space include granola bars, fruit snacks, trail mixes or nuts, etc. And if you're like me and aren't too fond of plain water, try a flavored water, or bring along single serve drink mixes to add into the bottles.
If your water gets warm, don't worry — you can swing by just about any quick-service dining location and ask for a cup of ice for free. They'll even fill it with regular water if you want. Savings on snacks and water alone can add up. For a family of four, cutting out buying one beverage and one snack per person per day can mean keeping well over $100 in your pocket over the course of a week.
When it comes to lunch and dinner, you have two options inside Disney: counter (or quick) service, and table service. Table service restaurants will definitely be more pricey, and you will also need to budget in a tip for each meal at one. Counter service is more casual, and the prices (in comparison to table service) are lower. Also, no tips to worry about at counter service eateries.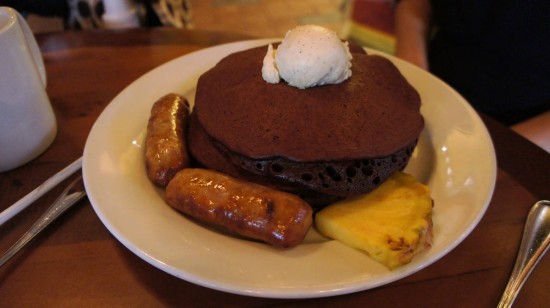 In the past, eating counter service meant lots of burgers, fries, and chicken fingers. And while you can still get the usual fare, there are also plenty of different options at each of the parks. For instance, Flame Tree Barbeque at Animal Kingdom offers ribs and pulled pork sandwiches; the countries in Epcot's World Showcase offer a number of different options based on their unique culinary backgrounds.
Another tip when ordering counter service — if you don't like a side that's offered, or if you think you can split one side between two people, you can often order just the main part of the dish. This will knock a dollar or two off the price, which can add up during your vacation.
If you love to indulge yourself on vacation, and are going to be staying at a Walt Disney World resort, you might want to consider the Disney Dining Plan. Several times a year the plan — which for one set price includes two meals a day, a snack and a refillable mug for use at your resort — is included free in select packages. But for those where eating is a big part of a vacation, even paying regular price might work out if you order the more expensive options off the menu. In either case, make sure you budget accordingly for table service restaurants, where tips are not included in the plan.
Having a budget before you go, and having reasonable expectations will help you save some money when you're eating your way through the parks. While budgets and savings are important, remember you are on vacation, so indulge a little bit and enjoy your trip.
Do you have a favorite low cost snack or meal option in one of the parks? Leave your tip in the comment section below!
Read our review of Flying Fish Cafe
[sws_author_bio user="nepalostparks" size="105″ authorposts="More OI posts by Bill" name_format="About the author"] [/sws_author_bio]