Point Orlando Resort on Universal Boulevard: My home away from home
While looking for a hotel for our big family trip to Orlando on hotels.com, I came across a deal that was too good to be true.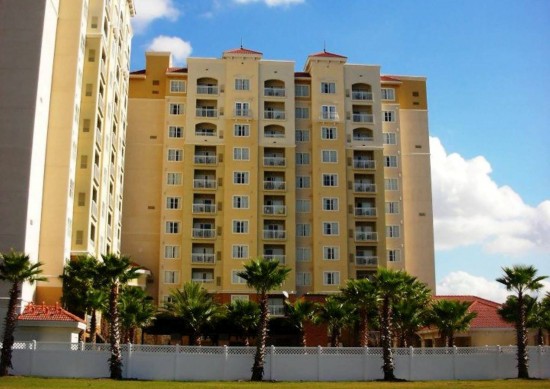 We needed a place to accommodate nine adults and a baby, and we needed it to include a full-size kitchen to make meals (less expensive than eating out). That's when I came across The Point Orlando Resort. A regular room was on sale from $248 a night to $99 a night. As I did a little more research on this hotel, I saw that they offered a two bedroom deluxe family suite, which included a full-size kitchen with all cooking and eating utensils, pots and pans, a microwave, a blender and coffee maker. The sofa had a pull-out bed, one of the rooms had a wet bar, a bathroom, and two king size beds, and the master bedroom had a king bed with a bathroom, which included a stand-up shower and jetted bath tub. Well, I went ahead and booked the room for four nights in hopes the pictures were not deceiving.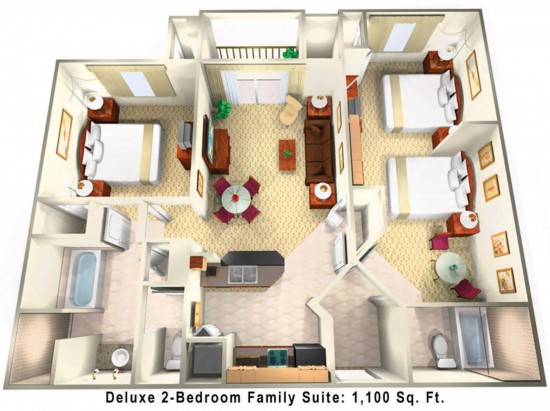 http://www.thepointorlando.com/photo-gallery/index.cfm
Well, the day finally came to leave for our journey to Orlando and we were super excited. My husband's family got to the hotel before us and my mother-in-law texted me the words "good job." Ok, I thought to myself, and before I knew it we were pulling into the parking lot. I noticed on the outside they had balconies, and I was hoping we got lucky and got one. We grabbed our belongings, headed through the sliding glass doors and I was in awe. As soon as I walked in, I felt as if I was in the most expensive hotel in Manhattan. Everything was clean, we were greeted as soon as we were seen, and everyone had a smile on their face.
Our room was located in the second tower, on the ninth floor. Now I was really excited to see our room. When walking through the front door, it was a hallway with two doors in front of you, one slightly to the left and one to the right. I walked through the one on the right and, wow, was it amazing. It had a huge kitchen with a washer and dryer. The living room space was also very big with a comfy couch, television, and a small dining room table.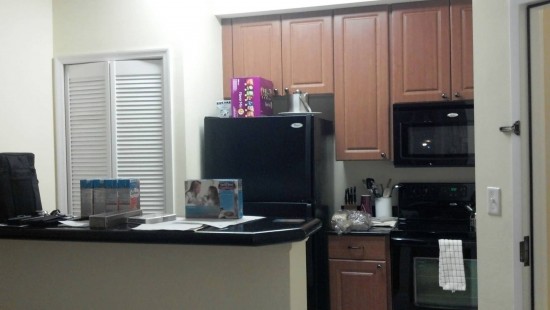 At this point I have the biggest smile on my face and remembered about the balcony. I went to the curtains, flung them open and saw that we did have a balcony. (Apparently, every room has one.) The view was amazing, and I could see Universal's Islands of Adventure from our room. Conveniently located near International Drive, the hotel is about two miles from Universal and has a range of different restaurants and shops nearby.
Editor's note: Point Orlando is one of the options on our list of Universal Partner Hotels within walking distance of the parks.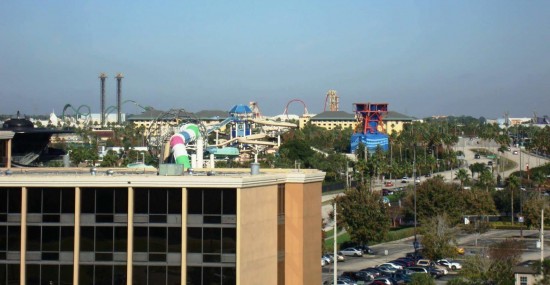 When I came inside, I started putting our bags into the master bedroom where my husband, daughter and I were staying. I've stayed at plenty of other places where the beds were hard as rocks. Their mattresses feel like your laying on a cloud and their pillows had just the right amount of fluff to them. Our mattress was a king, so we had plenty of space for all three of us to sleep comfortably. We also had a closet and dresser so we could empty our suitcases and tuck them away so we had walking space. Every room also had flat screen TVs that were about 36 inches. From the master bedroom, there is a door that led to the bathroom. This must have been the biggest bathroom I've ever seen in a hotel. It had a jetted tub fit for only one person, a stand-up shower, and a separate room with door that had the toilet.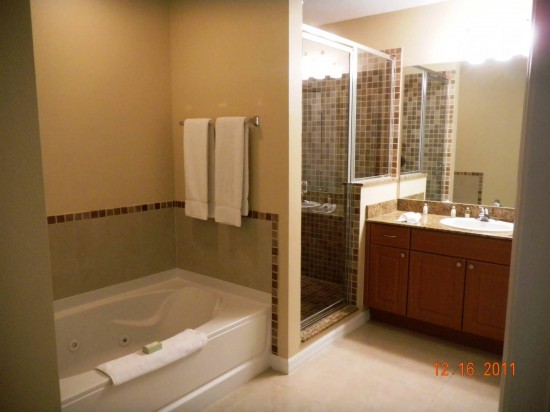 The door on the left in the hallway led to a room with a wet bar, which had a sink, glasses and a microwave. Their bathroom was an average bathroom with a bathtub and shower head, sink and toilet. The room also had two king beds and a little wall to separate the two for privacy. my youngest brother-in-law was the only one without a bed, but he did bring a single size blow up mattress that fit perfectly in the corner. This hotel also has an outdoor pool, hot tub, a gym, and a bar/café near the pool with couches and TVs. They do offer complimentary high-speed internet throughout the hotel and breakfast buffet at $9.99 a person. Lastly, there is always free parking and no resort fees if booked with hotels.com.
Everything about this hotel was amazing. The customer service, the rooms, the view, the pool, and the price. I really felt like I was home here, and no matter what my needs were, the hotel staff made sure that we were happy. I've stayed here twice so far and am planning on coming back in the future.
Point Orlando Resort – map & links
Click any marker to display the attraction or venue name. To scroll or zoom, use the controls on the top-left of the map. You may also switch to different map views by using the buttons on the top-right of the map.
Official website: http://www.thepointorlando.com
Point Orlando Resort – photo gallery
Click any image to view it full-screen. When the full-screen image is open, click to the right to advance through the gallery. If several thumbnails are missing, try reloading this page in your browser.
[sws_author_bio user="KrystalHamel" size="105″ authorposts="More OI posts by Krystal" name_format="About the author"] [/sws_author_bio]