From Harry Potter to Star Wars: The ingenious idea of mapping out themed lands across parks
There are a great number of reasons to get excited for Universal's current Harry Potter expansion at Universal Studios Florida, ranging from attractions to architectural details to that fabled train ride from London to Hogsmeade. But the biggest one for me is also perhaps the most esoteric: the simple fact that two distinct regions in the Potter mythology will be represented by (or at) two distinct geographical locations in the real world.
It's an almost trivial point upon first glance, but it really does portend a whole new realm of possibilities for themed endeavors. Taking a real train ride – well, "real" in the sense that you as a passenger start at one park and end up at another, even if it's not that great a physical distance (and even if it's not a real magical train) – adds a tremendous amount to the immersiveness of the whole she-bang, even if only on a subconscious level. This, in turn, increases the enjoyment and expands the spectacle. It also manages to increase ticket sales for Universal, which was undoubtedly a major tent pole of the project right from day one.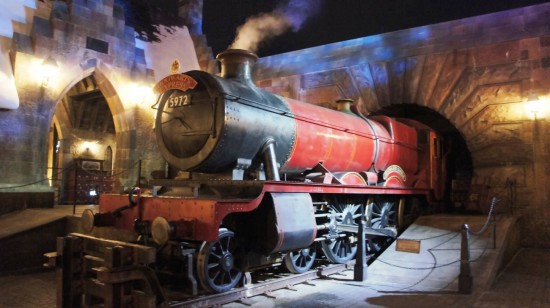 It's not enough that Universal Creative managed to (mostly) faithfully recreate the topography of Hogsmeade inside the Wizarding World of Harry Potter, starting with the train station and progressing to the candy shop and Hog's Head pub before ending at Hogwarts Castle; they're now furthering the spatial relationship between destinations on an almost exponential level. It's a novel prospect and an ingenious idea.
It also just may well turn out to be the future of all theme parks.
Well, scratch that – all theme park empires. And there ain't no bigger empire around than Disney, and there ain't no bigger property (both in terms of commercial appeal as well as the number and variety of possible locations) than Star Wars.
Yes, we just recently went over how the rocky relationship between certain key creative personalities at Lucasfilm and Disney prevented any major movement on this front, and how, because of this and the sheer amount of resources that must be mobilized to erect any attraction, it'll be at least a little while longer before anything substantial materializes. With that said, it's never too early to start dreaming – and Harry Potter has certainly got me fantasizing as of late about what 11 (soon to be 12) parks and 20 planets can do.
Think of it. Disneyland over in Anaheim can have a new land annexed to it that is a faithful and highly detailed recreation of Coruscant, the central planet of the Star Wars saga, replete with – in true Wizarding World of Harry Potter style – gift shops and dining experiences and bathroom breaks that are just as much of an attraction as the rides themselves are. (And what rides would those be? A speeder chase with Obi-Wan and Anakin through the city-planet's various districts would be a good start [as seen in Episode II: Attack of the Clones], though the real show-stopper would be the larger-than-life starfleet battle in orbit [Episode III: Revenge of the Sith].
From there, one could stroll over to Geonosis at California Adventure – the rustic hues and rocky plateaus would be a good fit for the west coast-themed park – before taking a flight to Disney World to visit Tatooine (Magic Kingdom), Hoth (Epcot), Kamino (Hollywood Studios), and Endor (Animal Kingdom). Next up would be Tokyo Disneyland's Death Star and DisneySea's Mustafar, and the stop after that would be to Paris, to experience Disneyland's Naboo and Walt Disney Studios's Alderaan. Wrapping up the worldwide tour would be Hong Kong Disneyland's Dagobah.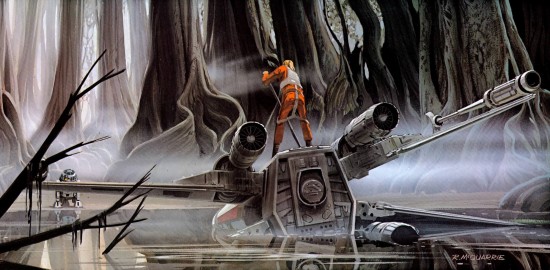 What does this get us, beyond the ability to fill Disney's global coffers in a way that we've never been encouraged to before? In addition to the sense of really traveling to places that are far, far away (the whole immersive factor again), it's all in how Disney implements the connective tissue between each of the parks, much in the way that Universal is setting up a "real" working Hogwarts Express. Their cruise line could offer hyperspace service (tying into the Star Tours attractions), or cast members could enact different scenes with you, depending upon where you've been and where you plan on going next, or different rewards – from drinks to exclusive pieces of merchandise to, even, room upgrades – could be waiting for you at the next spaceport. At the very least, the obsessive-compulsive pin collecting that many a Disney-phile already engages in could be given a whole new – and far more compelling – context; at the very most, Disney's NextGen technology could literally have the experiences around you in restaurants or in front of you in rides be tailored made to the planets and characters and vehicles you've already "unlocked."
It's this last point that is the most enticing. The possibility of reenacting the entire six- (er, nine) part story is a very real one, including a grand finale of killing the Dark Lords of the Sith, destroying the Death Star, and helping Luke Skywalker reinstate the Jedi Order. And all this can be done with a level of detail that only a great, wide swath of real-estate would allow, one that, in total, would be far larger than anything possible in just one single location (yes, even at Disney World). The give-and-take here is, quite simply, breathtaking.
Now all we theme park-goers need is a wallet equally as breathtaking in size.
[sws_author_bio user="msunyata@yahoo.com" size="105″ authorposts="More OI posts by Marc" name_format="About the author"] [/sws_author_bio]