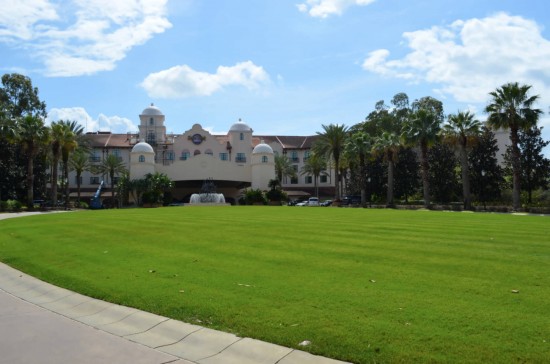 Many places give you the experience of feeling like a rock star, but few let you live like one. The Hard Rock Hotel at Universal Orlando is one of those places. From the moment you pull onto the grounds you are greeted with valet service (self-parking also available).
Just through the front doors is their grand lobby; decorated with true star memorabilia and a clock unlike I've ever seen before! The time is projected onto the ground in front of you! Checking in has never been a problem for me; they go out of their way to make your stay as memorable as possible.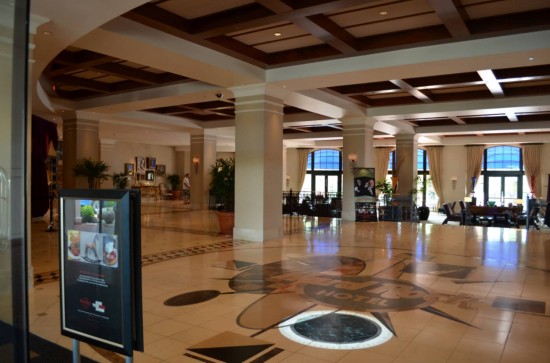 Around the corner is the Velvet Bar, which I've been to a small handful of times. It's a very sleek welcoming bar, if there is one! Perfect for a quick drink, which I've done before going out into the parks at night, or even for a long night out. It's equipped with comfy zebra print seats around candle lit tables. Just outside the bar, and the surrounding lobby is their balcony overlooking a beautiful pool. The Hard Rock Hotel has some of my favorite bars in the Orlando area. Connected with the Velvet Bar is Velvet Sessions, a "rock & roll cocktail party" hosted by a number of great bands. Held the last Thursday of every month, excluding Nov. and Dec, in the Hard Rock Hotel Lobby Lounge and Velvet Bar. To check ticket prices and who will be performing next visit VelvetSessions.com or keep on eye on the OI blog.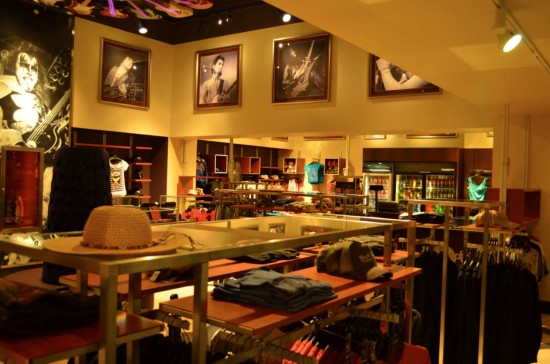 Just outside is their incredible 12,000 square foot pool! While your favorite music fills the air, the pool is equipped with underwater speakers so you will never miss your favorite tune. There is something for everyone, whether it be the 260ft water slide, two hot tubs, children's play fountains, ping pong tables, full bar and grill, or even renting your own private cabana! Each cabana is decked out with a ceiling fan, drinks, flat screen tv, wireless internet, and your very own server making life as relaxing as possible! (To rent, call 407-503-2236).
That's not all! They have concerts and DJs poolside to entertain and liven things up! I've personally been around for both, and it's a lot of fun! The DJs play games involving the children and keep it interesting.
The Beachclub pool bar and grill is very relaxing to lounge around at. It's outside but completely covered so you have shade and hope of keeping cool.
Moving back inside lets take a look at the rooms! I've always had a soft spot for these well-equipped rooms, they truly make you feel like a rock star. The standard rooms are decked out with an iPod clock radio and CD player so you'll be able to rock out to your own music, not too loud though, you have neighbors! Also a mini fridge, 32" flat screen, safe, wired & wireless internet (fees apply) and even a coffee maker with various coffees free of charge! The standard rooms are 375sq. ft. and come with two queen-sized beds. They come with either a limited, garden, or pool view depending on how much you are willing to pay. If you have the extra cash, I would say go for the pool view, because not only will you have a view of the Hard Rock nightlife, but you will also be able to see a view of inside Universal Studios park! Perfect for getting you excited in the morning when you wake up, look out the window, and see anxious guests cranking up the 167ft Rip Ride Rockit lift about to plunge towards the earth and 65 miles per hour! The hotel is just a short walk away from both Universal Studios and Islands of Adventure, but if walking isn't your thing, then hop a free boat, or jump on a buggy, which is also free but they work off of tips.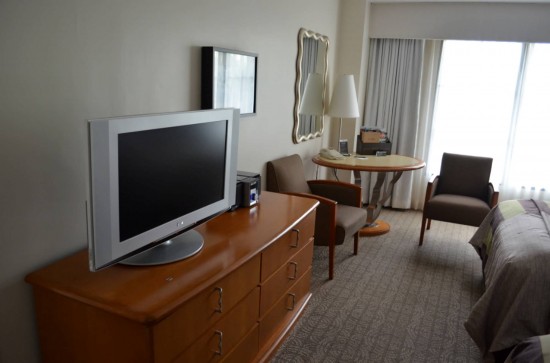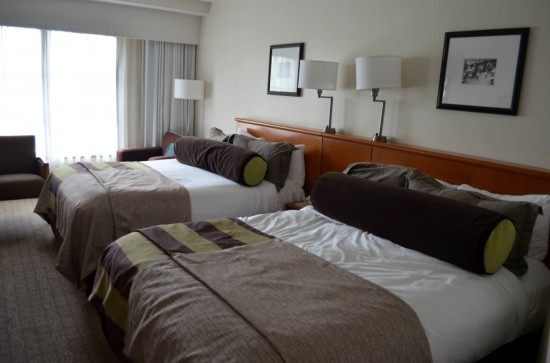 The Hard Rock Hotel is by far a favorite on Universal property. With the professionalism the you would expect, but with an amazingly fun shell to give you nights you will never forget!
If you would like to learn more about Hard Rock Hotel and staying on-site at Universal, I recommend that you check out these pages in the OI Universal Center:
On-site hotels at Universal Orlando
Hard Rock Hotel Orlando: Live the rock 'n roll lifestyle (includes over 200 full-screen photos)
Comparing Universal Orlando's three on-site hotels
[sws_author_bio user="BlaineCummings" size="105″ authorposts="More OI posts by Blaine" name_format="About the author"] [/sws_author_bio]