From famine to feast: The balancing act that is Universal Studios Florida
When I visited Universal Studios Florida in February of this year, the park was, at best, a half-day experience. After braving Hollywood Ripe Ride Rockit, conquering Revenge of the Mummy, and laughing through the Simpsons Ride, there was only a smattering of B-tier – or lower – rides left to wade through. And though each of these, from Disaster to Shrek 4D, has some particular charm to it, they really are piteously outshone by the Big Three.
Thank goodness for the shows, which not only managed to round out USF's roster of attractions, but which also made our staying at the park until close possible. Animal Actors on Location is incredibly short but a great deal of fun, the Horror Make-Up Show is a barrel of laughs (particularly when the co-hosts pick non-English-speaking Brazilians as their relentless targets), and Fear Factor Live is… well, a novel experience in the history of themed attractions, given its status of being the first stunt show to utilize actual park guests (too bad there's nothing else [positive] to be said for the experience).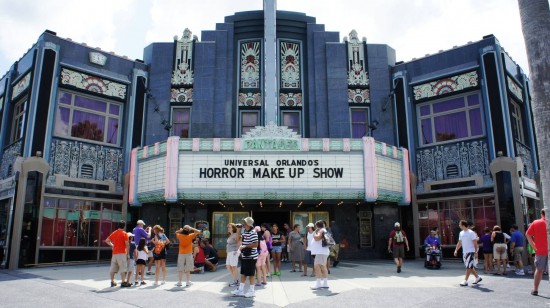 It's a rather precarious dilemma, really. On the one hand, depending so fundamentally on such shows to justify the price of a day's admission is understandable, given Universal Studios' positioning as a movie production park; on the other hand, it's a rather tenuous proposition, as Beetlejuice's Graveyard Revue is a sad brother-in-arms to Revenge of the Mummy. If it weren't for the fact that (a) USF closed at six o'clock that day and (b) we had park-to-park access, allowing us to finish out the day at the Wizarding World of Harry Potter, I would, quite honestly, have felt cheated with my stay there.
(Further complicating the matter is Universal's slow-but-steady decision to transform its production studios to traditional theme parks worldwide; once visitors can simply waltz into, say, Despicable Me's narrative reality without having to first access it through a filmmaking angle, the feasibility – not to mention the desirability – of having shows dedicated to behind-the-scenes peeks of animal actors or horror make-ups is immediately put into question.)
The truth of the matter, of course, is that Despicable Me: Minion Mayhem was still a good four months away from opening, and even the addition of this one ride would have substantially bolstered Universal Studios Florida's offerings that dreary February day, particularly given how enjoyable the experience has turned out to be. And that's not even taking the closure of Amity, one entire section of the park, into account; had Jaws and its surrounding midway and dining options been available, the day would have played out a bit differently – and a bit more contentedly.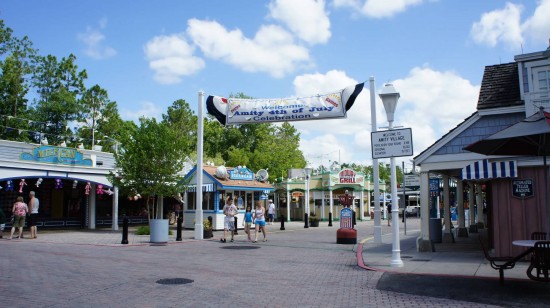 Jaws was yet another B-level attraction, though, and Amity would have proven to be more time filler (or is that killer?) than E-ticket material. This is what makes Universal's rumored decision to renovate the area into Harry Potter's London so exceptionally smart: by innovating with yet another cutting-edge dark ride in the form of Gringotts Bank, and by filling out the environment with highly detailed and immersive experiences (such as Weasleys' Wizard Wheezes or the Leaky Cauldron), USF will quite literally be pushed into an entirely different echelon, maybe even within striking distance of its sister park, Islands of Adventure. And the fact that a working, honest-to-God Hogwarts Express will connect the two parks in one simple, seamless move will only be icing on the cake – and, just possibly, inspiration for future developments at Walt Disney World or the Disneyland Resort.
Then there's the unexpected construction work over at Soundstage 44, next to Despicable Me and Shrek. The rather abrupt development is actually a quite welcome one, as it not only means that yet another AAA attraction – supposedly Transformers: The Ride – is in the works, but also that Universal is looking to expand its lineup beyond what has been its status quo for over a decade; Despicable Me might have replaced Jimmy Neutron's Nicktoon Blast, and Gringotts, Jaws, but there hasn't been an attraction in Transformers's future home since 1999 (when the filmmaking-centric Hercules and Xena: Wizards of the Screens bowed out). The overhaul from more-or-less empty real estate to what could very possibly be the crown jewel in Universal Studios Florida's portfolio is a testament to the company's desire to provide a bigger, badder park, thanks to the vast increases in attendance and scrutiny that the Wizarding World has provided it for the past two years.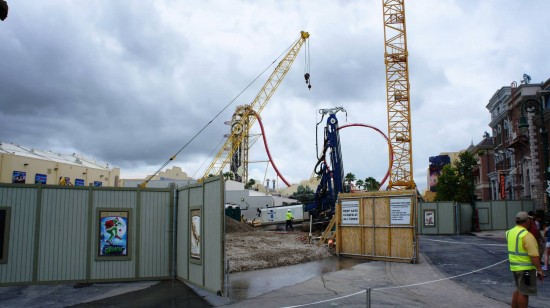 The Simpsons Ride, Harry Potter, Hollywood Rip Ride Rockit, Despicable Me, Transformers – all of a sudden, USF is more than a half-day visit, and all the other experiences on hand are rendered more appetizer than placeholder. In fact, Universal's first built-from-the-ground-up theme park looks to be a top contender for world-class entertainment, easily competing with Magic Kingdom or Epcot or, even, California Adventure, another park that has languished in the middling ground for years only to just recently metamorphose into a must-visit destination. The question, ironically enough, will soon be: is there now too much to do at the park?
That, however, is the future. With Gringotts and Transformers still a good two years away – along with a new hotel and, just maybe, some just-around-the-corner developments at Islands – the reality of USF is still one of limited, albeit fun, opportunities. Just how Universal will be able to help balance out its now-perpetually-under-construction park for the immediate future, as well as how it will be forced to revisit and revise Islands of Adventure and CityWalk in the not-too-distant future, is very much up in the air.

Walt always said that Disneyland would never be fully complete, that it would forever be under development. Now that Universal Studios Florida has entered that same hallowed ground, some 55 years after Disney's grand proclamation, it'll be most interesting to see how the company can compete – or, just possibly, thrive.
[sws_author_bio user="msunyata@yahoo.com" size="105″ authorposts="More OI posts by Marc" name_format="About the author"] [/sws_author_bio]