Texas de Brazil, located on International Drive near Universal Orlando, is an authentic Brazilian-American Churrascaria, or steakhouse. It combines the cuisine of Southern Brazil with the spirit of Texas, or simply put, a meat lover's dream.
The signature cooking style at a Churrascaria is the technique in which they cook the meat: grilled over an open flame. This technique comes to the United States from Southern Brazil , where gauchos (cowboys) prepare meals over a campfire.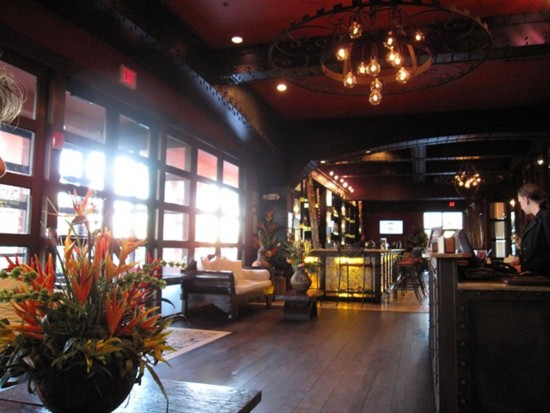 At Texas De Brazil, endless amounts of high quality beef, chicken, lamb, sausage and pork are delivered table-side one after another, as much as your stomach can hold. Aside from the meat offerings, many don't realize that Texas De Brazil also offers a world class salad bar loaded with excellent cheeses, olives, soups, sushi, anti-pasta's, salad and more. Together, they make one carnivorous (with a side of vegetation!) meal fit for those with large appetites. Want some wine with your meal? Texas de Brazil has in-house wine connoisseurs that will help you select from their extensive wine selection, as well as signature cocktails.
Texas de Brazil is a more costly dining option in the Orlando area, with prices ranging from $19.99 – $46.99 depending when you dine and what option you choose. But if you have the money it is worth the cost and a fun experience. I highly recommend signing up for their e-Club, as you will receive information about special events, coupons and a Birthday offer to name a few things.
The dining experience works like this… Once seated, you are briefed on your green/red card that each person is supplied with at their table. This system is really simple. Green means GO! and red means STOP!.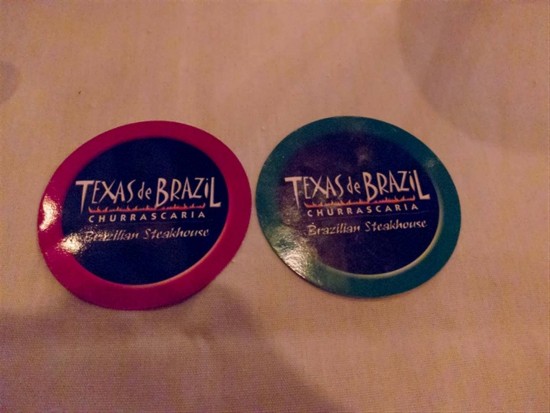 As soon as you flip your card to green, the gauchos, who roam constantly around the restaurant between the tables will look out for this. Once they do, they will come one after another with their sizzling skewers of meat. Politely they will describe their offerings and it is up to you decide if you would like some or pass. If you accept their offering, generally you will be asked to grab your supplied tongs and help aid them while they cut the meat directly off the skewer. In some cases, like the sausages, chicken legs or smaller meat cuts, they will just drop them directly on your plate. One after another they will come with different meats until your plate can hold no more. Flip your card to red and they will stop coming to your table so you have a chance to eat.
Finish your plate and want more? No problem! Flip the card back to green and it will start all over again. You can also ask your waiter for a specific offering, such as the bacon wrapped Filet Mignon (personal favorite), and they will promptly get it delivered to your table as soon as possible. Now for those worried about how the meat is cooked, from my experiences, generally most of the beef is cooked at about medium/medium rare, but if you would like a specific item cooked longer just ask! They will be happy to get you exactly what you want, how you want it.
Besides the endless amounts of tasty meat you will be dining on, you are also given some traditional Brazilian sides including mashed potatoes, super delicious house-baked Brazilian cheese bread and fried bananas, both of which which I love! They are meant to cleanse the palate in between the different meats to taste the subtle differences in spices and flavor, but I think most will just eat them for pure enjoyment, myself included! Along with these side items, the whole salad bar is at your finger tips. Although many may turn their head away from the salad bar given the type of restaurant this is (you did come for meat and lots of it, right?), I would advise you not to. The salad bar in my opinion should be utilized to add complimentary items to your plate to eat along with your various meats. Pairing various cheeses, olives, rice and anti-pastas helps diversify the endless meat that you will endure.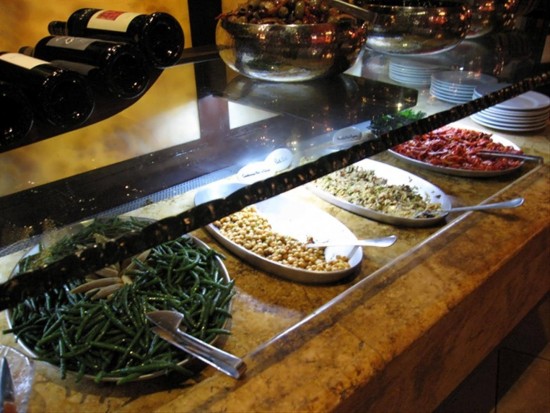 Some things to keep in mind:
Desserts, beverages, tax and gratuity are additional. You may want to check about free refills, it varies depending on the beverage.
I highly recommend making reservations in advance as there is always a crowd. We had to call in late once for our reservation, but since we did call and let them know we would be late we were still seated as soon as we arrived and there was quite the wait for those who did not have a reservation.
If you have children who are picky eaters this might not be the best option for them, however they do offer children's pricing. 2 years and under are complimentary, 3-5 years are $5.00, and 6-12 years are half of the regular dinner price.
Texas De Brazil offers Senior and Military Discounts. You can learn by clicking here.
Hours of operation, menu and prices vary by location.
With the gracious offerings of the salad bar and great variety of meat, you will for sure have yourself an amazing dining experience. Whether it is you and a loved one, your whole family or a group of friends, everybody will enjoy the experience that is Texas de Brazil!
Texas de Brazil Orlando – map & links
Click any marker to display the attraction or venue name. To scroll or zoom, use the controls on the top-left of the map. You may also switch to different map views by using the buttons on the top-right of the map.
Official website: http://www.texasdebrazil.com/orlando
Texas de Brazil Orlando – photo gallery
Click any image to view it full-screen. When the full-screen image is open, click to the right or use the right arrow on your keyboard to advance through the gallery. If several thumbnails are missing, try reloading this page in your browser.
[sws_author_bio user="jewels" size="105″ authorposts="More OI posts by Julie" name_format="About the author"] [/sws_author_bio]