Loews Hotels announces special one-day sale on June 7 (Update: Universal Orlando properties not included)
Update 6/6/12
Turns out that it isn't the Summer of Loews — or, at least it isn't the Summer of Loews in Orlando. As several of our readers suspected, the special one-day Loews Hotels sale that starts tomorrow (but really started this evening) does not include the Orlando properties:
Oh well, it was worth a try.
Original post
This email popped up in our inbox a few days ago…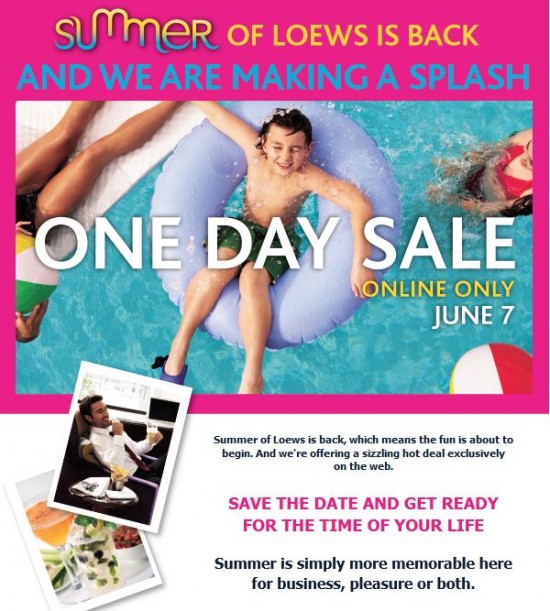 As I'm sure most of our readers know, the three on-site hotels at Universal Orlando (Royal Pacific Resort, Hard Rock Hotel, and Portofino Bay Hotel) are operated by Loews Hotels. And, you probably know too that they are not the least expensive option in town. So it is always great if you can book a room at a discounted rate!
Unfortunately, for this particular promotion, Loews is keeping their collective lips sealed. The link in the email goes to this page:
http://www.loewshotels.com/?chebs=email_3046065_vv_ss_en_yf_summerofloews_05302012
And as you can see for yourself, there is zero information about the one-day sale other than a countdown clock.
Nevertheless, we wanted to bring it to your attention just in case you are about to book your stay at Universal. It is worth noting that, if you take advantage of a discount rate directly through Loews, you will not be able to book a Universal vacation package. The good news is that you can still get Early Park Admission to the Wizarding World and unlimited Express Pass access. However, you will not be able to book the Harry Potter breakfast or the new Universal dining experiences.
Now we will just have to wait and see if the discounts are really that good!
For our readers who are interested in learning more about Universal Orlando's on-site hotels, we encourage you to visit our On-site hotels section in the OI Universal Center — which features tons of insider information about the resort properties and over 700 full-screen photos.