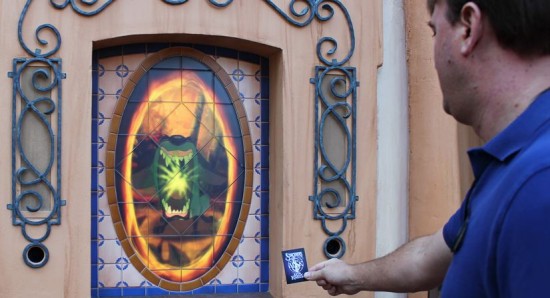 Some of Disney's most notorious villains are plotting to take over the Magic Kingdom at Walt Disney World, and it's your job to help Merlin stop them!
Sorcerers of the Magic Kingdom is the newest attraction at the park, officially opening on Wednesday, February 22, 2012. Guests can become apprentice sorcerers at the Firehouse on Main Street U.S.A., which is located on the left side of the town square after entering the park, near the Emporium. Inside, you'll receive your key card, which opens the special portals around the park, a special map showing the locations of the portals, and five spell cards to start your adventure. Each member in your party can play separately, or you can appoint one member to be the sorcerer apprentice. If it's your first time playing, a cast member will also take you to the side for a short training session with Merlin. Then it's off to your first portal!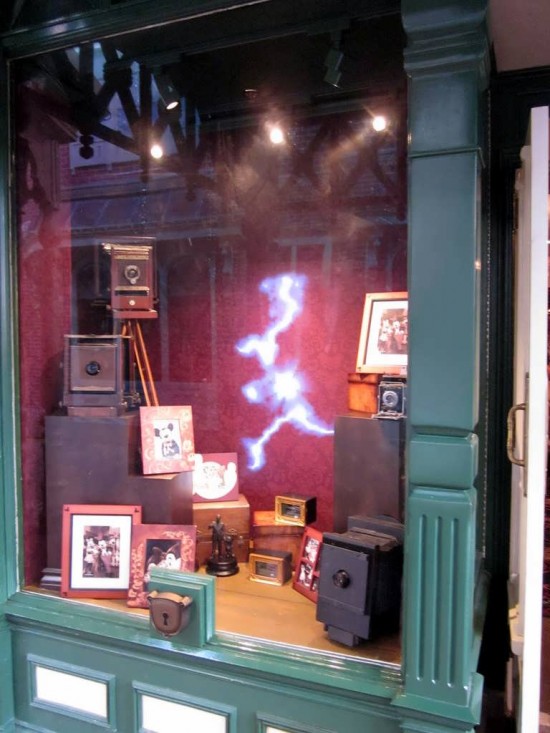 If you've played Disney's Kim Possible World Showcase Adventure in Epcot, the basic concept is similar. But instead of using a cell phone to activate special items in the various countries of World Showcase, you use your special key and spell cards to defeat villains at magical animated portals, which only come to life when you activate them.
Children I saw playing along the way seemed very excited about the game, and were certainly captivated by being able to interact with the magical portals. Since there are a number of villains, and you need to visit multiple portals in each land to defeat each one, this can certainly become a time consuming endeavor for families on a short vacation stay. But playing one adventure and defeating just one villain shouldn't take more than 30 to 45 minutes, depending on how many other apprentice sorcerers are on their own adventure.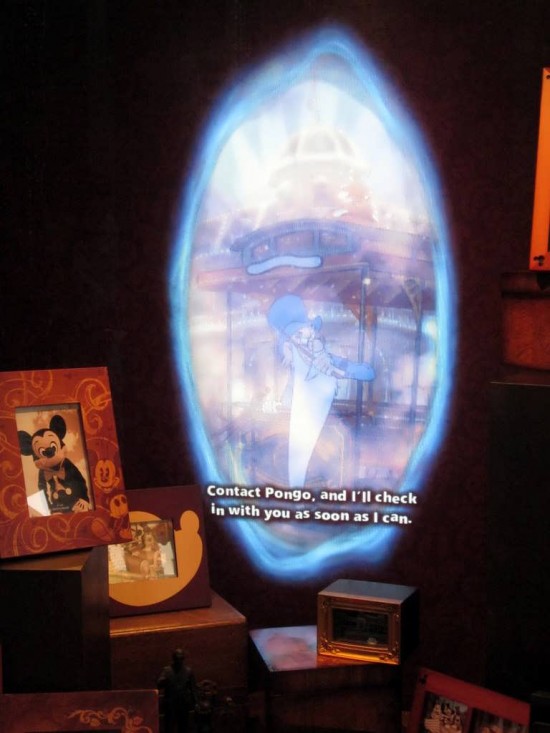 When I played, the excitement wasn't limited to children. There were plenty of teens and adults heading back and forth between the portals to help defeat the villains as well. Being a new attraction, coupled with the collectible aspect of the different spell cards, adults can have plenty of fun too. During your first few villain encounters, what spell cards you use to defeat them doesn't really matter. But as you progress further in the game, the type of card and the powers it has comes into play.
One drawback, at least at points when the park is more crowded, is the queuing up of players at portals waiting for their turn. Since players may be at different points in the same or a different adventure, you have to do your best to ignore what is going on while they are playing. Turning away from the portal will help visually, but the audio is loud enough that you'll have to focus on something else to keep from catching it all. Later in the evening, and at slower times of the year, this should be less of a problem. But while playing this past Saturday evening, most portals had a line of three or four players waiting their turn.
The training that you get from cast members is minimal, but chatting with other players who have a little more experience is helpful. For instance, you aren't told you can use multiple spell cards at once, but as the difficulty of the game increases, this is an important tool to help defeat a villain. It is also possible to trade cards with other players, or combine decks with members of your own party if you choose.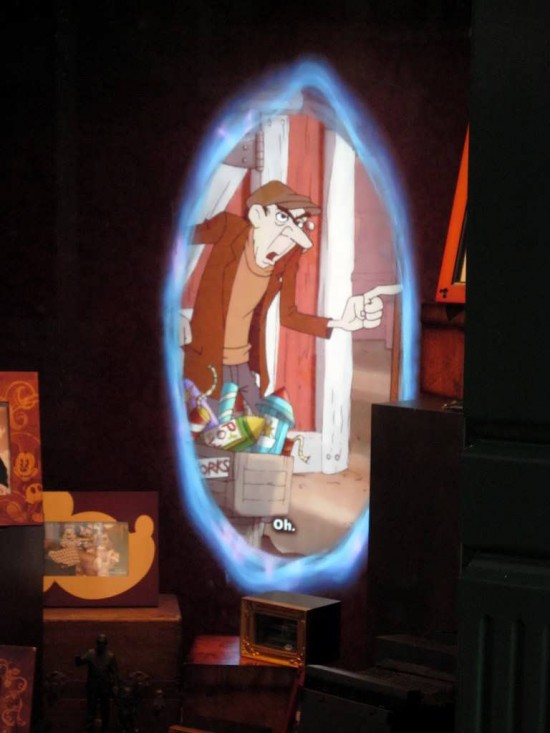 Being that Sorcerers is played out in the open or inside a store or restaurant, you also have to deal with other guests who aren't playing. On several occasions, a guest who wasn't paying attention wandered right in front of the portal while someone was playing. While this isn't a big deal if they just walk past quickly, if you are in the middle of casting a spell to defeat a villain – especially later in the game when the difficulty increases – this might be frustrating, especially for a younger player.
Overall, the Sorcerers of the Magic Kingdom is a nice addition to the park's lineup of attractions, and while it won't likely become the number one attraction for most visitors, it certainly is a great diversion for young and old alike. Its re-playability and collectability for local visitors gives a new reason to come back to visit the park on a regular basis.
Official site: http://disneyworld.disney.go.com/parks/magic-kingdom/attractions/sorcerers/
Editor's note: This is the first post from our newest OI contributor, Bill. We look forward to featuring his writing and Orlando experience on OrlandoInformer.com. If you are interested in learning how you can contribute your own stories and insight, click here.
[sws_author_bio user="nepalostparks" size="105″ authorposts="More OI posts by Bill" name_format="About the author"] [/sws_author_bio]