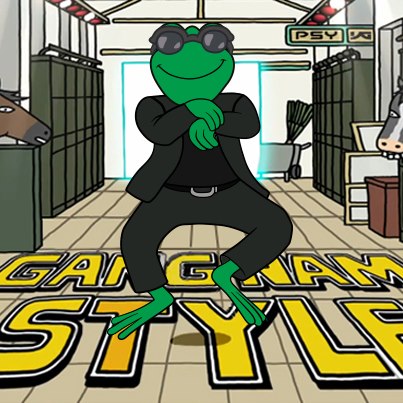 September 27, my birthday, is my favorite day of the year. It's my day to do whatever I please, be showered with attention, and receive gifts and well wishes from friends, family and even strangers at the bank, the gas station, the bar, etc. Needless to say, I love my birthday. I don't look at birthdays as a passing of the years like some, but more as a graduation from each year of my life. Every birthday holds the promise of what can and will be in the year to come until my next birthday. Most importantly, though, my birthday is the best excuse for a really rockin' party in honor of none other than moi!
This year I chose to have my birthday celebration at Senor Frog's on International Drive. I'd been to the Senor Frog's in Cozumel, Mexico before and had such an amazing time that I had to see what the Orlando location was all about. I called early in the day and made a reservation for later that night. They asked me on the phone if anyone in my party was having a birthday, to which I very excitedly replied "I AM!"
My friends and I arrived just before 9 pm, dropped our car with complimentary valet service (the key word here being complimentary), and stepped inside. As soon as we walked through the door, we were stepping into a party. A band was playing on stage and the tables and bars were filled with people eating, drinking and having a great time. I will say I found the hostesses to be a little rude and unhelpful. When I gave her my name she looked at me like I was crazy and said my party already left. Luckily I spotted my other friends who had gotten there early and we were able to be seated, crisis averted!
The table itself was a whole production with confetti, birthday decorations and balloons. Our waitress was absolutely adorable and she immediately came up to me and wished me a happy birthday and took my drink order, which more than made up for the aloof hostesses. We all ordered food and drinks and listened to the band play while the very talented balloon artist made me a happy birthday balloon hat…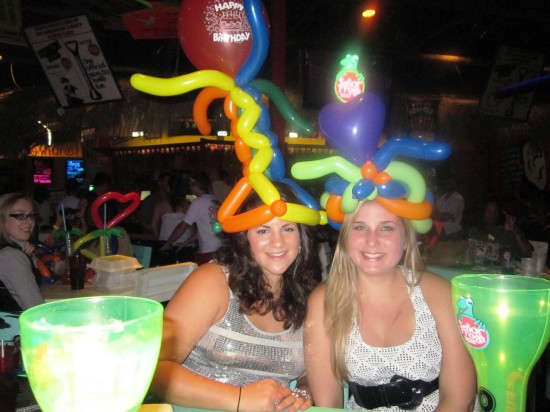 Our food came to the table right as the band went on break, so we were able to talk and enjoy each other's company while we ate. The food was quite good too. I had their fresh house salsa and tex mex tacos. I would recommend this dish to anyone and will be eating it again next time I go to Senor Frog's. The spices and fresh ingredients made for a powerful and flavorful dish that left me feeling perfectly full and happy. The drinks weren't so bad either!
Shortly after the band began playing again we were just about ready to leave when our server brought us a free round of shots in honor of my birthday. By then the band was back in full swing, and we decided to dance and play some of the games their MC was leading. We danced the Maccarena (which I hadn't done since I was about 14), participated in a Conga line and did the Cha Cha Slide. The MC was full of energy and had a real knack for getting the crowd hyped. When we were done dancing we found one of Senor Frog's signature giant beers chilling in an ice bucket on our table. Again, it was on the house in honor of my birthday. I thought to myself wow, this is SO much better than cake!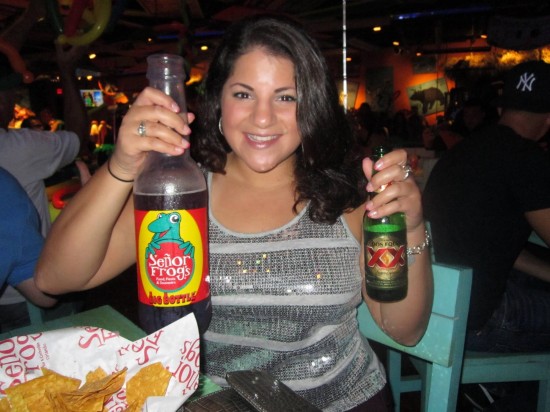 My girlfriends and I finished up the beer and our designated driver poured us into the car sometime after 1 am. I had no idea where the time had gone — it felt like we'd been there fifteen minutes, but it sure was fun. This will definitely go down in my personal birthday Hall of Fame.
Senor Frog's Orlando is located on International Drive near Bahama Breeze and across from the Embassy Suites. You can find their hours of operation, make reservations, check out their menu, look up events, find all international locations, and more at www.SenorFrogs.com. If you want to take the whole family I suggest going for lunch or an early dinner, and reservations are always a smart way to go. The band starts at 9 pm and it becomes 21 and up at 10:30 pm each night. For those 21 and older they're open until 2 am and the party is non-stop until then.
Senor Frog's on I-Drive – map & links
Click any marker to display the attraction or venue name. To scroll or zoom, use the controls on the top-left of the map. You may also switch to different map views by using the buttons on the top-right of the map.
Official website: http://www.senorfrogs.com/
Senor Frog's on I-Drive – photo gallery
Click any image to view it full-screen. When the full-screen image is open, click to the right or use the right arrow on your keyboard to advance through the gallery. If several thumbnails are missing, try reloading this page in your browser.
[sws_author_bio user="DinaFayeMagdovitz" size="105″ authorposts="More OI posts by Dina" name_format="About the author"] [/sws_author_bio]