SeaWorld Orlando hosts all-new festival that's "Just For Kids"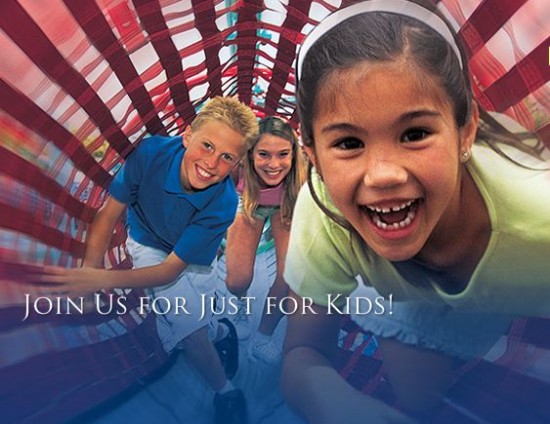 Bring your little ones to sing, dance and play the day away at SeaWorld's Just For Kids festival. Have breakfast with everyone's favorite furry friends from Sesame Street. Experience live shows from artists like Choo Choo Soul and Max & Ruby live. Try out the kid-sized rides. Meet adorable animals. And soak up all the fun, music treats and more. It's a festival that's Just For Kids, and only at SeaWorld.
Enjoy Just for Kids Saturdays January 14 – February 4.
January 14 – LazyTown Live on Stage
January 21 – Max & Ruby's Musical Playdate
January 28 – Doodlebops' Musical Playdate
February 4 – Choo Choo Soul
General Ticket Distribution for Just for Kids Concerts located across from Just for Kids Concert Venue, Nautilus Theater. Ticket distribution based on specific concert times on a first come, first served basis until all tickets are distributed. All Just for Kids Concerts are Included with Park Admission.
LazyTown – January 14
Stephanie and Ziggy are trying to set a new energy record in the town they are visiting. They call Sportacus for help, but Robbie appears and the energy meter is going further and further down. Join Robbie, Ziggy, Stephanie and Sportacus as they set a new energy record.
Max & Ruby's Musical Playdate – January 21
Celebrate the universal nature of sibling relationships in Max & Ruby's Musical Playdate. Max & Ruby never quite want the same thing and their plans always collide – with hilarious results. Featuring upbeat and original songs, this Playdate is sure to have the whole audience singing and hopping along!

Doodlebops' Musical Playdate – January 28
Get movin' and groovin' with kids' favorite band in the Doodlebops' Musical Playdate. Join rock stars DeeDee, Rooney and Moe as they sing their favorite songs, tell their wackiest jokes and show off their funkiest dance moves. The Doodlebops can't wait to "Get on the Bus" and come to your town!

Choo Choo Soul – February 4
Conductor Genevieve Goings and her Beat Boxing / Break Dancing engineer DC bring Choo Choo Soul to town for a live visit! Winner of the PARENTS CHOICE AWARD for Children's Television, Choo Choo Soul takes the whole family on an amazing learning and musical adventure, as they present fun and kid-friendly hip hop style songs all about those ABCs, 123s, vegetables and most importantly the power of doing YOUR OWN DANCE!!!
Learn more: http://seaworldparks.com/en/seaworld-orlando/Events/Just-for-Kids