SeaWorld just became the Miami Dolphins' biggest fan: Announces multi-year deal, new sweepstakes
SeaWorld Orlando and the Miami Dolphins have announced a multi-year marketing agreement. "SeaWorld, Where the Dolphins Play!" is the tagline for the integrated campaign involving a season-long sweepstakes and special deals for Florida residents.
The face of the campaign is former linebacker Jason Taylor, who will be inducted into the Miami Dolphins Honor Roll on October 14. Vignettes will feature him and his family enjoying SeaWorld as part of the following elements:
SeaWorld Football Family of the Year is a sweepstakes that kicked off on September 21 and will continue through December 31. Fans can register at Dolphins.com/SeaWorld to win a grand prize three-day, two-night SeaWorld and Aquatica weekend getaway plus four tickets to all 2013 regular season Miami Dolphins home games.
The Game Day Advantage offers Florida resident deals at SeaWorld for Miami Dolphins fans and will be featured in radio, digital and TV throughout key Florida markets as well as in-stadium.
"Aligning with the Miami Dolphins is a natural fit. We both share the same commitment to family and tradition and are great places to make lifetime memories," said Vice President of Marketing Toni Caracciolo. "We're thrilled to have Jason Taylor involved because he's devoted to family, a world-class athlete and loved by so many fans".
"From the exciting rides to swimming with the Dolphins, and everything in between, SeaWorld is simply an amazing destination for family entertainment," said Jason Taylor. "My wife, kids and I had a great time on our most recent visit and we can't wait to go back!"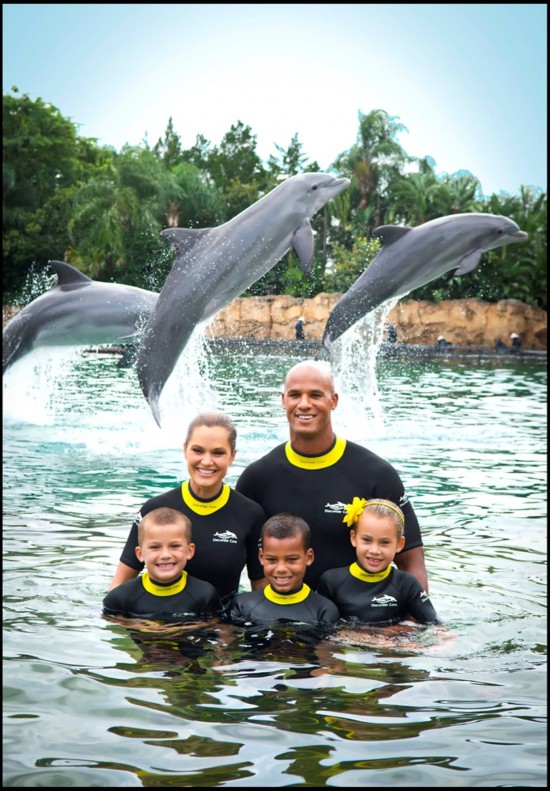 SeaWorld Orlando immerses guests in the sea's mysteries through up-close animal discoveries, amazing attractions, thrilling rides and unforgettable performances. Whether riding Manta, getting drenched by Shamu, or feeding seals and sea lions, vacation adventures become lifelong memories at SeaWorld. All new is TurtleTrek, a unique blend of up-close animal encounters with manatees and turtles and state-of-the art entertainment with the world's first 3D/360 dome theater film.
Coming to SeaWorld Orlando in spring 2013 is Antarctica – Empire of the Penguin, the biggest and most expansive attraction in SeaWorld's history. This epic exploration of a mysterious world blends animal encounters with an exhilarating ride for a one-of-a-kind experience the whole family will enjoy. Be transported to an icy world you've never seen before. Experience the majestic grandeur of the South Pole and see it through the penguins' eyes on an exhilarating first-of-its kind family ride. Then, step out and explore their colony in an expanse that envelops you in cool extremes: bringing you above and below their icy world.
About the Miami Dolphins
The Miami Dolphins are a professional football team based in the Miami, Florida metropolitan area. The Dolphins belong to the Eastern Division of the American Football Conference (AFC) in the National Football League (NFL). The Dolphins were founded by Joseph Robbie in 1965, began play in the American Football League as an expansion team in 1966, Miami joined the NFL as part of the AFL-NFL merger in 1970. The Dolphins are the oldest major-league professional sports franchise in the state of Florida. They play home games at Sun Life Stadium, in the Miami suburb of Miami Gardens and are headquartered at the Doctors Hospital Training Facility at Nova Southeastern University in Davie, Florida. For more information, visit the organization's website at dolphins.com.
About Jason Taylor
Jason Taylor is a world-class athlete and beloved Miami Dolphins defender who retired following the 2011 season. He has also made a splash away from the football field as a finalist on the hit TV program Dancing with the Stars, and currently serves as an NFL analyst for ESPN. An expert sportsman and waterman, Taylor is a devoted husband and father of three children. He formed The Jason Taylor Foundation in 2004 and works diligently on behalf of it. The Foundation supports and creates programs that facilitate the personal growth and empowerment of South Florida's children in need by focusing on improved health care, education and quality of life.