Sci-Fi Dine-In Theater at Disney's Hollywood Studios: Good food, great atmosphere, but be ready to pay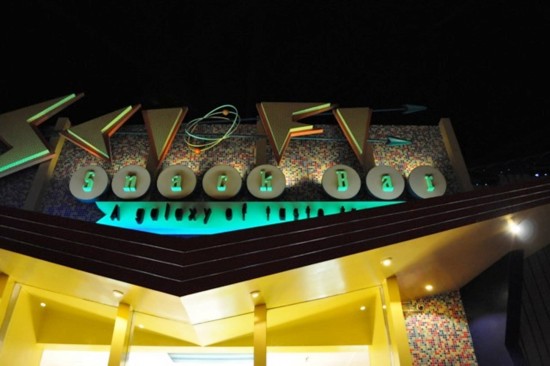 Located in Disney's Hollywood Studios is the ever popular restaurant, Sci-Fi Dine-In Theater. If you are visiting the park and do not want to drop the money required to dine at the Brown Derby, I would highly recommend this restaurant. There are many choices, but for a really nice "American" meal, I would come here. It is a themed restaurant that makes you feel like you are at a drive-in theater back in the day, and they continuously play old, low-budget science fiction movies from the 50's and 60's (it is really nostalgic for the parents).
The two bad things about this place, however, are the prices (it is very overpriced; I think I paid fourteen dollars for my veggie burger) and the seating situation. The prime seats are the seats that simulate a car (seats two per row and there are three rows per car). However, to get those seats, you MUST have a reservation. We missed our reservation by an hour, but we were lucky enough to be accommodated to a table (it kind of looks like a car but it is not the same). They also have "picnic tables" but if you have a choice between either of the car tables and the picnic table, definitely go with the car. The picnic tables are located in the back.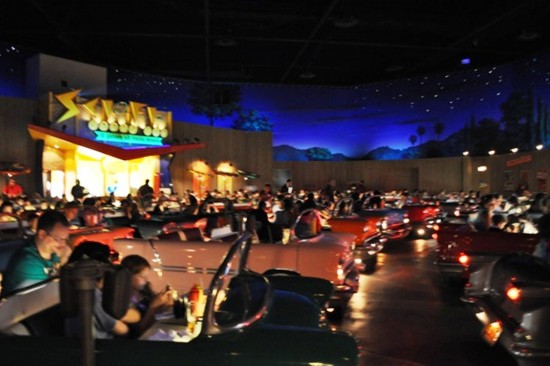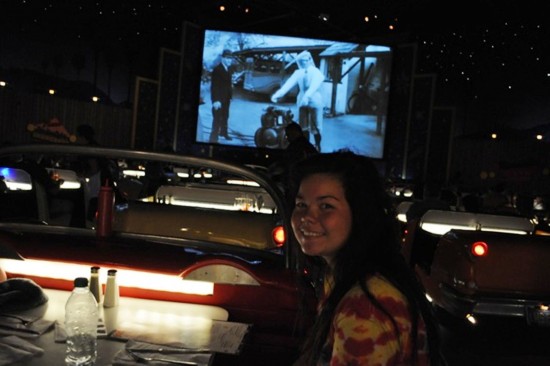 The food and atmosphere are absolutely great. My veggie burger was definitely fresh as well as delicious, and it was different from the average veggie burger (they put a balsamic vinegar and arugula on it which is actually a nice change from the average mustard and ketchup and lettuce combo). My brother ordered a burger which had two hot dogs on it (he is the carnivore of the family) and he loved it. It definitely filled him up, after all that is basically three meals in one. My dad ordered an Angus chuck burger, which he said was very good. View the menu – PDF file
For three entrees, three drinks, and one appetizer, the bill came up to about $70. Even though it is a lot cheaper than eating at the Brown Derby, it was not what we were expecting. The experience, especially since we would always come here when I was a kid, was very good with good service, food, and atmosphere. I would rate this restaurant 4/5 stars. Just remember to have a reservation, which you should book as soon as possible!
Sci-Fi Dine-In Theater at Disney's Hollywood Studios – map & links
Click any marker to display the attraction or venue name. To scroll or zoom, use the controls on the top-left of the map. You may also switch to different map views by using the buttons on the top-right of the map.
Official website: http://disneyworld.disney.go.com/dining/sci-fi-dine-in-theater/
Sci-Fi Dine-In Theater at Disney's Hollywood Studios – photo gallery
Click any image to view it full-screen. When the full-screen image is open, click to the right or use the right arrow on your keyboard to advance through the gallery. If several thumbnails are missing, try reloading this page in your browser.
[sws_author_bio user="emilyca_" size="105″ authorposts="More OI posts by Emily" name_format="About the author"] [/sws_author_bio]