Rising Star at Universal CityWalk: Find your voice with the help of backup singers and a band
Whether you're a longtime local or just visiting the Orlando area, Universal CityWalk — the resort's multilevel entertainment destination — has a lot to offer. Featuring delicious restaurants, live bands, wild night clubs and retail stores, CityWalk is a whole "park" in and of itself. But no matter what you decide to do there, make sure that the Rising Star karaoke bar is on your list.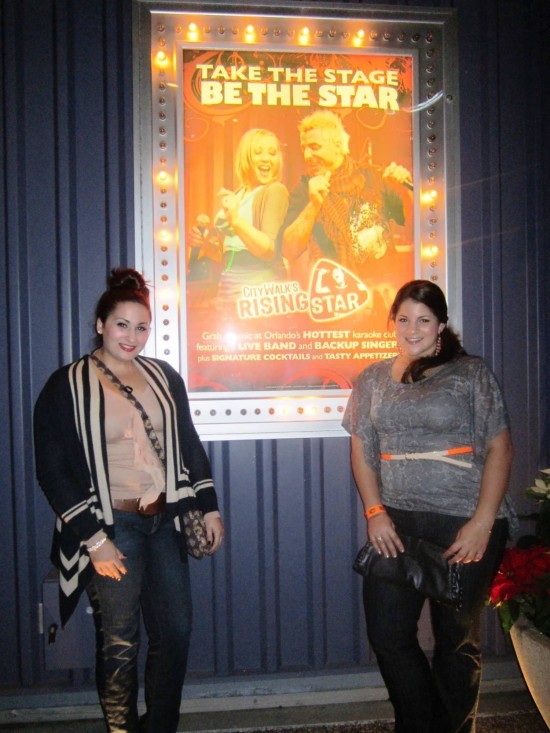 I had the pleasure of spending an evening last weekend at Rising Star and had a great time there. The staff was incredibly accommodating and the performers were both engaging and entertaining. The setup is done so no matter where you sit you have a good view of the stage and the brave people up there singing their hearts out!
Is it your time to find your voice? If so, your performance will be complimented with backup singers — and on busier nights (typically Tuesday through Saturday), you get to sing with a live house band! It's a completely different experience than other karaoke lounges.
The extensive song list at Rising Star includes many of the greats from all different decades of music, and it boasts styles from hard rock to country to today's biggest hits. Whether you're going to show off your talents or cheer on your friends as they belt out their favorite tunes, the experience at Rising Star will keep you entertained all night.
In addition to great live entertainment there is a fully stocked bar, where bartenders make delicious signature martinis and "Karaoke Cocktails." They also offer an appetizer menu with things like potato wedges, quesedillas, sliders, Buffalo wings and more. They offer a few dessert selections as well that I know I must go back again to try. Fried banana caramel cheesecake here I come!
With two stories of seating, their bars are located in the back of each floor with a few stools and high tables in case you want to spend your time in there. If you prefer table seating, there is plenty of room on the main floor or in the balcony area.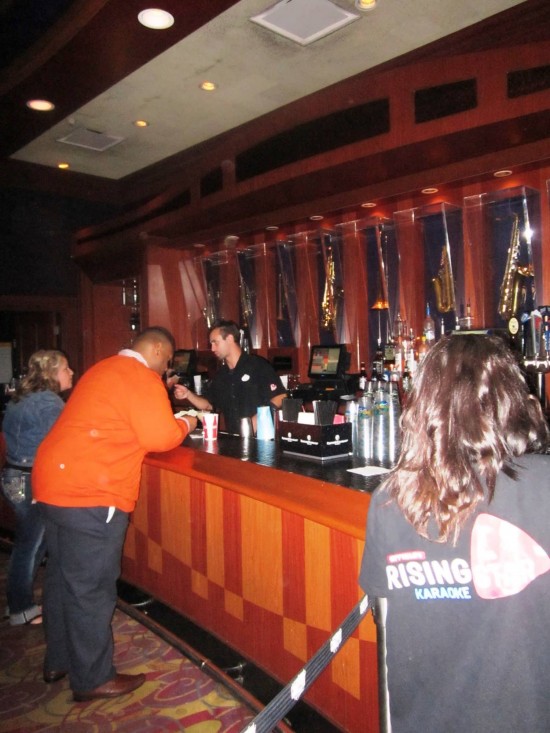 The overall atmosphere at Rising Star makes for a really great experience, and it's definitely something different than the other bars and clubs at CityWalk. You get the chance to find your voice and be a star even if it's only for the length of one song. Everyone can have the chance to sing anything they want from the song list at no extra charge. There is a $7 cover charge at the door, but they do accept CityWalk Party Passes, which I think is the better deal ($11.99 for all-night access to CityWalk's seven clubs and bars). Also, Party Passes are included with the purchase of most theme park admission tickets and Blue Man Group tickets. Drink and food prices at Rising Star are a little high, but no different than what you'd expect at a theme park resort. But that shouldn't matter, right? The fun times to be had at Rising Star Karaoke are more than worth the bill at the end of the night.
Rising Star Karaoke is open nightly from 8pm until 2am. Remember that, like all of CityWalk's nighttime venues, you must be 21 or older to enter. No matter your age all IDs are checked at the door, so be sure to have a valid Driver's License or Passport and have fun becoming a star!
Here is a quick video of the Rising Star experience (note that the full band isn't playing, but there is a great host and lovely backup singers):
[youtube_video]WI8VFMiNocY[/youtube_video]
Rising Star at Universal CityWalk – map & links
Click any marker to display the attraction or venue name. To scroll or zoom, use the controls on the top-left of the map. You may also switch to different map views by using the buttons on the top-right of the map.

View OI's map of Universal CityWalk in a larger map
Official website: http://www.universalorlando.com/Nightlife/CityWalk/Rising-Star-Karaoke.aspx
Rising Star at Universal CityWalk – photo gallery
Click any image to view it full-screen. When the full-screen image is open, click to the right or use the right arrow on your keyboard to advance through the gallery. If several thumbnails are missing, try reloading this page in your browser.
[sws_author_bio user="DinaFayeMagdovitz" size="105″ authorposts="More OI posts by Dina" name_format="About the author"] [/sws_author_bio]