Who can say they were entirely surprised when they first heard the news of Test Track being closed for a complete refurbishment? Not me; after all, the major Epcot attraction was hitting its 15-year mark. That may not seem like much to a Disney attraction, as many are much past that point, but Test Track differs because of its location and theme.
Epcot's Test Track is located in Future World, which keeps the mindset of the Epcot guest such that they want a futuristic experience. Yet many of Epcot's Future World attractions are out of date. I'm sniffing out more than just Test Track refurbs when it comes to Epcot's Future World – a change that will surely bring more life to the area!

Just before they closed the ride for its new changes, I took a trip to ride the original attraction one last time. The messy queue was one thing I knew I wasn't going to miss. Countless crash dummies a skewed and car parts surrounding you was something I always considered a bit less magical of the Disney queues, but then again, Test Track isn't supposed to be very magical. The queue itself wasn't futuristic either. One of the attractions only real redeeming qualities for me was the ride itself, considering it is one of Epcot's big thrills. I do have to say, it was one thing going through the line and off of the ride to see brand-new models of cars in a showroom. Nothing in the line's queue was even as new as the modern car.
Which brings us to the renovation: The whole Test Track as we once knew it has been absolutely reimagined. The new images show Test Track's Tron-like, futuristic look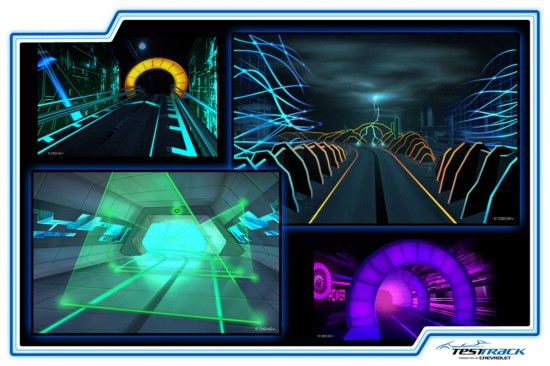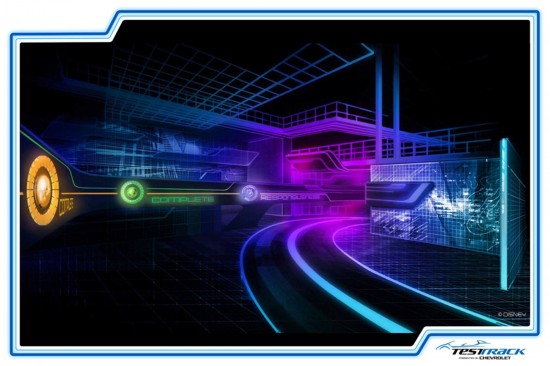 Luckily for us guests, the line queue is going to be a whole new experience as well! Disney and Chevrolet created a new queue that shows each and every guest what it takes to create a fully-functional vehicle. You will be able to see where a car's creation process beginnings down to the end, where it is purchased. The line will now also feature never before seen items from GM. Disney's representative, Melissa Jeselnick, described Test Track's transformation as follows: "It's basically changing from testing to design."
Design, you say? Well, a new feature to the ride is the "Design Studio." Every rider is given the chance to create their own custom concept car. And not only do you design it, but your design then comes with you onto the ride and will be scored on its Capability, Efficiency, Responsiveness, and Speed. Everyone in their car will be able to see how their individual design held up against the elements and given "situations." The ride itself has not changed, just merely the surroundings. Guests will still be riding in the same simulation cars (probably with new looks) and moving along to the same familiar track. When the ride ends, guests move into the post-show room where they will see their designs scored against guests from that entire day. Don't worry about missing the showroom with all of the new model Chevy cars; they will all be there with new concept designs as well.
Disney has not announced an exact opening date for the refurbished and modernized Test Track, but I've heard they're shooting for the end of November.
[sws_author_bio user="PaigeRadetsky" size="105″ authorposts="More OI posts by Paige" name_format="About the author"] [/sws_author_bio]