To say that Universal Studios Florida has been busy this past year is something of a profound understatement.
In addition to opening Despicable Me: Minion Mayhem over the summer, the park has seen three(!) additional construction projects spring up literally across the entire year. The impending arrival of Transformers: The Ride 3D is enough to elevate USF's roster of attractions quite substantially – some even contend that the ride surpasses Harry Potter and the Forbidden Journey – and the eventual unveiling of Diagon Alley where Amity Harbor used to stand should be enough to tip the balance of power at the resort from Islands of Adventure back to Universal Studios (and may even be enough to go toe-to-toe with Disney directly, if only in the profits arena).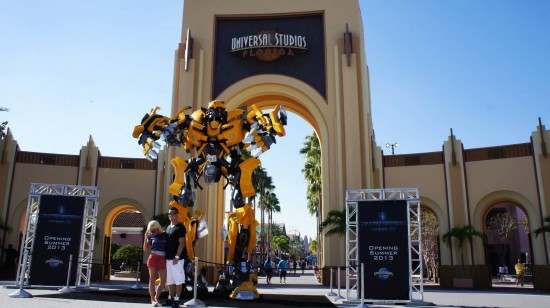 But it's the newest – and the most unexpected – of these projects that has me the most excited: an expansion of the Simpsons footprint at the park, growing from a single (but triple-A) ride and gift shop to include a collection of midway games, a restaurant, more theming touches (in the form of "props" from the animated series), and, quite possibly, a second ride, food court, and drinking/lounge area. This would result not only in a more traditional theme park layout, replete with separate lands devoted to entire "worlds," it would also mark an exponential increase in the park's immersion and sense of fun – never bad things when in the theming business.
It's also enough to indicate that Universal is serious – ambitiously, deadly serious – about increasing its lineup, making its resort a more well-rounded and fulfilling experience (as it stands now, in the middle of all this construction, USF is, essentially, a half-day stop), and taking all of the buzz and money that the Wizarding World has brought in over the past two-and-a-half years and reinvesting it directly into its wares. This not only means that the company won't be sitting on its laurels – increasingly becoming the only threat that Disney will take seriously – but also that, quite literally, the sky's the limit on all future endeavors.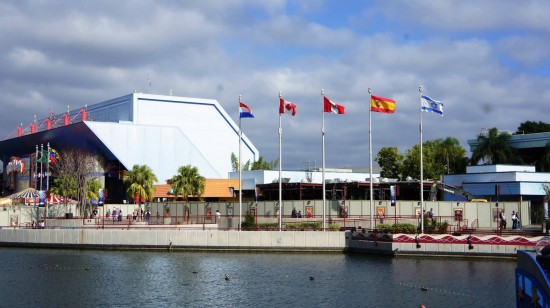 And this is where my sense of excitement, buoyed by Universal's newfound willingness to engage in literal world-building, kicks in. If an empty soundstage can be demolished to create a flagship 3D ride like Transformers – in less than twelve months! – and if somewhat lackluster cafeterias can be renovated into fully immersive restaurants, there is a whole slate of empty concrete or mediocre attractions that can similarly be cracked open to unleash all the potentialities within. Here's my short list, then, of what should be tackled next, once the summer of 2013 rolls around and the construction walls around Transformers and "Simpsons Land" come down.
Fear Factor Live
Although the Horror Makeup Show and Animal Actors on Location are great fun and must-see shows, Fear Factor is… well, far from it, and the real estate it occupies would be better served in a new production that would help elevate Universal's showings to the level of Disney's Fantasmic! or Mickey's PhilharMagic (something of particular importance to USF, given just how much, traditionally, the park has relied on these productions to round out its experience).
Just what could this new show be? I'll be honest and admit that I don't know, although bringing the Battlestar Galactica license from Singapore to Orlando particularly appeals to me (if Universal has to continue the licensed property route – which, of course, it doesn't) and offers some grand opportunities for pyrotechnics and teeth-rattling percussions.  Then again, tearing down the building and replacing it with a brand-new ride is also equally on the table, particularly since Transformers, Hogwarts Express, and the rumored spinning Simpsons ride mark the first time in some 13 years that the park has expanded the number of its overall attractions (and could maybe even result in a clone of that Battlestar rollercoaster from overseas).
Whatever ends up going in this little corner of land, my one obsessive-compulsive demand is thus:  please, Universal, please remove its status as part of the San Francisco area of the park and slide it over to World Expo. In this way, guests won't have the wholly jarring experience of going from San Fran to London back to SF and then on to World Expo in the span of just a few steps.
Terminator 2 3D: Battle across Time
This is yet another show and park experience that has become significantly dated, particularly in the wake of two further sequels in the Terminator franchise and even a television series. The same fundamental proposition lies before T2 as Fear Factor – show or ride? – but, personally speaking, keeping the space dedicated to a film-actor-animatronic hybrid seems the most compelling: not only does this maintain the presence of a certain type of attraction at Universal Orlando – and one that is sorely limited, it should be noted – it also has the potential to become something as wickedly fun as Revenge of the Mummy, whose hybrid elements stand out dramatically. Being the Hollywood section of the park, and USF having a history of being based on film and television production, I would humbly suggest something along the lines of Hollywood Studio's Great Movie Ride over at Disney World.
Twister… Ride It Out
With Production Central getting Despicable Me and Transformers, World Expo getting a bigger dose of the Simpsons (and, in my fairy-tale version of the park, whatever new ride Fear Factor Live is going to be built into), and with Amity becoming Harry Potter's London, this leaves New York feeling a bit left out, yes? There's no question that Revenge of the Mummy is still one of the best rides on the books, and that even the Blues Brothers show has its own certain, toe-tapping charm… but that leaves Twister, the tiny attraction with big promise and underwhelming delivery.
Once again hitting on the idea that theme (and amusement) parks live or die by their variety as well as the quality of the experiences they offer, there is some interest in keeping Twister a walkthrough attraction, although (a) there is still Disaster over in San Fran and (b) walkthroughs are an unbelievably difficult achievement to pull off (which a quick glance at Poseidon's Fury easily verifies). And then there's the growing allure of creating larger presences for licensed properties in Universal Studios Florida; if Simpsons takes over most of World Expo and Transformers just may assimilate the Classic Monsters Café, maybe Twister would be best utilized as an addendum (and, perhaps, updating) of Mummy.
Whatever these projects turn into, we know that they'll emphasize thrills, as do all modern attractions (Universal's or not), but let's just hope that it also features some quieter – and, perhaps, wetter – moments, as well.
Visit these pages to learn more about the construction projects at Universal Studios Florida:
The Simpsons Springfield expansion
And of course you can always learn about the history of Universal Studios Florida and all of the existing attractions in the OI Universal Center.
Next week: tackling Islands of Adventure.
[sws_author_bio user="msunyata@yahoo.com" size="105″ authorposts="More OI posts by Marc" name_format="About the author"] [/sws_author_bio]