In the not too distant future, Universal Studios Florida will, for the first time in the resort's decade-and-a-half history, have pulled ahead of its sister park, Islands of Adventure, to become the crown jewel of Universal Orlando Resort — and it will be all thanks to a stunning and brand-new array of attractions: Despicable Me, Transformers, a Springfield "land," and, of course, Harry Potter's London.
Needless to say, this just won't do; in an era when Universal is suddenly much more competitive with the likes of Disney, it'll need to be firing on all cylinders at all times and at all areas of its resort. This means that the company will be put into a position over the next few years to attempt a (re)balancing of the distribution of power by pruning, expanding, and maybe even reshuffling its only non-film-studio-based theme park in the world. (Which is not to mention the sad fact that, as remarkable as the Amazing Adventures of Spider-Man is or as fun as Jurassic Park River Adventure may be, we're talking about rides with stories that have gone unchanged since 1999. It's more than time for a revamping.)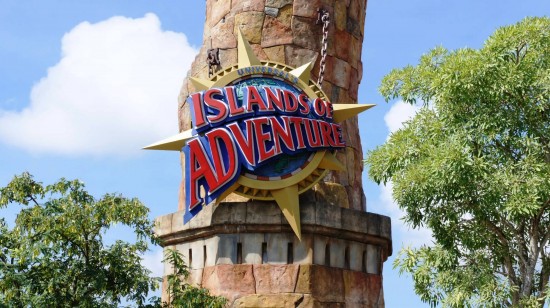 Here's my short list, then, of what should be tackled next – assuming, of course, that I can completely run the zoo all by myself, with only the slightest of external realities (read: Disney's owning of Marvel) intruding themselves – once 2014 comes to a triumphant close and guests start pouring into Islands anew through an actual, working Hogwarts Express train station.
A brief note before we begin: unlike last time, in which only a handful of individual attractions were the target at Universal Studios Florida, Islands represents a much broader challenge, resulting in entire swaths of the park needing to be upgraded or otherwise redressed. Hey, it's a tough job, but somebody's gotta do it, right?
LOST CONTINENT
Of all six islands, Lost Continent is by far the one that is in most desperate need of some love – and not just because a significant portion of it was scooped up and transformed into the bulk of the Wizarding World of Harry Potter, leaving it literally a husk of its former self. Poseidon's Fury, the only walkthrough attraction at the park, and the Eighth Voyage of Sindbad Stunt Show, its only real show, are easily IOA's two weakest attractions and essentially have been since the day it opened 13 years ago. The land's only saving grace is Mythos, the multi-award-winning restaurant that just so happens to be one of the most immaculately themed dining experiences currently in the industry.
Given such a dearth of quality rides – or, indeed, any rides at all – many have been openly campaigning for Lost Continent's outright dissolution, assigning most of the land to Harry Potter and allowing the rest of it go to Suess Landing (where, it's been rumored for a while now, at least one new major attraction is planned). And if whispers swirling around the development of Diagon Alley over in USF are to be believed, Universal was tempted to do just that: the show building for Poseidon was seriously considered for the new Gringotts indoor rollercoaster, although it was ultimately decided that it would've been too small to accommodate such an expansive ride.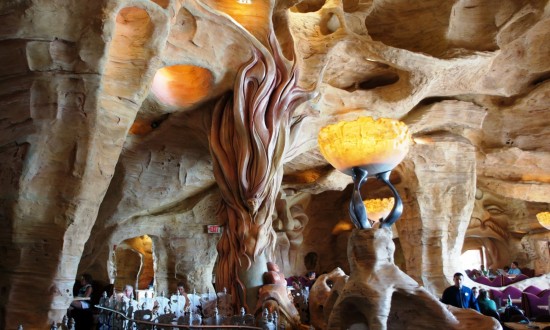 For my money, Lost Continent provides the best theming detail outside of the Wizarding World, and Mythos is such a treasure that demolishing the area en masse would be a grievous mistake. There's absolutely no question that the two current attractions have to go, and, just as with the Fear Factor Live building over at USF, there's strong reason to remove both wholesale and replace them with brand-new, thrill-pushing rides. The ancient civilization feel of the land is literally rife with potential narrative elements and ride mechanics, and the fact that this is the only section of the entire park to not be based on licensed material should be seen as a giant – and liberating – boon. Indeed, this may be Universal's one chance to address the one crucial question (or is that accusation?) that hovers over the entire company: why does it not have its own version of the Haunted Mansion or Pirates of the Caribbean or Horizons?
Still, even with all that said, I would like to see some sort of stunt spectacular remain at the Lost Continent, given its solo status at Islands of Adventure. Maybe something with Stargate would be appropriate…
JURASSIC PARK
Let's be frank: when I walked through the gates of Jurassic Park for the very first time, with the torches flickering and that music blaring, my heart pumped, my palms got sweaty, and my mind instantly reverted back to being that ridiculously excited 13-year-old sitting in the theater and experiencing the film for the very first time.
Imagine just how dramatically my spirits crashed when I realized that the land was, essentially, one giant kid's area with little to do for adults and possessed precious little immersion beyond the familiar sight of the Discovery Center and the pervasive presence of the music. (Granted, I arrived at the worst possible time, with River Adventure down for maintenance and Triceratops Trail in limbo.)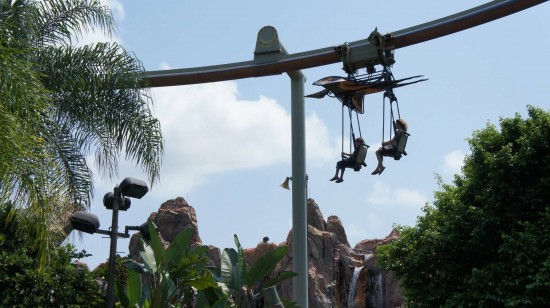 It's more than time that Jurassic Park stopped wasting its vast potentialities and became competitive with the Wizarding World(s) in terms of attractions, or the Lost Continent, in terms of theming detail. Luckily for us, there are three basic tacks to take to achieve this grand ambition.
Firstly, we need to tear the Discovery Center completely down and start over again from scratch (and maybe even take up a bit more real estate in the process). There's absolutely no reason why the "ride" that the characters in the first film go on, watching the process of how dinosaurs are engineered, can't be replicated for the theme park. Watching a Velociraptor birth is a step in the right direction but could be drastically expounded upon, as can the more educational aspects of the current building (such as the quiz show). And even the food court upstairs is fatally flawed – in an age when Three Broomsticks and the newly reopened Cafe La Bamba are the standard for quick-service meals, the Burger Digs is, well, just inexcusable.
Secondly, River Adventure, Camp Jurassic/Pteranodon Flyers, and the Discovery Center don't create a compelling lineup. We'll need to add a non-water-based ride that isn't for kiddies, something that pushes the relationship with the films and books. There's the oft-rumored wooden rollercoaster, which – if done in the style of some of Cedar Point's best, such as the Mean Streak – would be absolutely spot-on (though admittedly short on the theming aspect), but it's the just-percolating story of an indoor, amber mine-styled coaster that really has my head spinning and heart pumping all over again.
Finally, there's the most nebulous but, also, the most critical ingredient to the recipe. If the Simpsons area is going to be getting, say, Homer's car, and if Hogsmeade has a long line of fully animated storefronts, why does Jurassic Park just have trees and food carts? There are so many opportunities to make the area feel like the "real" island from the source material: the inclusion and use of a dock, interactive photo ops in place of the roped-off Ford Explorer and T-Rex, or an audioanimatronic Raptor like the one seen at Universal Studios Singapore…
[youtube_video]JHKLfm-AmZ0[/youtube_video]
A rebuilt Lost Continent and a sharpened-up Jurassic Park would flesh out the newly-connected-to-USF-Wizarding-World nicely, helping to balance out the level of excitement and foot traffic between the two parks – and it would also pave the way for the next round of attractions that Universal Creative is surely just beginning to sketch out.
Just imagine what 2020 is going to look like.
When you're ready, let's look at rebuilding Universal Studios Florida.
[sws_author_bio user="msunyata@yahoo.com" size="105″ authorposts="More OI posts by Marc" name_format="About the author"] [/sws_author_bio]