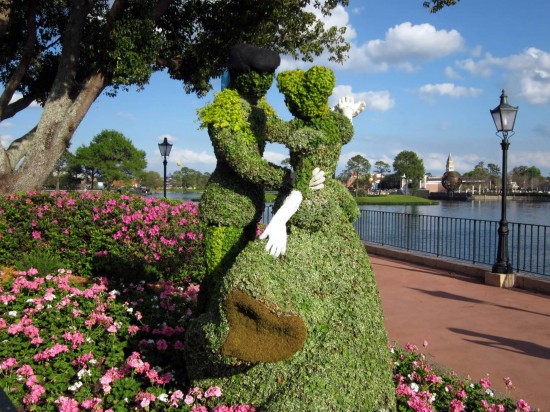 With Spring just around the corner, it is once again time for Epcot's International Flower & Garden Festival at Walt Disney World. This year's festival will run from March 7th through May 20th, and will feature a variety of events, displays, concerts, and more. Guests who have visited Epcot in the last few weeks have been getting a sort of preview, with many of the flower beds, topiaries and other features being installed in the late night and early morning hours when the park was closed.
The hub of this year's event is once again the Festival Center, located in the former Wonders of Life Pavilion in Future World, near the Universe of Energy. The Festival Center features a variety of displays, special themed merchandise, a café offering wine and light fare, and the popular series of HGTV stars and Epcot gardening experts giving advice in daily presentations on two stages.
Each Monday through Thursday afternoon, you can pick up some tips from Epcot's expert gardeners on how to do everything from grow orchids and roses to attracting butterflies and birds to your outdoor plantings. And each three day weekend, a different HGTV star will present some of their own design advice for your home garden. Returning HGTV personalities Genevieve Gorder (Dear Genevieve) and John Gidding (Curb Appeal) will be joined by a number of new presenters, including Carter Oosterhouse and Brandon Johnson.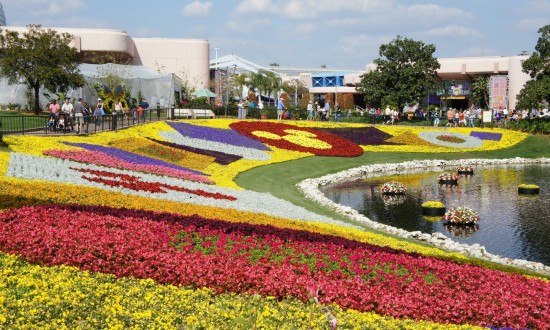 Several new features will also make their debut at this year's festival. The first "night garden" in the festival's history will be on display near the Germany pavilion in World Showcase. Haiti: Garden of Many Colors will feature the country's art and culture both during the day and evening, and will have a special hands-on activity for kids who stop by to explore. Children of all ages can enjoy the new Backyard Play Garden between the Morocco and France Pavilions, where healthy living and playful activity will be promoted.
Each weekend will also feature special events for guests. The Flower Power concert series returns to the American Gardens Theatre. The concerts are included in your Epcot admission, and there are three performances each Friday, Saturday and Sunday evening. Some of this year's acts include The Spinners, The Guess Who, and Chubby Checker & The Wildcats. New performers for this year are Chuck Negron, formerly of Three Dog Night, and The Orchestra, featuring members from ELO and ELO Part II. Sadly, the final weekend concert was to feature the late Davy Jones. No replacement has been announced as of yet.
For guests who really enjoy gardening and would like more details of many of the plantings around Epcot, be sure to sign up for the Gardens of the World Tour, held each Tuesday, Thursday and Friday morning. Guided by a Disney Horticulturist, this three hour tour will take you around the park to see many of the special and award winning displays and gardens. The tour is available to guests ages 16 and older, and costs $60 plus tax (park admission is not included).
If you aren't ready to invest the three hours, you can also stop by the United Kingdom Pavilion for a twenty minute tour of the English Tea Garden. The tour will be offered several times each afternoon, and you can sign up at the Tea Caddy shop at the pavilion.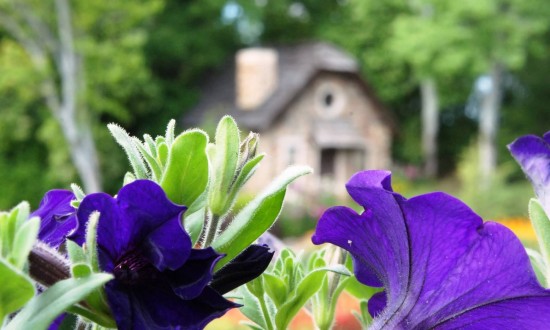 Whether you are making a special trip to Epcot for the festival, or your vacation just happens to coincide with it, be sure to take some time to stop and literally smell the roses… or one of the many other flower species that will be represented!
You can find the details on Epcot's International Flower & Garden Festival on Disney's website.
You can also view a copy of this year's brochure: 2012 Epcot Flower & Garden Festival – PDF file
For a taste of things to come, you can enjoy our photo gallery from last year below.
2011 International Flower & Garden at Epcot – photo gallery
Click any image to view it full-screen. When the full-screen image is open, click to the right to advance through the gallery. If several thumbnails are missing, try reloading this page in your browser.
[tag-gallery tag=epcot-2011-flower-and-garden-festival columns=5 theight=110 twidth=110]
[sws_author_bio user="nepalostparks" size="105″ authorposts="More OI posts by Bill" name_format="About the author"] [/sws_author_bio]