One of the best parts about visiting a theme park is the opportunity to take amazing photos. Whether you use your smart phone, a point-and-shoot or a professional DSLR, there is always a breathtaking shot waiting to be captured. While some parks are better for photos than others, Busch Gardens Tampa Bay is one of the best Central Florida attractions when it comes to taking pictures! Need some help getting started? Here's a photo guide to help you along the way. You can also follow along on a map of Busch Gardens by clicking here.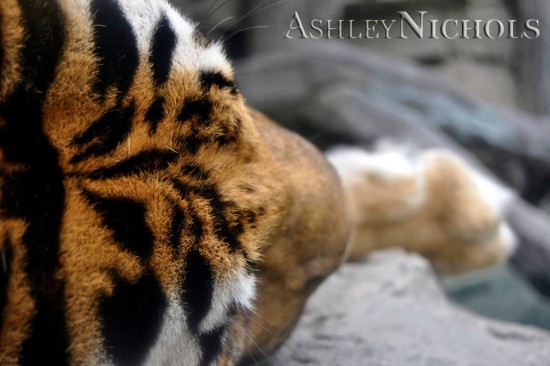 Busch Gardens is a zoo and a theme park wrapped into one, so you have the opportunity to photograph anything from animals to thrill rides! The tigers at Tampa Bay are beautiful and incredibly photogenic, but they like the sleep. A lot. And they tend to avoid the windows around their exhibit, opting instead to curl up under a tree or against a bit of rock for a nap. While this still makes a lovely sight, it can be a challenge for people without cameras that have a wide zoom range, and even then the photos may come out blurry. What to do?!
Luckily for visitors, Busch Gardens provides a unique opportunity to get up close with the restful beasts. Known as a "pop-up," this circular window allows guests to enter the exhibit and view the tigers up close. The tigers seem to enjoy this part of the exhibit, and have been known to curl up next to the pop-up (and even have a habit of sitting on top of it). That's how the photo above was taken! If you walk around the tiger exhibit, you should see the entrance to the pop-up window. There is often a wait, but it is rarely more than 15 minutes. However, you must climb a ladder to view the tigers this way, so the attraction may not be suited for young children or guests with disabilities.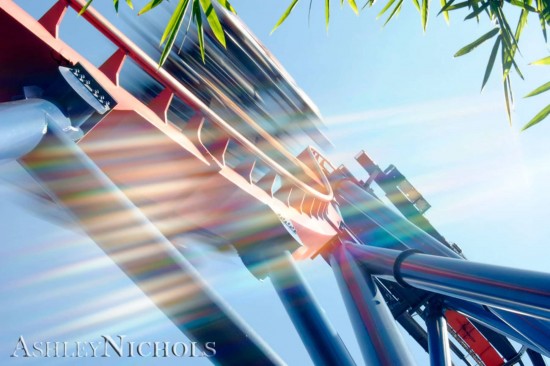 If you prefer to capture photos of roller coasters or people enjoying thrill rides at a theme park, then Busch Gardens offers multiple vantage points for a portfolio-worthy picture. One of the best is located next to the popular dive coaster, SheiKra. Next to the Stanleyville Train Station, there is an area where guests can stand to watch trains from the coaster as they plummet downwards. By standing in just the right spot, you can capture a photo of the coaster train as it teeters on the edge of the drop, or as it plunges towards earth! The photo above was taken using a very high aperture and a slow shutter speed in order to capture the blur effect.
If you're the type of photographer who would rather capture precious memories, consider purchasing tickets for the Serengeti Safari or Endangered Species Safari tours (learn more). In both of these tours, guests are given the opportunity to feed the giraffes that call Busch Gardens home, and that can make for some pretty amazing memories and photos! The Endangered Species Safari tour also gives you the opportunity to view areas off-limits to other guests.
The photo possibilities at Busch Gardens Tampa are nearly endless, and these are only a few of the spots where you can capture amazing images! If you have any questions about picture taking at BGT or about any of the photo spots I mentioned, feel free to contact me via my Twitter account @ThemeParkFoodie or leave a comment below. I'll be more than happy to help.
Enjoy, and happy picture taking!
See more of my photography: https://my.vanderbilt.edu/ashleynichols/photography/
[sws_author_bio user="Orukana" size="105″ authorposts="More OI posts by Ashly" name_format="About the author"] [/sws_author_bio]