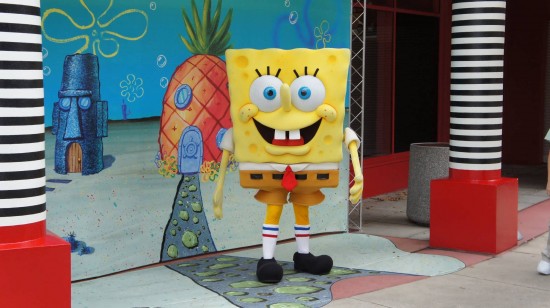 Guests can add two new, extraordinary dining options to their Universal Orlando vacation packages this summer – each designed to create memorable experiences for the entire family from day to night.
Universal's Superstar Character Breakfast starts with a breakfast experience filled with smiles, laughter and long-lasting memories. Children of all ages will be joined by some very special friends: the stars from the new Universal's Superstar Parade. Guests will be able to share special moments with their favorite characters, such as creating mayhem with the minions from the blockbuster animated adventure Despicable Me, posing for a photo with Nickelodeon's SpongeBob SquarePants and getting a coveted autograph from Dora & Diego. Later that day, guests will feel like celebrities as they get special VIP viewing access to enjoy Universal's Superstar Parade – an all-new entertainment experience that features larger-than-life floats, state-of-the-art technology, hundreds of energetic street performers along with some of today's most beloved animated characters.
Please note that this is a separate experience from the character breakfast offered weekly at IOA's Confisco Grille.
To cap off the evening, Universal's Cinematic Dining Experience offers a unique way to enjoy Universal's Cinematic Spectacular. Guests will start off the night with a delicious meal at Lombard's Seafood Grille, located along the picturesque Universal Studios lagoon. Later that evening, guests will enjoy dessert in an exclusive area at the restaurant's waterfront boardwalk, where the entire family will share a spectacular view of Universal's Cinematic Spectacular, featuring some of the best, most inspiring, emotion-filled moments in film history. The new show is a tribute to Universal's 100 years of film-making history. It will highlight some of the most fun, dramatic, awe-inspiring moments from Universal Picture's most iconic films – shown in crystal-clear clarity on huge waterfall screens within the Universal Studios lagoon. The show will take guests on a journey of epic cinematic moments filled with heroes, horror, laughter, good versus evil and triumph – all against a backdrop of light, sound and special effects.
[youtube_video]MBnga9DakcQ[/youtube_video]
Universal's Superstar Character Breakfast will be available for guests to experience starting on June 15, for $26.99 per adult and $10.99 per child; Universal's Cinematic Dining Experience begins on June 1 and is available for $44.99 per adult and $12.99 per child. Guests can add both of these amazing experiences to any Universal Orlando vacation package starting today.
OI subscribers, we've posted a lot more information about these events on a new page in the OI Universal Center. To view it, click here.
Universal's Superstar Parade and Universal's Cinematic Spectacular are part of the new entertainment experiences debuting during the "Year to Be Here" at Universal Orlando. Earlier this year, in Universal's Islands of Adventure, The Amazing Adventures of Spider-Man attraction re-launched with all-new 4K high definition animation, a new music score and new high-tech 3-D glasses. In addition, the Blue Man Group show in Universal CityWalk has taken its unique and captivating brand of live entertainment to another level, with a new show environment, new music, new technology and new experiences.