A taste of Disney at home: Min & Bill's Dockside Diner
During our most recent vacation to Orlando we finally spent a day at Walt Disney World for the first time in years. Seeing as we only had one day to explore the entire property we wanted to get there as early as possible. We decided we would grab something to eat at the park rather than eating before we left. We heard Disney had some amazing food so we were curious to try out a selection or two!
We were at Hollywood Studios when we decided it was time to grab a bite. During our visit we had been checking out each eatery inside the park (with the help of the park map!) to see what they had to offer, looking for something unique and different. We started to get hungry when we were near the front of the park getting ready to head out to Animal Kingdom when we stumbled across Min and Bill's Dockside Diner.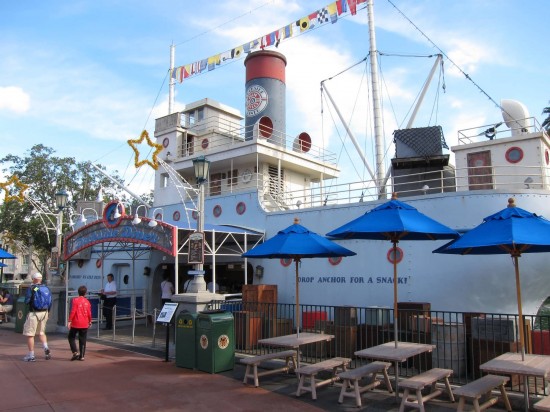 Min & Bill's offers beverages, snacks and the three main options were sandwiches. Probably the most well-known option at Min & Bill's would be the Frankfurter in a Pretzel Roll, which is exactly what it sounds like. The other sandwiches offered are an Italian Sausage with peppers and onions and a Chicken Caesar Sandwich with mixed greens, Parmesan and Caesar dressing. Both are served in a hallowed out baguette of sourdough bread — All three of these options are served with a bag of chips and cost around $8.00.
After a short discussion between us, we decided to go with the Chicken Caesar Sandwich. I love a good loaf of bread, especially sourdough, and the baguette of bread alone looked amazing! We grabbed a table and it was time to dig in. I am not going to lie, I was not really expecting this to be anything out of this world…but after my 1st bite, W O W! This sandwich was beyond delicious!! Such a simple idea, but it is seriously one of the most tasty things I have ever had. We were sad as we took our last bites, knowing this delicious sandwich was now gone!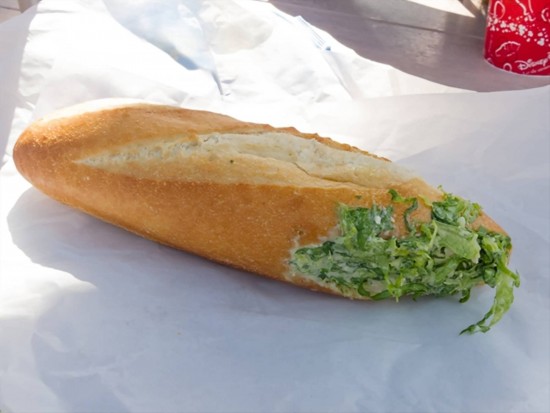 Seeing as we love to cook, we were talking about how it would be fun to try and recreate this delicious sandwich at home. Last weekend that is exactly what we did!
Min & Bill's Chicken Caesar Sandwich recipe
For this recipe you will need:
Baguette of sourdough bread
Head of Romaine lettuce
Caesar dressing
Grilled chicken
Parmesan Cheese
(Optional: Onions)
With just these 5 ingredients you will make you a super delicious sandwich.
You can follow these steps in any order really:
For the grilled chicken we decided to use Morning Star Farms Grillers Chik'N. These would be a great option for a vegetarian version of this sandwich, or just omit the chicken all together. You could also use Morning Star Meal Starters Chik'N Strips.
We grilled up our "chicken" and sliced it up for the salad, then set aside.
Next chop up your romaine lettuce, mix it in a large bowl with Caesar dressing and Parmesan cheese. I don't have an exact amount of dressing or cheese that you should use, just depends how "juicy" and cheesy you want it.
Once mixed all together place bowl in refrigerator to chill.
We let our mixture chill for about an hour. In the meantime you can hallow out your sourdough bread. You can save the bread you remove for a future meal – Use it to make stuffing, to dip in oil, or just eat it while you wait! We took the easy route sliced our bread like you would a sub before hallowing it out.
When you're ready to eat take out your salad mixture, load up your bread and ENJOY!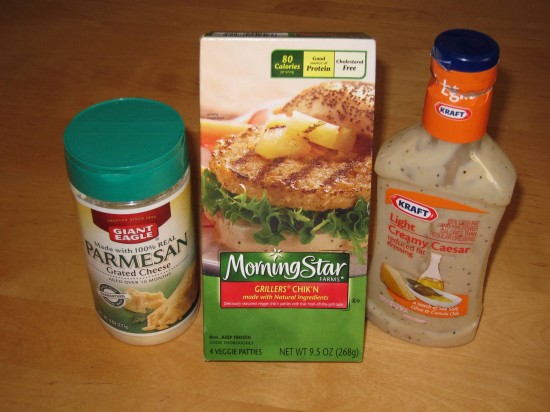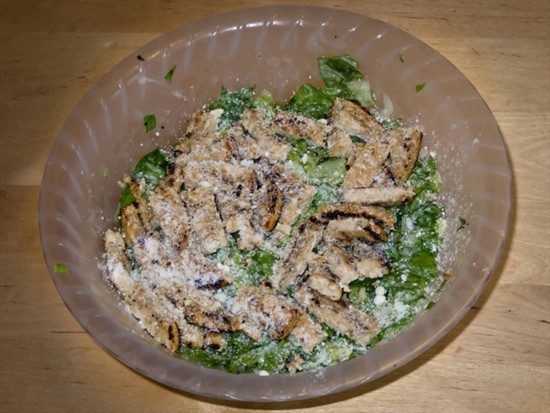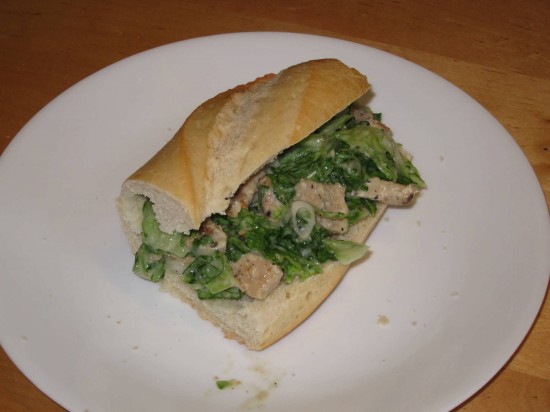 [sws_author_bio user="jewels" size="105″ authorposts="More OI posts by Julie" name_format="About the author"] [/sws_author_bio]