Many holiday traditions return to Winter Park this year, including Central Florida's longest-running parade
The Winter Park Chamber of Commerce is proud to host three holiday events to kick off the season beginning Friday, November 30, and continuing on Saturday, December 1, 2012. The young and young-at-heart can get in the holiday spirit at the Holiday Tree Lighting Ceremony (November 30), Leadership Winter Park Pancake Breakfast (December 1) and Winter Park "Ye Olde Hometown" Christmas Parade (December 1).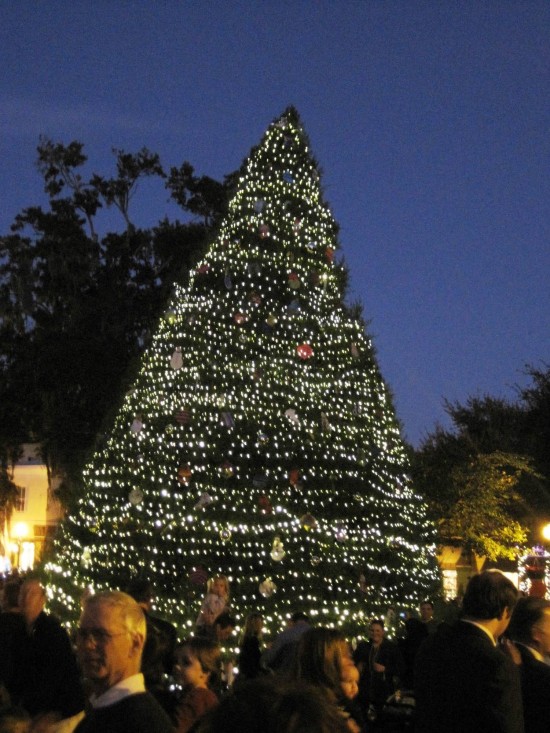 "It has become a tradition for our residents, business community and friends and family from across Central Florida to kick off the holidays in downtown Winter Park," said Patrick Chapin, president/CEO for the Winter Park Chamber of Commerce. "The chamber is proud to continue the legacy of these special events that add to the charm and character of Winter Park."
The 23rd annual Holiday Tree Lighting Ceremony presented by University of Central Florida will be held on Friday, November 30, beginning at 5 p.m. in Central Park. The event features performances by local children's choirs, including St. Margaret Mary Catholic School Choir, New Warner Chapel, Colby Center for Dance and Performing Arts, Park Maitland "Singing Eagles" Glee Club and Orlando Harmony. Winners of the Holiday Card Competition will also be recognized and Bob Opsahl will join the crowd for the lighting of the tree live on WFTV Channel 9. Afterwards families can enjoy refreshments provided by local businesses, plus face painting, caricatures and visits with Santa and Mrs. Claus.
Wake up bright and early the next morning and help turn pancake batter into a stack of dough at the 14th annual Leadership Winter Park Pancake Breakfast.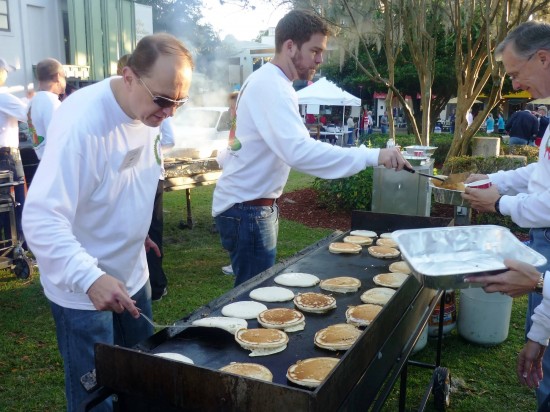 Join presenting sponsors Fannie Hillman + Associates and Vanson Constructors, plus Leadership Winter Park graduates for a traditional pancake breakfast complete with sausage, coffee, juice and an array of toppings at the Central Park stage. Tickets are $6 for adults and $4 for children and can be purchased in advance at www.winterpark.org, the Winter Park Welcome Center or at the event. Proceeds from the breakfast will benefit six Winter Park area elementary schools to help purchase much-needed supplies for the classroom. Pancakes are served from 7 a.m. – 10:30 a.m. Come early, enjoy a hearty breakfast and grab a great seat for the parade!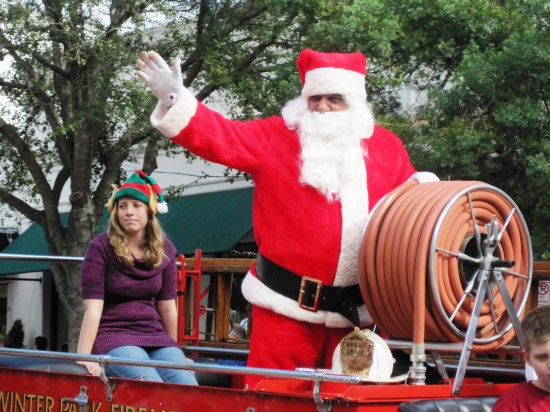 The 60th annual Winter Park "Ye Olde Hometown" Christmas Parade presented by Bright House Networks will be held on Saturday, December 1, beginning at 9:00 a.m. The parade has been held on the first Saturday in December for sixty years, making to the longest-running parade in Central Florida. In 2012 the parade will be under the direction of honorary grand marshal, U.S. Congressman John Mica, and will travel down Park Avenue, starting at Cole Avenue and proceeding south to Comstock Avenue. More than 100 units will participate including bands, local police and fire departments, marching bands, scouting groups, local dignitaries, and, of course, Santa Claus.
For additional information on any of these events, contact the Winter Park Chamber of Commerce at (407) 644-8281 or visit www.winterpark.org.
The holiday festivities continue throughout December
Holiday ice rink in Central Park: November 16, 2012 – January 6, 2013
The City of Winter Park will bundle up once again for "Winter in the Park," the city's annual holiday ice skating rink in Central Park West Meadow. Snowflakes of all ages and skill levels are invited to chill out as they glide, spin and turn!: Monday thru Thursday, 3 p.m. to 9 p.m.; Friday, 3 p.m. to 10 p.m.; Saturday, 10 a.m. to 10 p.m.; Sunday, Noon to 8 p.m. See website for extended school holiday hours. Snow angels are invited to skate all day for only $10 per skater (skate rental included). For a blizzard of 20 or more people, cool group discounts are available. If you are interested in bringing your whole igloo to celebrate birthdays, special events, private parties or corporate holiday gatherings, the rink is available for rental opportunities. Advance reservations are required for private party/groups to avoid an icy avalanche of skaters at the rink. Holiday music, games, carolers and so much more will flurry around you as you enjoy "Winter in the Park."
https://cityofwinterpark.org/Pages/Departments/Parks_and_Recreation/Winter_in_the_Park.aspx
9th annual Winter Park Boat Parade & Festival of Lights: December 8

Join us for the annual Winter Park Boat Parade & Festival of Lights! This fun, community-wide water parade will feature holiday-themed and lighted boats gliding along the shorelines of lakes Virginia and Osceola. The Albin Polasek Museum & Sculpture Gardens will host pre-parade activities including a water ski show at Rollins College at 3:30 p.m. The museum also hosts the official judging station for the Parade and will have music, food, wine and parking beginning at 4 p.m. in the Polasek Gardens. Dinky Dock off Fairbanks Avenue is another viewing area for the parade with the Lake Osceola parade beginning at sundown. All local licensed area boat owners are invited to participate. Boat registration is required with applications available by contacting the Polasek at 407-647-6294 or visiting the website wpboatparade.com. All proceeds will benefit The Albin Polasek Museum & Sculpture Gardens and the Rotary Club of Winter Park Charitable Foundation.
http://www.wpboatparde.com/
Chanukah in The Park: December 9
Join us for a Chanukah family festival featuring a Grand Menorah Lighting. Starting at 5:00pm, this wonderful evening will feature 'The Twins' here from France to perform an amazing acrobatic show. As always the night will also include singing performance's by children from the Jewish Community Center, and Jewish Academy, live Jewish Rock music and dreidels, chocolate Chanukah gelt, Chassidic dancers, clowns, face painting, jugglers, and a $1,000 grand raffle drawing. Food items will include hot dogs, donuts, chips and drinks.
http://cityofwinterpark.org/Calendar/Details.aspx?ei=59750
17th annual Merry Tuba Christmas: December 15

Enjoy the rich sounds of Christmas as tuba, euphonium, sousaphone & baritone players of all ages gather in Central Park to perform a FREE concert from the main stage beginning at 1 p.m. Winter Park's 17th annual Merry Tuba Christmas is a free one-hour concert that has become a staple on the holiday list of things to do. Take a break from shopping on the Avenue, and relax with loved ones to enjoy this annual event. Registration for musicians begins at 9:30 a.m. with rehearsal running from 10:30 am to 12 noon.
http://cityofwinterpark.org/Calendar/Details.aspx?ei=59506
Food Truck Fiesta: December 22
Come out to the Food Truck Fiesta for live music and great food. This is a fun, pet-friendly, family event that occurs every 4th Saturday of the month. Call or email for more information.