Legoland Florida announces expansion: Star Wars coming to Miniland (update: opens today!)
Update 11/9/12
Under construction for four months and crafted from 1.5 million LEGO bricks, the new Star Wars miniland recreates scenes from each of the six Star Wars movies, and a seventh from the animated series Star Wars: The Clone Wars.
As of 10:00am this morning, it is officially open!
Original post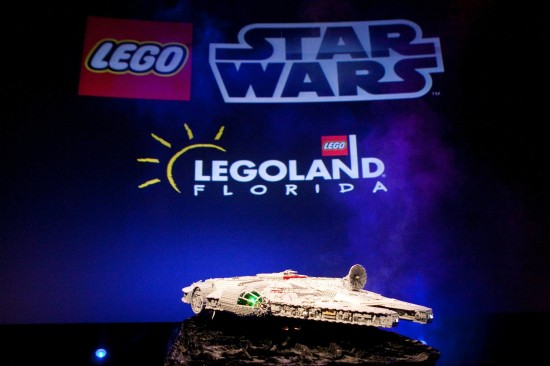 The FORCE officially arrived today at Legoland Florida, a 150-acre Central Florida theme park that today unveiled plans for its all-new LEGO Star Wars Miniland Cluster.
Opening in November 2012 and crafted entirely from 1.5 million LEGO bricks, the interactive area will include scenes and characters from the iconic movie series. During the morning announcement event, Legoland Florida General Manager Adrian Jones revealed a massive Millennium Falcon starship as well as a life-sized Darth Maul, the horned, red-faced villain introduced in Star Wars Episode I. (See the video below.)
The LEGO Star Wars Miniland Cluster will become the eighth interactive area in the park's Miniland USA, a walkthrough, interactive attraction that uses LEGO brick to recreate famous American cities such as Washington DC, New York and San Francisco.
For more information, visit http://florida.legoland.com.
Star Wars announcement – HD video
Click the play button to start the video. Note: Our videos do not stream in HD by default to ensure fast performance. If you would like to view the video in HD, start the clip and then adjust the bitstream to 720p or 1080p.
[youtube_video]R309dokDHBE[/youtube_video]
Stars Wars announcement – photo gallery
Click any image to view it full-screen. When the full-screen image is open, click to the right or use the right arrow on your keyboard to advance through the gallery. If several thumbnails are missing, try reloading this page in your browser.
This post was originally published on September 7, 2012.