Le Cellier Steakhouse at Epcot: Good enough to eat twice in one week
I'm the type of person that doesn't leave home without at least a couple of Disney advanced dining reservations. But sometimes, what you thought you wanted three months out, doesn't turn out to be the case when you're on your trip. Such was the case over the busy 4th of July weekend, when my friend and I decided to check what else might be available for a last minute reservation. That is how we ended up at Le Cellier Steakhouse at Epcot's Canada Pavilion for lunch. A popular restaurant that's often a hard reservation to get — if not the hardest at Disney — I was certainly surprised to see it open in the middle of a holiday weekend.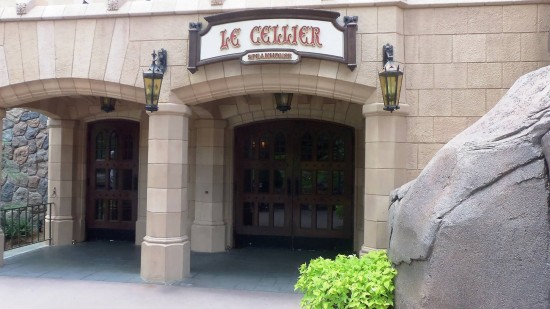 We arrived a few minutes before our 12:00 p.m. reservation and found the small lobby to be pretty full, but we did not have much of a wait to be seated. Our server came by and introduced himself and proceeded to tell us a little about the Canadian province he was from (Manitoba) and took our drink order. My friend and I are both fans of Canadian brewery Unibroue's beers, so we each ordered the Unibroue beer flight, which is a steal at $8.50.
The beer flight includes a five ounce pour of Unibroue's Ephemere, Blanche de Chambly, and Trois Pistoles. I admit to being slightly amused when our server gave us a quick warning about the strength of the last beer, Trois Pistoles; he pointed out it's about twice as strong as your average American beer. I knew this, but it's good information for those who might not and might be taken off guard otherwise. Anyway, if you're a craft beer fan, you'll probably enjoy this flight.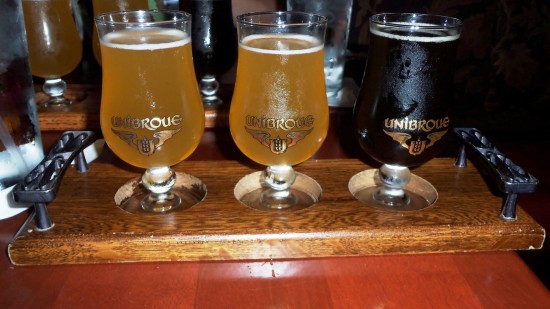 We were brought the traditional Le Cellier bread basket, which includes three types of breads that represent different regions of Canada – sourdough for the Yukon territory, multi-grain for the various grain producing provinces, and pretzel bread for Ontario, which holds the second largest Oktoberfest in the world each year. The bread basket only contained one of each type of bread, but you are welcome to ask for more.
Most people go to Le Cellier for the steak, but neither of us were interested in having steak for lunch that day, so I chose the Le Cellier House Burger, with cheddar, mushrooms and maple bacon, and my friend decided to have the appetizer trio – tomato Salad, duck confit crêpe, and Canadian cheddar cheese soup.
The burger arrived cooked to my specifications and was quite delicious, with a fair amount of fries to go with it. If you're a mushroom fan, they put plenty of them on the burger, and the way they meld with the melting cheddar cheese is nice.
My friend's appetizer trio was for two and she offered me the extra small cup of cheddar cheese soup which I enjoyed as a dip for some of the bread from the bread service. As appetizers, the portions of each of the items were small, but ample enough to fill one person for lunch. She said the duck crepes were good, and she'd order this meal again.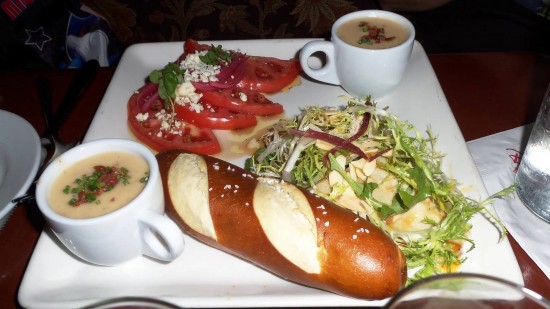 At the conclusion of our meal, both of us decided we were too full to order dessert so we ended our lunch at that point and were on our way.
Now, I don't normally go up to Orlando two weekends in a row, but it just sort of worked out that I was coming up the next weekend with my husband. If I was able to get a reservation on such short notice for 4th of July weekend, what about the next? Once again, Le Cellier was available.
For this visit, we decided to go with the prix fixe lunch. This is a great choice for those who aren't interested in having a steak and would like to enjoy both an appetizer and dessert, as it includes both, along with an entree, for $28.99.
I would have ordered the cheddar cheese soup as an appetizer but since I had just had some the weekend prior, I decided to get the house salad, and my husband went with the spicy chicken and chipotle sausage. The salad was fresh, and I enjoyed the blue cheese and sunflower topping, but I would have preferred a bit more of the dressing on it. The sausage came served in a small skillet with corn polenta, which my husband said was the perfect accompaniment for the subtly spicy sausage.
Next up were our main courses. I had chose the the sauteed potato gnocchi and my husband chose the grilled pork chop with baked cheddar cheese pasta.
The gnocchi is served in a light tomato broth with a bit of mozzarella scattered on top, and it was absolutely delicious. The dish was listed as containing "spring vegetables" on the menu as well, which basically amounted to a couple of different types of tomatoes.
My husband's pork chop was fairly good size and cooked perfectly to his specifications. The baked cheddar cheese pasta that comes with it appeared to be the same as the baked macaroni and cheese that is served as a side dish at Le Cellier. I'm not sure what the point is in giving it a different name when it's served as the side dish to the pork chop, but regardless it is great macaroni and cheese. My husband said he would definitely order this meal again.
While both of us were fairly full at this point, we had made the concerted effort to try and leave room for dessert. I love chocolate so I ordered the chocolate moose. As you can see in the image of it in the photo gallery below, it's definitely more of a children's dessert but if you're a fan of chocolate, you'll probably enjoy it. My husband went with the crème brulee, which was an ample serving and quite delicious.
I enjoyed both of my lunches at Le Cellier, and I would not hesitate to visit again. Honestly, the only remotely negative thing I have to say is that the table for two is just a bit too small and easily overwhelmed by the beer flights, bread and appetizers. There simply isn't enough room to place everything comfortably. But that is not enough to deter me from eating there in the future. (I suspect the fact that I was part of a party of two for both visits may have played a role in getting those last minute reservations so I certainly can't begrudge the tiny table too much!)
Le Cellier Steakhouse is on the Disney Dining Plan and currently requires one credit for lunch and two for dinner. However, that will change at the beginning of next year when it will be considered "Signature Dining" all day, and will require two credits. While I think the food is very good, I don't think it's worth two dining credits so get in there for lunch before the end of year if you can. Otherwise, for a discount on both your food and alcoholic beverages, Le Cellier also accepts Tables in Wonderland.
Le Cellier Steakhouse – map & links
Click any marker to display the attraction or venue name. To scroll or zoom, use the controls on the top-left of the map. You may also switch to different map views by using the buttons on the top-right of the map.
Official website: http://disneyworld.disney.go.com/dining/le-cellier-steakhouse/
Le Cellier Steakhouse – photo gallery
Click any image to view it full-screen. When the full-screen image is open, click to the right or use the right arrow on your keyboard to advance through the gallery. If several thumbnails are missing, try reloading this page in your browser.
[sws_author_bio user="KatSRQ" size="105″ authorposts="More OI posts by Kat" name_format="About the author"] [/sws_author_bio]