The Kitchen Sink Challenge at Universal's Hard Rock Hotel: How much can you eat in 30 minutes?
During the last year my girlfriend and I have started to watch a lot of shows on Food Network. She's a big fan of Sweet Genius and Restaurant Stakeout, while I'm drawn to Man vs. Food. I have become completely fascinated with the idea of eating challenges (while my girlfriend remains horrified). Imagine my surprise when I found out a theme park restaurant was offering up a challenge. This was combining two of favorite things in life: Universal Orlando Resort and the idea of eating an insane amount of food in a short period of time.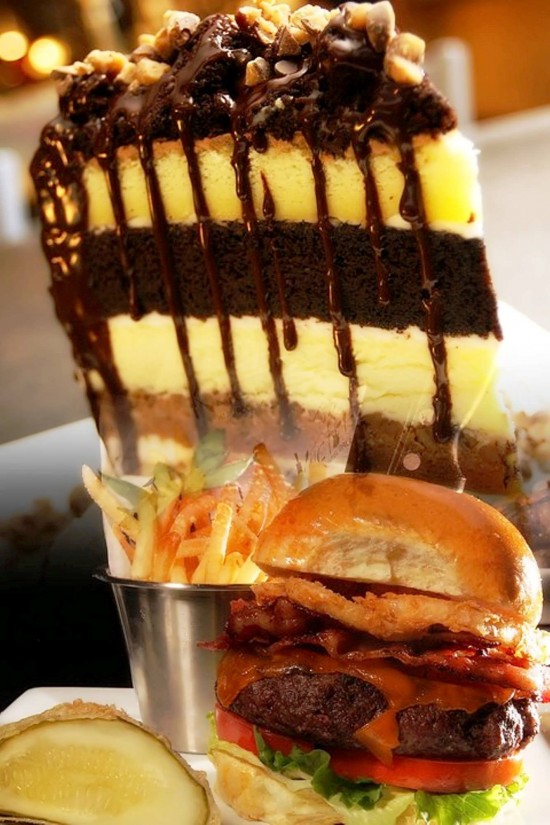 This summer The Kitchen at the Hard Rock Hotel in Orlando started up "The Kitchen Sink Challenge." To complete the challenge, you must consume a Kitchen Burger (usually a 10 oz patty, but vegetarians can request a veggie burger patty replacement), a side of french fries, a fried pickle, and a slice of The Kitchen Sink Cake, all within a 30 minute time limit. Not too bad, right? Did I mention the Kitchen Sink Cake is "a 3 pound slice of cake with seven layers of heaven including – brownies, peanut butter crunch, chocolate chunk cookies, cheesecake, pecan pie, devil's food cake, vanilla chiffon cake, all covered in chocolate butter cream frosting, chocolate chips, chocolate sauce, and heath bar crunch; served with vanilla bean ice cream." That description neglects to include the two giant strawberries and various pieces of artistic chocolate decorating the cake.
Two of us decided to take on The Challenge that day, myself and OI Special Correspondent Kenny Laughters…
Kenny and I discussed The Challenge every day for weeks, trying to come up with techniques which would enable us to overcome this seemingly Herculean task. There's a famous phrase from boxing legend Joe Louis that goes, "everyone has a plan until they get hit," and I can add to that by saying every plan we had in our minds went out the window when the food came out.
I knew the Kitchen burger and the Kitchen Sink cake were big, but I guess I didn't realize how big until they were sitting in front of us. The manager on duty, Junior, was our official time keeper. When we began the competition, Kenny literally devoured the Kitchen burger in two minutes. It was a scene straight out of a cartoon. Just amazing. The Cookie Monster would be jealous how fast Kenny plowed through a burger close to the size of a human head. I went a different route, I ate bites of my burger, fries, and cake in rapid succession.
At the 8:00 minute mark, all Kenny had left to go was the Kitchen Sink cake. What slowed him down, and what I agree is probably the biggest hurdle in The Challenge, is the fried pickle. While the pickle itself wouldn't seem nearly as intimidating as the huge burger or slice of cake, it's essentially like eating a big, warm cucumber. I also saved the fried pickle for after I had already finished my burger, fries, ice cream and some of the cake. At about the 12:00 minute mark all I had left was my slice of cake as well.
Both Kenny and I pushed our cake onto its side. At this point we both thought there was no chance that we wouldn't be the first ever to defeat the challenge. Ah, the hubris of mortal men!
While gorging on the cake, Kenny hit The Wall at about the 16:00 mark and really began to slow down. If Kenny had a thought balloon above his head like you see in the Toon Lagoon it would surely say, "mistakes were made."
A little after the 22:00 minute point Kenny had finally had enough…
Assured that his wife was proud of him whether he finished or not, the proverbial towel was thrown in and The Challenge claimed another victim.
I kept going forward. While I wouldn't say I was full, I was finding it almost impossible to chew or swallow anywhere near as fast as I knew I needed to. The closest thing I can describe it to is "quicksand for the mouth." The more cake I put in, the slower my mouth was moving to chew it. And no matter how much water I drank, I just couldn't swallow it fast enough. I think it was the massive amount of chocolate that enveloped the cake that was creating this cement-like mixture in my mouth.
When Junior announced the two minute time limit, I think many in the group watching thought I was going to be able to accomplish the impossible and defeat The Challenge. But I knew there was no chance. As little as there was left on my plate, there was no way I could chew through it fast enough. I kept going though, subconsciously hoping there would be clock malfunction giving me the two extra minutes I would need to finish the plate.
Alas, Junior called it at the 30 minute mark. I took what was left of my pride, and pushed my plate away, admitting defeat to The Challenge.
Kenny admits to thoughts of being nauseous while eating, but neither of us "refunded" any of the meal afterwards or later that night. However, while I've never been pregnant, I'm pretty sure I can say I know what it feels like to walk around with a 7 pound living being in your stomach. The walk to the hotel room was a long one, and I was useless for the rest of the night. I laid on the bed, half of me wondering if I ever wanted to eat food again, and the other half trying to figure out what I need to do in order to defeat The Challenge next time.
The next day, an amazing fruit and cheese platter showed up at our hotel room, courtesy of Jennifer Hodges of Lowes Hotels at Universal. The card attached asked if we could conquer the fruit and cheeses. The answer: Yes, Yes We Can.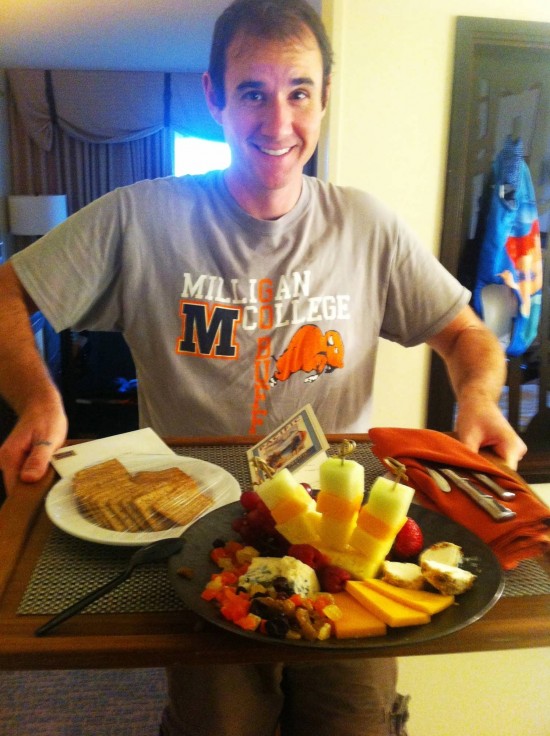 Everyone in our party came away from The Kitchen very impressed with the menu, as it also had good items for the vegetarians and vegans with us. Both Kenny and I give a glowing recommendation to The Kitchen Burger, something both of us want to try again, this time to savor it rather than trying to eat it like the Cookie Monster. In fact, two other members of our party got The Kitchen Burger as their entrée and were more than satisfied (although they couldn't finish it in one sitting, let alone in two minutes like Kenny). We also think the slice of Kitchen Sink Cake just may be the best slice of cake we've ever had, although we definitely advise to eat the slice with four or five other people.
Despite defeat, Kenny and I are steadfast in our belief that we can defeat The Kitchen Sink Challenge. This was our first-ever eating challenge, and we're confident that we can figure out what went wrong, correct that problem, and become victors.
"And why do we fall Bruce? So we can learn to pick ourselves up." – Thomas Wayne, Batman Begins
[sws_author_bio user="derekburgan" size="105″ authorposts="More OI posts by Derek" name_format="About the author"] [/sws_author_bio]