Food. It's not only necessary for us to survive, but we as humans have turned sustenance into an art form. And then, in an obvious leap from there, we turned it into a sport.
It started off simple: a hot dog- or pie-eating contest here, a milk-chugging challenge there. It took a strange turn at one point, when the internet decided eating Tide Pods as a "challenge" was a smart decision – spoiler alert: it's not – and then, as with all great sports, we started to televise them. With the rise of the Food Network and the overwhelming popularity of series like The Great British Baking Show, it's no wonder that spotlights have begun to shine on restaurants around the world, showcasing their own best dishes and insane eating challenges.
Now, it's time to point one of those spotlights to our very own Hard Rock Hotel in Orlando and The Kitchen Sink Challenge.
The Kitchen
First things first: let's step into the ring! Welcome to The Kitchen, the delightful restaurant located at Hard Rock Hotel. For all-day dining joy, it's well worth the visit! Choose from delicious omelettes or a breakfast buffet in the morning. Enjoy their Acoustic Brunch on Sundays, complete with live music and bottomless mimosas! For lunch, you can order The Kitchen Burger without the rest of its challenge buddies, or an incredible pasta dish. Dinner includes mouth-watering options from steak to salmon and everything in between, and you can top it all off with one of their fine wine selections.
Or, if you're feeling brave, you can do the Challenge.
The Challenge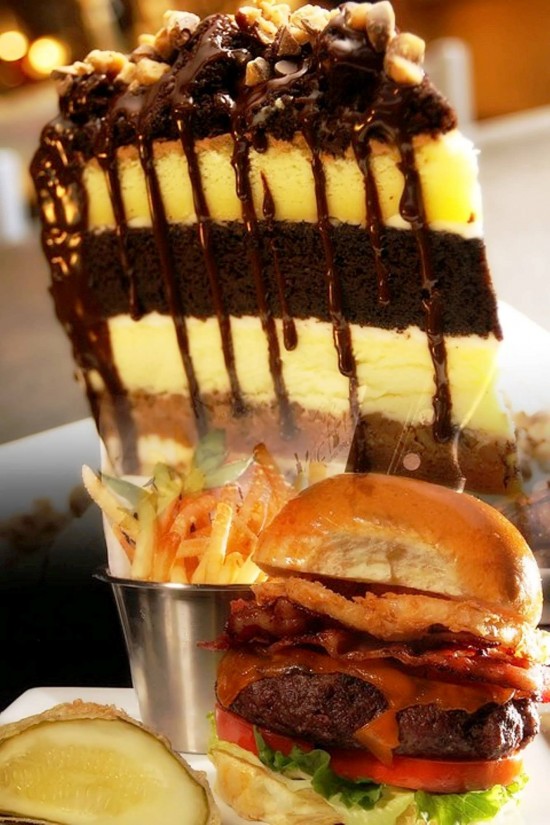 In the summer of 2012, Universal's Hard Rock Hotel launched their Kitchen Sink Challenge. At first glance, it seems simple enough: one burger, a side of fries, a fried pickle, and a single slice of The Kitchen Sink Cake. You just need to finish it all in under 30 minutes. Simple, right?
Wrong. Oh, so very wrong. Not only was it a full year before anyone could defeat the challenge – Nick Ranieri, you are a hero to us all – but, to date, only 12 people have slain the beast. Why is it so difficult? Well, let's look a little closer at all the pieces of the puzzle.
The Kitchen Burger is an $18, 10-oz Angus beef patty, topped with cheddar, bacon, lettuce, tomato, chipotle horseradish aioli, and onion rings, all on a brioche bun! It's already incredibly filling all by itself, even without the side of fries and the fried pickle. But then there's the cake – a delicious monstrosity of chocolate and cream.
The Kitchen Sink Cake takes 31 steps to create. Each slice weighs three pounds and has seven layers: brownie, devil's food cake, vanilla cheesecake, pecan pie, chocolate chunk cookie, vanilla chiffon, and peanut butter crunch – all held together with rich buttercream frosting between each layer, and smothered in chocolate ganache, chocolate chips, chocolate sauce, and Heath bar crunch. Oh, and a scoop of vanilla bean ice cream, just in case your sugar rush wasn't already reaching coma-inducing levels.
The prize
As with most restaurant challenges, your reward for finishing within the allotted 30-minute window is fairly straightforward: your meal for free and bragging rights. If you can't, you just have to pay $18 for your burger and $22 for a slice of the best cake you'll ever eat. But if you manage to defeat the behemoth? Your name goes down in history in the Hard Rock Hall of Fame. You'll be among legends, to be praised for generations to come – at least, among certain circles.
But, hey – what an experience! Try it out next time you're planning your Universal dining. Who knows? Maybe you'll beat the record for fastest time (currently set at less than 11 minutes). Maybe you'll barely finish with seconds to spare, and pull off your legendary win just under the wire. Or, maybe, the monster will get the best of you, and you'll have to try again one day, when you're older and wiser.
No matter how your challenge ends, just trying is a win in my book. So step up to the plate and take a swing at The Kitchen Sink Challenge, located at the Kitchen restaurant on the ground floor of Hard Rock Hotel.
–
Whether at The Kitchen or somewhere else at Universal Orlando, share your favorite culinary experiences (or challenges!) with 80,000+ enthusiasts at our OI Community Facebook group.
And be sure to follow Orlando Informer on Facebook, Twitter, and Instagram for the latest news and tips at Universal Orlando, Walt Disney World, and other Orlando experiences.