Don't forget the headphones! Items to take to the theme parks in Orlando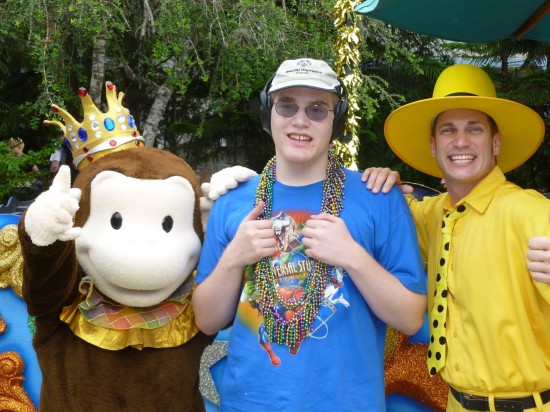 My husband and I have a teenage son with autism, but that doesn't stop us from having fun at Orlando's theme parks almost every weekend. However, we must remember to bring certain items in order for our non-verbal son and us to have an enjoyable day. Most of the following items can help anyone when visiting Walt Disney World, Universal Orlando or SeaWorld.
Backpacks: For most of the major rides at Universal Orlando and SeaWorld, your loose items are required to be stored in a locker. The backpack's size does matter because lockers for each theme park vary in size. Each of us carries a smaller but roomy backpack we purchased at Universal Orlando Resort and it works well.
Stroller/Wheelchair: If your child is hard to keep nearby, fatigues easily, and they are small enough, you may want to rent a stroller at the park if you don't bring your own. On busy days or when our group is four or more we sometimes rent a wheelchair for our teenage son because he walks very fast and easily leaves our group behind.
Small snacks: Walt Disney World, Universal Orlando and SeaWorld each have a policy about bringing food and drink into their park. Small snacks, like granola bars, pretzel pieces, candy and gum help our son while he is waiting in line. We like to provide him with these crunchy items because it helps drown out external noise while our sound-sensitive son is eating. The crunching and chewing also provides him with the sensory input he craves. Snacks also curb hunger and hunger can contribute to his behavior issues.
Bottled water: We put several bottles of water in our freezer a few hours before we leave for the theme parks. As a result, they will stay cool for most of the day. We also bring water flavor packets to mix in the water.
Wipes and Sanitizer: The individually wrapped hand wipes and a small bottle of hand sanitizer help keep messes and germs at a minimum.
First aid/medicine: Each theme park has a First Aid station but we have a small first aid kit. We also bring prescription and over-the-counter medications that our son may need in a zippered plastic bag.
Poncho and/or small umbrella: During the summer in Orlando, it will likely rain in the afternoon. Ponchos are also helpful to wear on some of the wet rides.
Plastic kitchen trash bag: A kitchen-sized trash bag is handy for wet ponchos so everything else in the backpack doesn't get wet. We also put our wet bathing suits in one after a day at the water parks.
Zippered plastic sandwich bag: Put the Guest Assistance Pass, stroller rental paperwork and other important papers in a quart-sized plastic bag so they don't get wet on the rides. You may also want to use a plastic bag for your cell phone and keys if you don't place them in a locker before you ride the wet rides.
Cool cloths: During the warmer months, wrap a wet washcloth around a frozen ice pack and put it in a gallon-sized zippered plastic bag. The cool cloth is very refreshing on your neck or your face. Put them next to your bottled water in the backpack and it also helps keep your water cold.
Hand towel: Wipe your face and/or glasses with a hand towel after you've been soaked on a ride. You can also use it to wipe off a bench after a rain shower.
Communication needs: Before our non-verbal son got an iPod Touch to help him communicate, we created flash cards with the name of every attraction, restaurant and activity for the theme parks. We printed them onto color-coded cardstock (blue for food & drink, yellow for rides, etc), laminated them, punched a hole in the upper left corner and hung them on a craft ring, one ring per park. For children who cannot read, you could use pictures of the rides or the theme park's map.
Our son currently uses the Proloquo2go app on his iPod Touch to communicate. The iPod Touch is connected to a small speaker (iMainGo2 portable speaker) that doubles as protection. We programmed the app with all of the necessary information for each theme park. We also use the theme park's map for our son to point where he wants to go.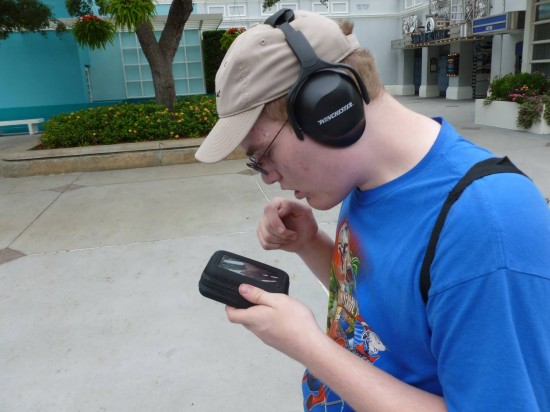 Fidgets: Stress balls and fidgets are included in our backpack for our son to hold if he seems to be getting a little agitated or over-stimulated. You can find some great fidgets in the birthday party favor section of most stores.
Favorite toy/handheld game: These may help with anxiety or keep your family member entertained while waiting. We downloaded some free apps that our son plays while waiting in line. He also enjoys looking at family photos and videos on the iPod Touch. Something else that works well for us is a sticker book or Color Wonders if we're eating at a restaurant. Our son has access to this item only during meals and at no other time during the entire vacation.
Ear plugs/headphones: If your child (like ours) is sensitive to sounds, you may want to bring ear plugs to the parks. We usually get the foam earplugs at our local drug store. For the water parks, our son uses swimmer's ear plugs which reduce sound levels but not as well as the foam earplugs. Our son also wears sound reducing headphones from Wal-Mart. Your child may prefer music headphones connected to an mp3 player to help drown out noise while waiting in line or especially while eating in restaurants.
I hope the items listed help make your vacation to the Orlando theme parks more enjoyable. Do you take something unique to the theme parks that enhances the experience for your family?
[sws_author_bio user="MaureenDeal" size="105″ authorposts="More OI posts by Maureen" name_format="About the author"] [/sws_author_bio]