Islands of Adventure trip report – December 2012 (Holiday fun, Grinchmas, low crowds)
For this trip report I went to Islands of Adventure to see all the holiday decorations and experience Grinchmas for the first time. I was also interested to notice if any progress was occurring with the construction near the Wizarding World of Harry Potter.
From the turnstiles at the park's entrance, you could easily see Islands of Adventure was decorated for the Holidays.  After entering the park, my family and I headed to Seuss Landing. We truly enjoyed all the decorations incorporated into the unique scenery.  The holiday décor had a whimsical flair much like the Dr. Seuss books' illustrations. We saw several Whos from the Grinchmas Wholiday Spectacular in the streets of Seuss Landing interacting with park guests and stopping for photo opportunities. You can also meet the Grinch himself at designated times each day.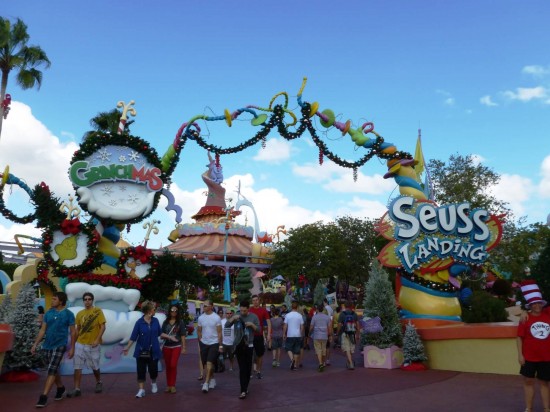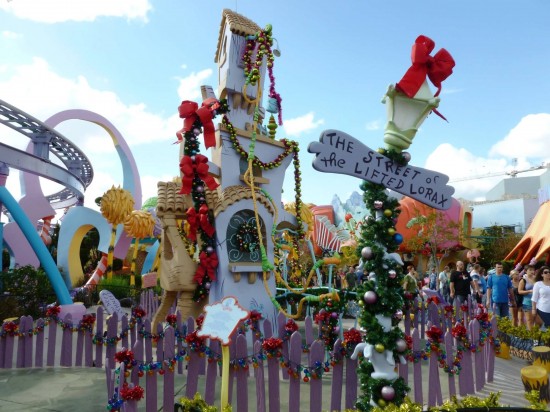 [wptouch target="non-mobile"]Remember, you can click any image to view it full-screen. And don't miss the complete photo gallery at the bottom of the post!
[/wptouch]
We rode several attractions in Seuss Landing and then proceeded to the Grinchmas theater.  Grinchmas was a fantastic production, entertaining, and very well done with incredible music by Mannheim Steamroller.  I highly recommend it for all ages. You can learn more about it on OI's Grinchmas Wholiday Spectacular page.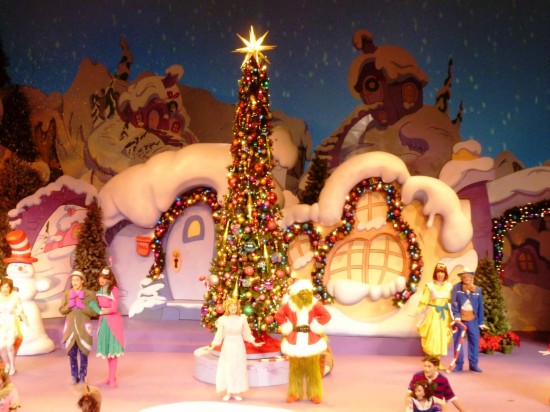 You can also see more holiday decorations inside Seuss Landing in this post.
Heading into the Lost Continent area, the construction zone doesn't appear to be different since my last trip in November. We were able to capture one photo over the wall near the entrance to Wizarding World of Harry Potter.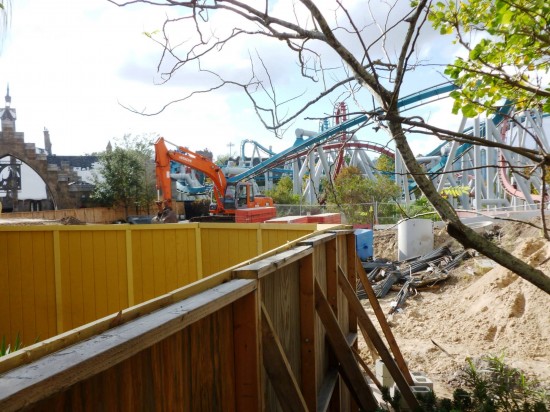 If you'd like, you can learn more about the WWoHP expansion.
The holiday decorations inside the Wizarding World of Harry Potter were very subtle.  Wait times in this area were the lowest I can remember for some time, with Forbidden Journey at one point posting a 15 minute wait time for the standby line.  There were still lines to get butterbeer but they were not more than a few minutes long.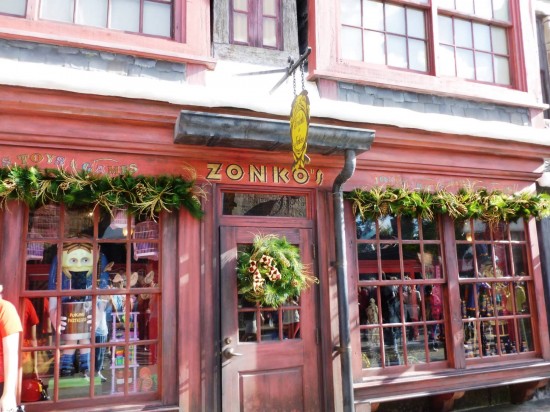 Because the weather was nearly perfect — in the mid 70's and sunny — all the water rides in Islands of Adventure were open, including Jurassic Park River Adventure.  Crowds in this part of the park were minimal and my family walked onto the ride without a wait at all.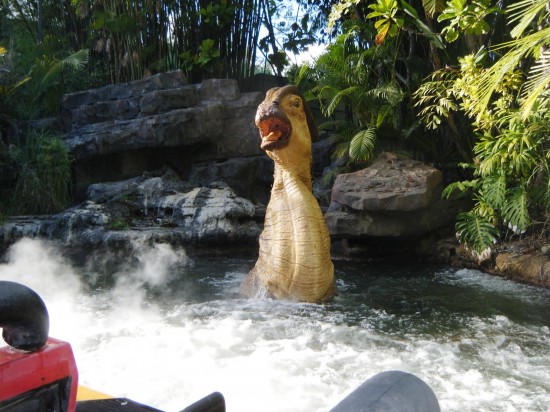 In the Toon Lagoon section, posted wait times were as short as 5 minutes. My family walked onto the rides in this section also without any wait.  In fact, we had the river raft barge to ourselves on Popeye and Bluto's Bilge Rat Barges.  The lack of crowds enabled us to easily ride Rip Saw Falls multiple times.
As we walked onto Super Hero Island, the meet and greet show was starting.  Super heros like Captian America, Spider-Man and others rode into the area on their sporty ATV's while edgy rock music played over the loudspeakers. Each super hero proceeded to their designated area for meet and greet opportunities with the park guests. It's an impressive event for all super hero fans.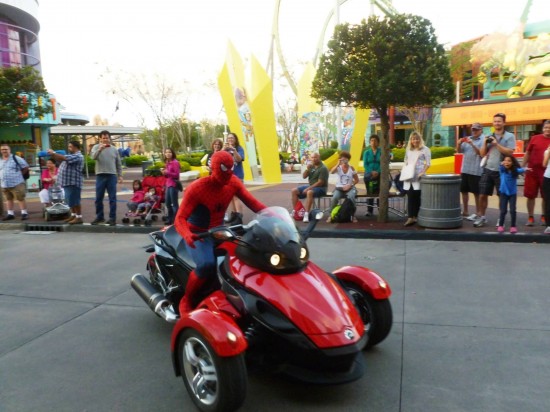 My trip to Islands of Adventure incorporating the holiday decorations and Grinchmas was enjoyable. I look forward to going back again soon.  Hopefully Islands of Adventure is on your list to experience and become a part of your holiday traditions this season!
You can learn more about the holidays at Universal Orlando, or view all of our trip reports.
Islands of Adventure trip report – photo gallery
Click any image to view it full-screen. When the full-screen image is open, click to the right or use the right arrow on your keyboard to advance through the gallery. If several thumbnails are missing, try reloading this page in your browser.
[sws_author_bio user="MaureenDeal" size="105″ authorposts="More OI posts by Maureen" name_format="About the author"] [/sws_author_bio]