Islands of Adventure trip report – August 2012 (Lost Continent, WWoHP construction)
Several changes have occurred at Universal Orlando's Islands of Adventure since my last visit.
In Seuss Landing, I was happy to find the Green Eggs and Ham counter service restaurant open. This unique restaurant is open seasonally but has not been open consistently during this season. It is always fun to see it open since the food offered (green eggs and ham) enhances the Seuss Landing atmosphere of immersion in the Dr. Seuss books.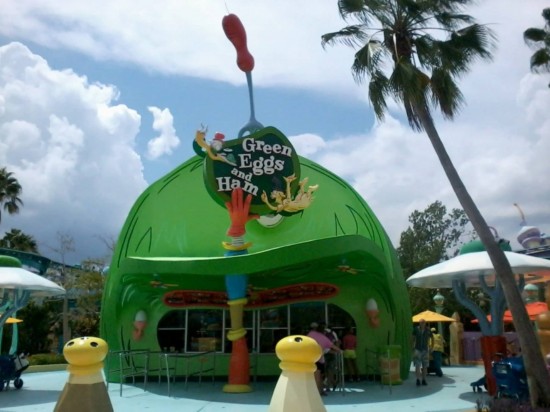 In the Lost Continent section, construction walls are up both outside and inside the Treasures of Poseidon shop. A team member told me the Pearl Factory will be moving into this constructed space. The team member was not certain though what, if anything, will replace the Pearl Factory.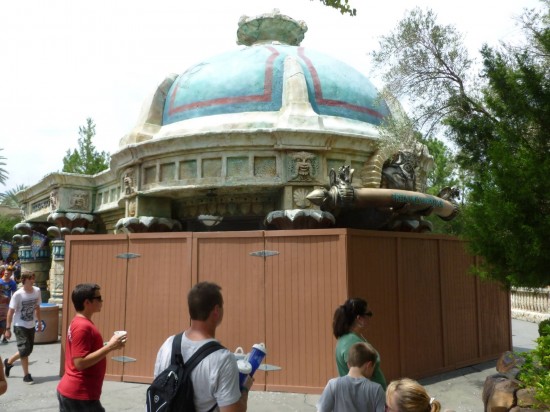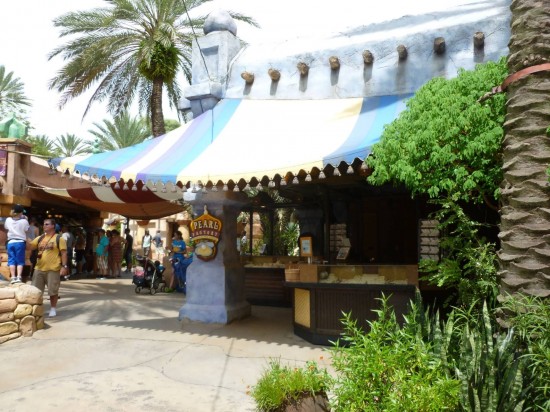 Continuing to feed the rumor of a Wizarding World of Harry Potter expansion, there are construction walls that extend from the Eighth Voyage of Sinbad attraction to the Dragons Challenge rollercoaster. While riding Dragons Challenge, you have a good, yet brief, view of the construction and heavy equipment behind the Sinbad stage and the construction walls.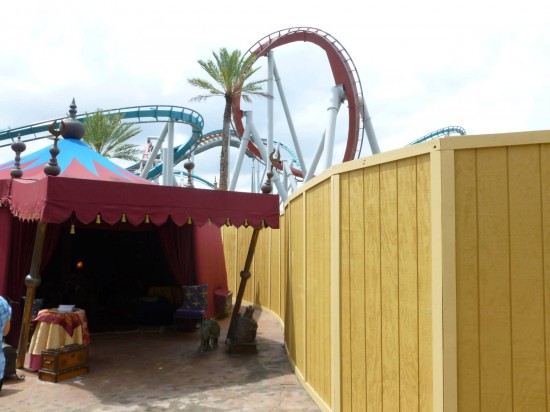 Also, the 'tour only' line at Harry Potter and the Forbidden Journey ride seems to be open all the time now. The tour only line is for those muggles who do not want to ride Forbidden Journey but want to experience and tour Hogwarts castle.
Other changes recently reported by OrlandoInformer.com that I missed due to the rain are the wait time display board at Port of Entry was replaced with electronic survey kiosks and a refreshment cart added in the WWOHP near the construction bridge. Editor's note: I did notice those changes during, my last visit, and I got photos too: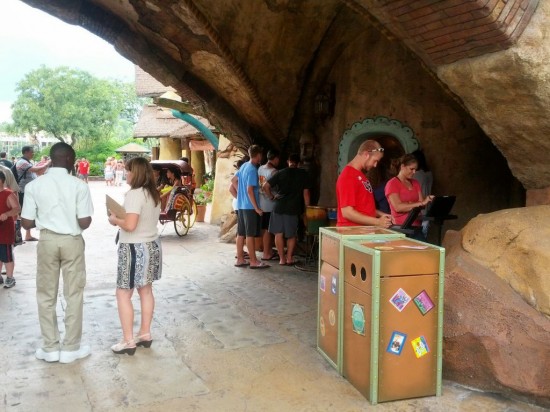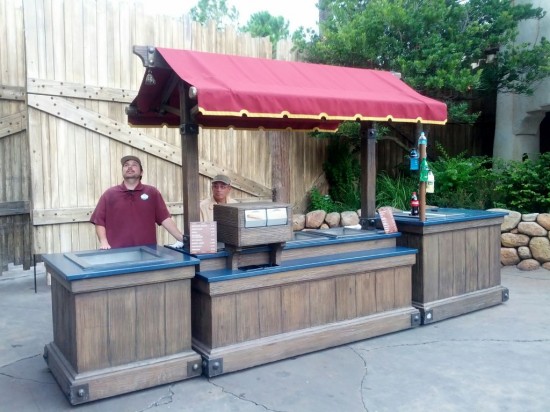 The crowd levels for Islands of Adventure have tapered off during the past few weeks. I would consider them moderate for IOA. Outside the WWoHP, wait times for the major attractions are usually around 30 minutes or less and lines at food and drink kiosks are 10-15 minutes. One exception was Ripsaw Falls which was 45 minutes or more, most likely because it was periodically closed due to inclement weather. Inside the WWoHP, wait times for Forbidden Journey were about 45-60 minutes and Flight of the Hippogriff and Dragons Challenge were under 30 minutes.
On the way to the parking deck, I was excited to see a new item for sale-Despicable Me Minion Mayhem hats! I've now added them to my "want" list.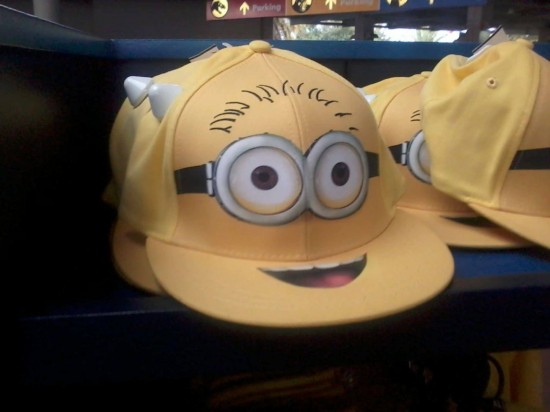 For the very latest information about the changes at Universal Orlando, check out OI Universal Center daily updates. Or, view past trip reports.
[sws_author_bio user="MaureenDeal" size="105″ authorposts="More OI posts by Maureen" name_format="About the author"] [/sws_author_bio]