When you think of Orlando, the last thing you probably think of are parties in cold places. So you may not know that there is an arctic world awaiting you right on International Drive! It's called the Icebar — and it's gonna freeze your socks off.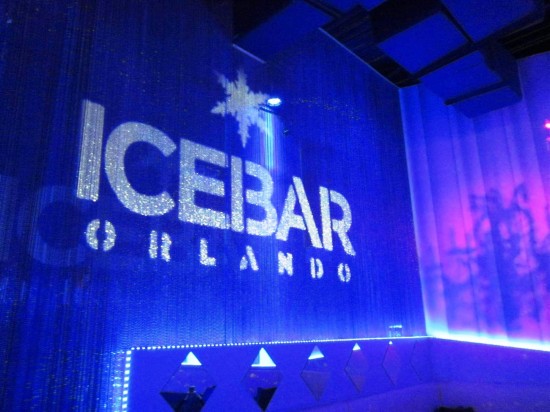 What is the IceBar you ask? It's a bar, of course, but it is also an icy wonderland made out of 50 tons of carved ice. Some things you will find inside are a beautiful ice throne, seats made of ice, carved animals and a full-service bar. There is also a Fire Lounge area that is perfect for warming up after your icy expedition. The Icebar has even been featured on a several television shows such as "America's Best" on Food Network, Travel Channel's "Extreme Barhopping", Fox News, CNN and more.
Although I fully despise winter, this experience is completely different. The thought of entering into an icy wonderland in the middle of Orlando just seems magical and inviting, so I was really excited to visit!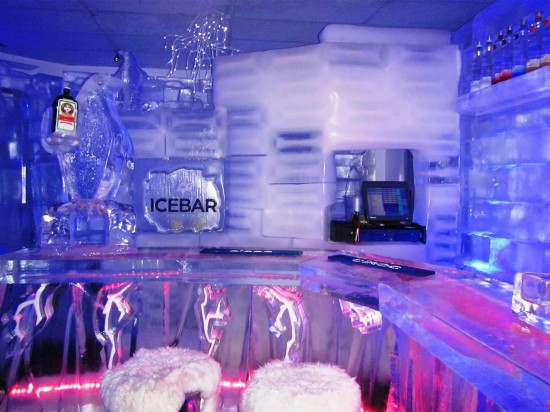 Entry into the IceBar used to be by a set reserved time slot time only, but now a reservation is not required. Hours are:
Monday – Wednesday: 7pm – 12AM
Thursday: 7PM – 1AM
Friday – Saturday: 7PM – 2AM
We had no problem getting in without a wait. However, we went on a Monday, and crowds can vary greatly depending on the day/time you visit and if any special events are scheduled. So it would be a good idea to call ahead just to make sure you won't encounter a long wait.
There is parking on-site, behind Icebar. Once inside a hostess will explain the different options, prices, and answer any questions you might have. There are several different "Expeditions" that you can chose from. The main differences in the Expeditions are (1) if drinks are included with your package and (2) how many.
View the Expeditions available
We went with the Arctic Expedition, which includes entry into the Icebar, one Fire Lounge drink and one drink inside the Icebar. We were given our Icebar entry tickets and drink tokens (which you will give the bartender to receive your drinks). The usual route is: visit Icebar first and then come out and warm up in the Fire Lounge, but we decided to visit the Fire Lounge first to get a better feel for the place first.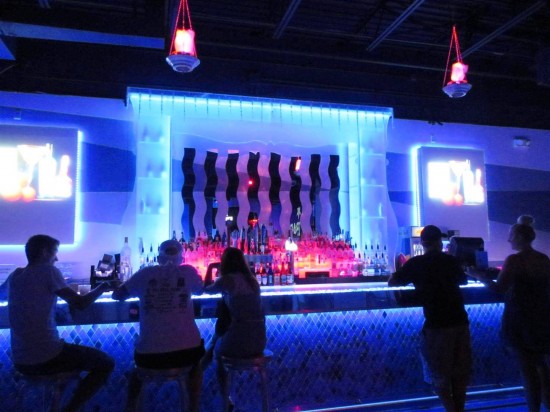 Our main gripe about the experience was the lack of guidance and not having a menu/drink list to pick from at the Fire Lounge. None of us are all that knowledgeable when it comes to drink choices, so it was a bit confusing when it came to knowing what we could order. They did have a few signs with drink specials, but it would have been nice to have a list of other options as well, just for a little inspiration.
Between the three of us we had a rum and coke, a fruity drink and one of their specials, a Flaming Hurricane. The Flaming Hurricane is served in a souvenir glass and lit on fire. We were all a little confused about the drink specials. We were not sure if they were included with our expedition or if they were a separate cost of $8.99 as listed on the sign. Two of us had already ordered drinks by the time we found out that if we wanted the drink special with souvenir glass that it was only $3.00. Had we of known it was only an up-charge of $3.00 we would have probably all got one.
We enjoyed our drinks, then were ready to make our journey into the Icebar! Before entering you get your parkas and gloves. For an additional $10.00 you can upgrade to a fur coat. The gloves we were given made us chuckle a little as they were more like gardening gloves versus winter gloves, but since you're not spending hours inside they kept our hands pretty warm.
I will admit, the actual ice room was a lot smaller than I had thought it would be. But other than that it was just as I imagined and super cool (no pun intended)! We were the only ones in the room at this time and took our time exploring, taking turns sitting in the ice throne and checking out all of the sculptures. The bar area is also made out of ice and just really neat to see, all of it is. The bartender came out — a really friendly guy — and we placed our orders. This set up was better than Fire Lounge because they had an actual drink list to look at and the bartender had some recommendations as well. I got the Pinnacle Whipped Cream Vodka with Orange juice, YUM! I forgot to mention, the glasses your drinks are served in are also made out of ice, pretty neat!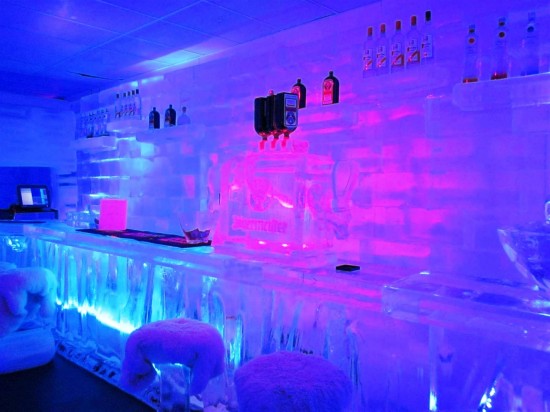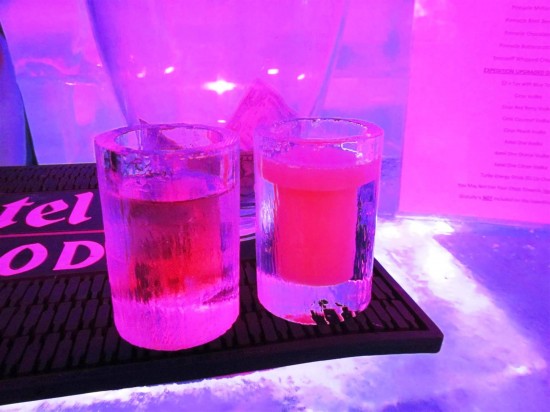 By now more people were entering into the bar. Everyone who came in all really seemed to be enjoying themselves and loved looking at all of the ice features. There is a photographer that will come around to take photos and show you different photo packages that are available for purchase. Of course, you can kindly decline and taking your own photos inside is allowed.
We finished our drinks, took photos and just enjoyed the translucent paradise. We were inside about a half hour before we all started to get a bit chilly and slowly made our way back to the Fire Lounge. It did feel good to be back in the warmth. We hung around a little while longer before making our way out. If you decide to purchase one of the souvenir glasses be sure to pick it up at the front counter on your way out.
If you read reviews about Icebar Orlando you will see a lot of people calling it a tourist trap or that it isn't worth the money, but we really enjoyed it! We all agreed that it is a really fun experience and worth checking out. We visited with someone who lives in the area and he really enjoyed it too, so it's not just for tourists. It's probably not somewhere that you will visit every week, but definitely worth your time at least once. In fact, even though we went to Universal and other spots over the weekend, Icebar Orlando really was a highlight of the trip!
Some additional information: Adults 21 and up are welcome at all times, guests ages 8-20 years may enter the Icebar between 7:00pm-9:00pm, 21+ For Icebar and Fire Lounge after 9:30pm. Sorry, small children are not permitted. No one under 21 may enter the Fire Lounge except during special events.
Icebar Orlando is located about a block north of Pointe Orlando, within walking distance of the Orange County Convention Center. And yes, there are I-Ride Trolley stops nearby.
Icebar Orlando – map & links
Click any marker to display the attraction or venue name. To scroll or zoom, use the controls on the top-left of the map. You may also switch to different map views by using the buttons on the top-right of the map.
Official site: http://icebarorlando.com
Icebar FAQs: http://icebarorlando.com/index.php/pages/faq
Icebar Orlando – photo gallery
Click any image to view it full-screen. When the full-screen image is open, click to the right or use the right arrow on your keyboard to advance through the gallery. If several thumbnails are missing, try reloading this page in your browser.
[sws_author_bio user="jewels" size="105″ authorposts="More OI posts by Julie" name_format="About the author"] [/sws_author_bio]