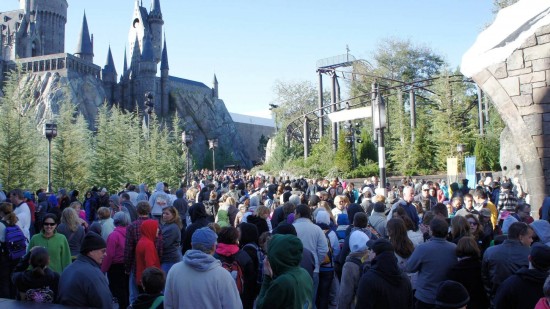 It has been a very interesting few weeks at the Wizarding World of Harry Potter, especially for someone like me who is trying to help folks avoid the crowds!
Heading into the last week in December I, like everyone else, knew it was going to be busy at Orlando's theme parks. After all, it is well-recognized that the week between Christmas and New Years is indeed the busiest week of the year for Disney World, Universal, and the like.
However, I was slightly sceptical that it was actually going to be that busy at Universal Orlando. Earlier this year I had been underwhelmed by the crowds in the park during the 4th of July weekend, a period I usually tag as the second busiest time of the year. Likewise, Thanksgiving weekend was crowded, but I still sensed a downward trend happening.
I had almost decided to redo my You've got to see this before you go to WWoHP page, thinking that we just weren't going to see throngs of guests like that anymore.
Let me tell you… I was dead wrong.
From what I've heard, the week between Christmas and New Years was extremely busy. I happened to be out of town during that week, so I didn't get to see the action first-hand. But my readers were sending me notes and tweets about the crowds. At one point the wait for Incredible Hulk was 150 minutes! That's crazy. It was also reported that the WWoHP return ticket system was put into use, which isn't unexpected but a sure sign that the parks are busy. Lastly, at least two days that week Islands of Adventure reached capacity, which is as busy as that park can get.
I returned from my trip overseas on New Years Eve. Universal's theme parks must have had a day or two of respite, because one of our site members, Cara, would end up reporting that her trip over New Years was "surprising relaxed." (Cara shared her story with us — click here to view it.)
I'm guessing New Years was the calm before the storm, so to speak, because when I was finally able to get to Universal and the Wizarding World myself on January 3, I ran into this: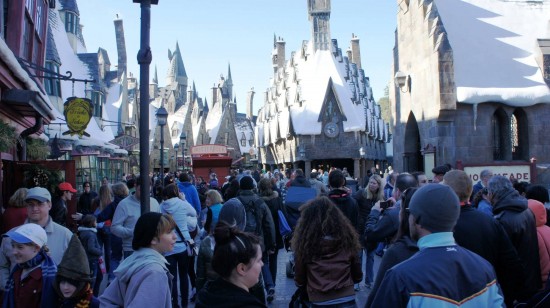 And this…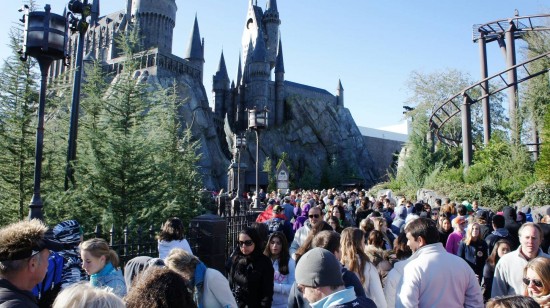 And this…
[youtube_video]iNRTyqI0aUw[/youtube_video]
I have to say that even I, who has been documenting WWoHP crowds for more than a year, was shocked by the amount of people. What made the situation even more surprising is that these crowds were in attendance after New Years. The crowds are supposed to slow down after New Years because everyone needs to get back home. Well, it would seem that everyone decided to take another week of vacation, because they were all packed into Hogsmeade Village!
The colossal crowds inside WWoHP demonstrated a few things of interest: First, it was clear that the newly expanded outdoor queue area for Forbidden Journey was totally ineffective at bringing structure to the massive line of guests. Take a look at the picture at the very top of this post. Believe it or not, the majority of people in that mob think they are in line for Forbidden Journey. Guests just see the castle and naturally assume, if there is a big crowd planted in front of it, then the crowd must be waiting to get in. Well, that is sort of true. All those people do want to get in, but the actual queue for Forbidden Journey started over on the bridge to Jurassic Park.
Unfortunately, Universal still has not figured out how to communicate this to guests. And it is really quite sad to see so many confused and bewildered guests.
Speaking of the bridge to Jurassic Park, the line on that bridge — where the actual queue for Forbidden Journey started — doubled back and forth three times! I have never seen that. Here is a panoramic shot of the bridge (click the image to view it full-screen):
If you haven't already watched the video I embedded above, you can see more of those crowds in it.
The size of the Forbidden Journey line, and the overall crowds, were just staggering. But the worst part is still to come.
The 2011 holiday season marks the very first time I'm aware of that Universal closed the tour-only line through Hogwarts Castle! (If you don't know what the tour-only line is, you can learn all about it in my Ultimate unofficial guide to Forbidden Journey). This really has me stunned. The tour-only line was critical to opening up the wonders of Hogwarts Castle to all guests. It allowed you, should you need to skip the flight simulator ride at the end, to walk through the castle with practically no wait. And unlike most ride queues, the walk through Hogwarts Castle is an attraction unto itself.
But with the tour-only line closed, Universal forced all guests to wait in the regular line. While the inside of the castle is amazing, I can't justify waiting in line for two and a half hours just to walk through it. Furthermore, I have had many of my readers tell me that pushing a guest in a wheelchair through the outdoor part of the regular line, which you used to be able to skip if you were just doing the tour, is very difficult. Another issue: Let's say you want to take photos with your expensive DSLR camera inside the castle. Well, after you waited two hours, walked through the castle with no loose articles, and went on the ride, you used to be able to turn around and walk right into the tour-only line with your camera to take all the photos you wanted. Now, with the tour-only line closed, you'd have to wait in the two hour line twice if you want photos! I don't think that is going to happen.
Last but not least, the tour-only line was really important for those guests wanting to fully experience Hogwarts Castle because the regular line pushes through the castle rooms way too fast. In the tour-only line, you could take your time (and take pictures).
I was hoping that the closure of the Forbidden Journey tour-only line was something Universal would implement only when WWoHP was at its busiest. But from what I've heard and seen, it seems that Universal is closing it even if there are moderate crowds. It is really disappointing.
Rethinking my WWoHP Touring Plan
These crowds and the nonsensical closing of the tour-only line has prompted me to completely rethink my WWoHP Touring Plan and the advice I give on my Best way to experience Forbidden Journey page. Now those pages have been completely updated.
Holiday crowds at the Wizarding World of Harry Potter – photo gallery
Click any image to view it full-screen. When the full-screen image is open, click to the right to advance through the gallery. If several thumbnails are missing, try reloading this page in your browser.