Seasonal palate pleasers at Hillstone Restaurant in Winter Park
Fine dining is something Orlando does well, but with 4,000+ restaurant locations throughout the city and surrounding areas it is hard to pick which place you want. My suggestion is Hillstone Restaurant in Winter Park. We were invited here for a late lunch last week to sample some classic Hillstone favorites and try some items off their new fall menu.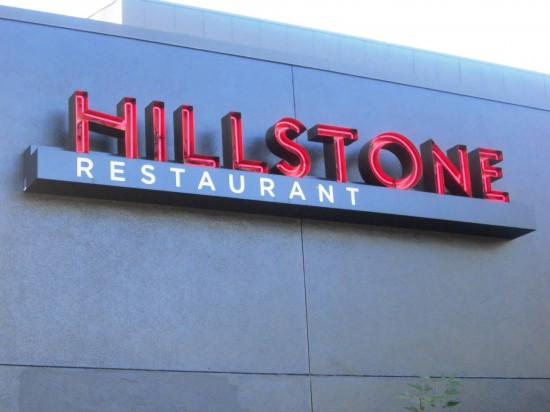 Walking through the front doors of the restaurant I was immediately greeted by their warm and welcoming staff. They brought me to a cozy round booth towards the back where others in the group were already seated and looking over menus. I took my seat and began pouring over the menu, asking our gracious and wonderful server, David, what was new to the fall menu and what dishes were Hillstone staples. After much deliberation it was decided that we would start with the deviled eggs and wood-grilled artichokes as appetizers for the table.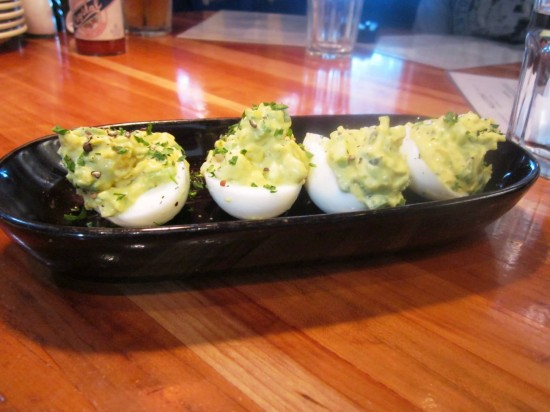 The artichokes were cooked to perfection with a sprinkling of olive oil and came with a side of rich and savory dipping sauce. The deviled eggs were an amazing burst of flavor with accents of chive and spring onion. Both dishes were divine, and I would recommend either (or both!) to anyone dining at Hillstone.
We moved on to the entrees and after a very tough decision between the center-cut filet, hardwood grilled trout and Hawaiian rib-eye, I ordered the center cut filet. It caught my eye because the preparation had been changed to broiled, a new fall menu element, and it was to be featured with a new fall dish, kale salad with peanut dressing. Always one to try out a new food, I had to see what this kale salad was all about. The plate of food they brought to me was almost to pretty to eat, almost.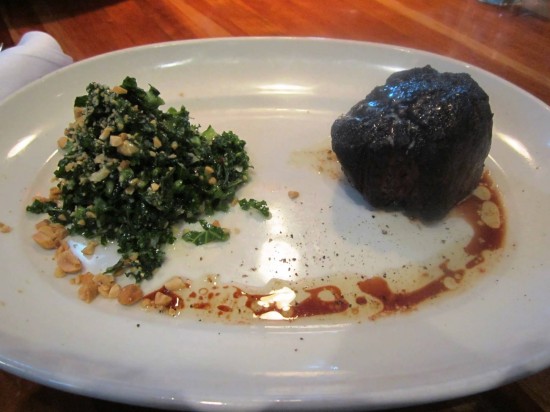 The smell wafting up to my nose was intoxicating and I couldn't wait to dig in. I tried the kale salad first and knew immediately that it had been a good choice to order. The simplicity of the kale was a great partner to balance out the spiciness of the peanut dressing. It was such a simple salad with very few ingredients, but it packed a punch of both savory and sweet flavors. My filet had that amazing broiled char all the way around the outside with a gorgeously red center, just how I like it. One thing I also noticed was that everyone else who had ordered the filet had the same thing. No matter if they ordered their meet rare, medium, well done, etc., each filet had a perfect char all around the outside with a perfectly cooked inside to match each person's preference. Hillstone chef Dennis Gill attributes this to having a great broiler in the kitchen and a cooking staff that pays keen attention to timing and detail.
Obviously dessert was the part I was most excited about. Hillstone's fall menu features a warm five-nut brownie, key lime pie served with housemade whipped cream, and apple walnut cobbler. We ordered one of each so everyone at the table could sample the dishes. My favorite was the key lime pie. The tangy tartness of the pie was just right and the sweetness of the whipped cream was a great contrast. The two components of the dish blended together for such an enjoyable treat.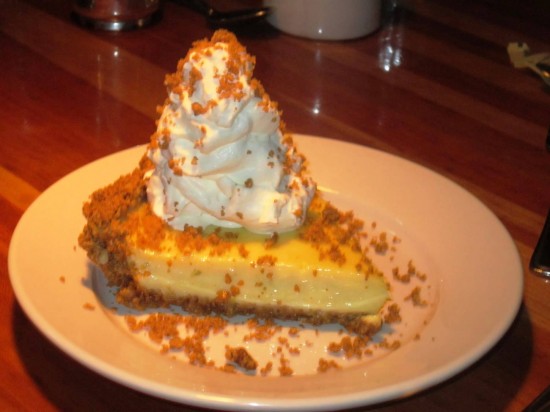 When asked about the inspiration for the new fall dishes, such as the kale salad, Chef Gill remarked, "There is a yin and a yang to all the dishes." He went on to explain that combining contrasting flavors in one dish creates a unique and bold taste that are sure to be palate pleasers this season. Chef Gill claims that the true way to create a good product for customers is to "start out with fresh ingredients and look for the best [available]." He also attributes the success of the new dishes to great teamwork in the kitchen and efficient orchestration and use of the staff.
Some other dishes to check out on Hillstone's fall menu are the pan fried grouper, barley salad and iceberg wedge and blue cheese salad. They also have a great patio and lakeside dock that can be rented out for small gatherings and parties. When you visit ask for David. He's one of the best servers in town, hands down.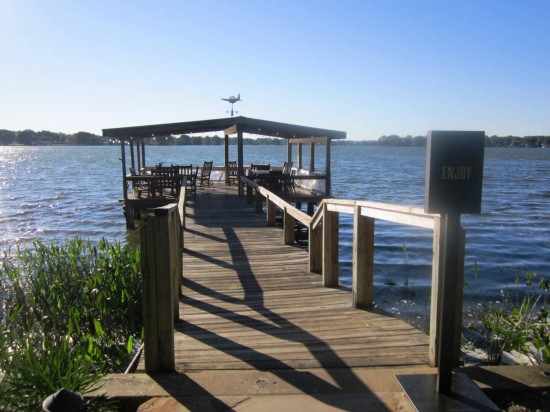 Hillstone Restaurant is located at 215 South Orlando Avenue in Winter Park. Reservations can be made either online at or by phone at 407-740-4005. Their menu, including new fall items, can be found here. Some dishes are run as daily specials and are not featured on the menu regularly yet. Hours of operation are Sunday through Thursday 11:30 am- 10 pm; Friday and Saturday 11:30 am- 10:30pm.
Hillstone Restaurant – map & links
Click any marker to display the attraction or venue name. To scroll or zoom, use the controls on the top-left of the map. You may also switch to different map views by using the buttons on the top-right of the map.
Official website: http://www.hillstone.com/hillstone
Hillstone Restaurant – photo gallery
Click any image to view it full-screen. When the full-screen image is open, click to the right or use the right arrow on your keyboard to advance through the gallery. If several thumbnails are missing, try reloading this page in your browser.
[sws_author_bio user="DinaFayeMagdovitz" size="105″ authorposts="More OI posts by Dina" name_format="About the author"] [/sws_author_bio]