For the extreme park-goers like myself, it is hard to leave the park before closing. Unfortunately, there are only so many places you can go for a fourth meal at 12:00am after relaxing a bit in the hotel. After calling around, we finally found out that The Kitchen, located at the Hard Rock Hotel on the Universal property, was still open. Since it was so late, we were not really expecting anything special. We have been here before for breakfast, lunch, and dinner, but we have not been here for a while, so we were excited to pay another visit here.
We arrived to the restaurant, and surprisingly, there were a few people dining (guess they had a long day at Universal as well). Our waiter came and was immediately very polite and helpful, regardless of the time. With our drinks, he brought out the basket of bread. Even though it is just a basket of bread, it was absolutely amazing. In the basket, there was a huge variety of bread, crackers, and things of the like. Usually when I ask for olive oil for my bread, it takes about five to ten minutes, even if there is not a lot of people in the restaurant. He brought the olive oil in about two minutes, which I thought was very impressive.
Taking our order, I informed him on my dietary restrictions (I am a vegan), and he recommended a Pasta Primavera with marinara sauce. My father ordered the Penne Pasta Florentine, and my brother ordered the Margarita Flatbread. Along with the helpfulness, our waiter also always kept a smile and was very funny and personable (I would recommend him by name but I actually forgot the name).
The food came out relatively quickly (about twenty minutes). My pasta was very tasty, and the sauce was practically perfect. The vegetables were fresh and the noodles were boiled to perfection. According to my father, his pasta was also superb. He added chicken to his dish, which he said added a lot of flavor but was not completely necessary. He really enjoyed the flavor of the dish. My brother was very satisfied with the flatbread. It was basically a pizza, but a really good one at that. He stated that the cheese was perfectly melted, and it needed no extra cheese or salt. We were all very happy with our meals.
The check came out to a little more than we were expecting (around fifty-five dollars for three people), but it was an overall very good experience.
Unfortunately my photos from the evening did not turn out, so Dan is lending some of his for this post. Here is Dan's wife and his daughter during their own recent visit to The Kitchen at Hard Rock.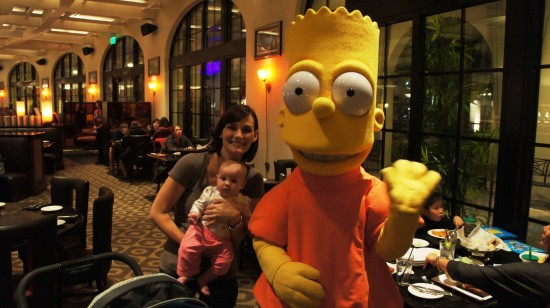 Oh, by the way, character dining at The Kitchen is currently scheduled for Saturday nights from 6:00pm – 9:00pm. If you'd like to see more photos of The Kitchen, including photos of the breakfast buffet, visit the OI Universal Center's Hard Rock Hotel: Dining & lounges page. Have fun!
Hard Rock Hotel's The Kitchen – map & links
Click any marker to display the attraction or venue name. To scroll or zoom, use the controls on the top-left of the map. You may also switch to different map views by using the buttons on the top-right of the map.
View the breakfast menu (PDF file), lunch menu (PDF file), or dinner menu (PDF file).
For reservations, call 407-503-DINE (3463) or book online.
Official website: http://www.hardrockhotelorlando.com/dining_and_nightlife/the_kitchen/
[sws_author_bio user="emilyca_" size="105″ authorposts="More OI posts by Emily" name_format="About the author"] [/sws_author_bio]