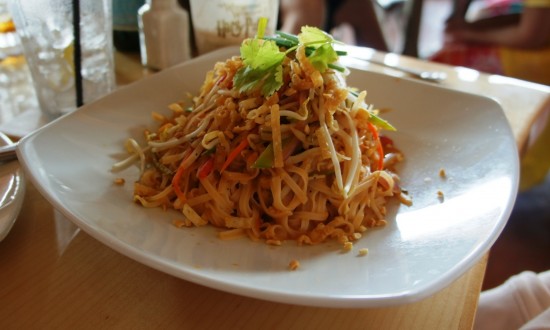 Dining at theme parks is going to be an important part of your Orlando vacation. Good planning will make sure the least amount of obstacles get in the way of enjoying yourself. First of all, no matter what you do, there's always going to be hazards with eating meals at a theme park. You may be with picky eaters. You may have to try and figure out where you are going to be and what you want to eat 180 days away from now. In today's column we will look at what happens when you cross that restaurant rubicon with one of the most challenging patrons they encounter, the vegetarian.
There are several types of vegetarians. The one type most people think of when they think of a vegetarian is an "lacto-ovo-vegetarian." These are people who choose not to eat any type of animal meat (fish, beef, pork, chicken) but do have eggs and dairy products in their diet. A "Pescetarian" is a type of vegetarian who chooses to avoid eating meat with the exception of fish. A "vegan" is a vegetarian who chooses not to eat or drink any product that has any animal derived products. This means they do not eat meat, fish, cheese or drink milk. There are still other classifications, but that majority of "vegetarians" will fit into one of these three classes.
For our recent trip to Universal Studios, my party included one lacto-ovo-vegetarian, two pescetarians, and one vegan. Now, if you've ever been out to a restaurant with a vegetarian or vegan in the Real World, you'll know that many of them only have a salad bar as their vegetarian option. For the most part, most theme park restaurants have a much more limited menu than their Real World counterparts, so eating vegetarian/vegan can be even harder as the token salad bars are usually not available.
Thankfully the Orlando area, and Universal Orlando Resort in specific, have some decent-to-great choices to bring a vegetarian. Please note that pretty much any sit down restaurant on Universal property will have a choice of a salad. I'm also not including sides that you can order (such as french fries, baked potato, or the great onion rings at NASCAR Sports Grille). And lastly, I'm not including fish dishes as the menu for Bubba Gump Shrimp Co would be printed almost in it's entirety (plus, we all know pescatarians aren't real vegetarians anyway, right?)
Vegetarian options at Universal CityWalk
First let's check out the restaurants in Universal's CITYWALK (in alphabetical order).
BOB MARLEY'S – Natty dread vegetable patties. Ital eats stuffed peppers. Stir it up fondue. Jammin' chips.
BUBBA GUMP'S – Mushroom veggie burger. Pear & berry salad.
EMERIL'S – White Truffle Flatbread. Vegetarian entrée (collection of fresh produce).
HARD ROCK CAFÉ – Veggie Burger. Santa Fe Spring Rolls. Hard Rock Nachos. Grilled Mediterranean Linguine.
LATIN QUARTER – Paella Vegetariano.
MARGARITAVILLE – Volcano nachos. Can substitute a Boca burger for any burger choice on the menu.
NASCAR SPORTS GRILLE – Can substitute a veggie burger patty for any specialty burger on the menu.
NBA CITY – Margherita pizza. Mediterranean flatbread. Angelhair Pomodoro.
PASTAMORE RISTORANTE & MARKET – Pasta. Pizza.
PAT O'BRIEN'S – No options that I could find.
Vegetarian options at Islands of Adventure
Now the restaurants (quick-service and full-service) at ISLANDS OF ADVENTURE.
BURGER DIGS – Garden burger.
CAFÉ 4 DINER – Very veggie pizza. Cheese pizza. Fettuccini with cream sauce.
CIRCUS McGURKUS – Cheese pizza.
COMIC STRIP CAFÉ – Fettuccini Alfredo.
CONFISCO GRILL – Cheese pizza. Explorer's vegetable pizza. Tomato basil pasta. Mac & cheese (children's menu).
MYTHOS – Pad Thai. Wild Mushroom Flatbread.
PIZZA PREDATORIA– Cheese pizza.
THREE BROOMSTICKS – Mac & cheese (children's menu)
Vegetarian options at Universal Studios Florida
And the restaurants at UNIVERSAL STUDIOS FLORIDA.
BOULANGERIE – Health sandwich with side of fruit or pasta salad.
FINNEGAN'S – Garden burger. The Leprechaun's Rainbow fruit platter. Potato and onion web. Grilled cheese (children's menu).
LOMBARD'S – Pasta primavera. Bravo ravioli.
LOUIE'S – Fetuccini Alfredo. Garden vegetable pizza.
MONSTERS CAFÉ – Cheese pizza.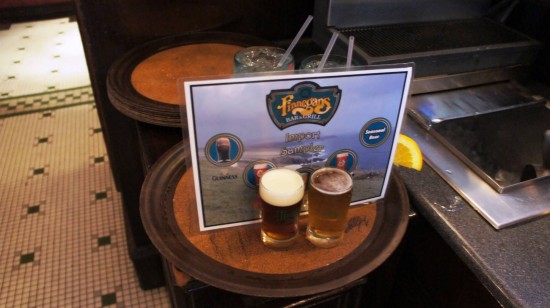 Universal Orlando's on-site hotels
The on-site hotels at Universal also offer a wide arrange of choices for the vegetarian diner.
HARD ROCK HOTEL
THE KITCHEN – Three cheese flatbread. Margarita flatbread. Mac & cheese. Penne pasta.
PORTOFINO BAY HOTEL
BICE – Pappardelle al telefono con pomodoro (with mozzarella cheese, fresh basil in a tomato cream sauce). Gnocchetti di patate all sorreentina (Potato gnocchi with a fresh diced tomato sauce, mozzarella cheese and basil leaves). Tortelloni farciti con ricotta e spinaci in salsa al burro salvia e parmigiano (Spinach and ricotta filled pasta served in a butter and sage sauce with parmesan cheese shavings). Penne all'arrabbiat (Penne pasta in a spicy tomato sauce finished with extra virgin olive oil). Rissotto alla Milanese con zafferano e sauté di funghi (Tradittional saffron flavored risotto with sautéed mushrooms).
MAMA DELLA'S – Pasta e fagioli. Burrate e bruschetta caprese. Pecorino poleta al tartufo. Fettuccine alfredo.
SAL'S MARKET DELI– Margherita pizza. Primavera pizza. Picaso sandwich.
TRATTORIA'S – Spinach filled arancini. Pizzarella.
ROYAL PACIFIC HOTEL
BULA BAR – Greek vegetable burger. Grilled cheese. Fruit platter. Loaded nachos.
ISLAND'S – Thai vegetable spring roll. Tofu and vegetables. Tofu & broccoli lo mein.
JAKE'S – Grilled veggie pita pockets. Southwest eggrolls. Garbonzo & Tomato dip.
TCHOUP CHOP – Vegetable roll. Miso soup. Cilantro-cashew pesto marinated tofu. Hot iron seared in-shell edamame with togarashi, sesame and Hawaiian sea salt. Cilantro-cashew pesto marinated tofu (a vegan original with crispy rice cake, mixed vegetables and citrus soy).
Each of the three on-site hotels at Universal Orlando has a CLUB LEVEL. I cannot recommend this more if you are traveling with a vegetarian or vegan. Throughout the day there are high quality foods available to choose from. Breakfast has a great fruit platter and various pastries (and soy milk for coffee). Snacks at lunchtime and regularly a fruit and or veggie based platter at night. All the vegetarians in our party ate like kings in the club lounge and would consider the offerings to be just as good as almost any restaurant on property or out in the Real World.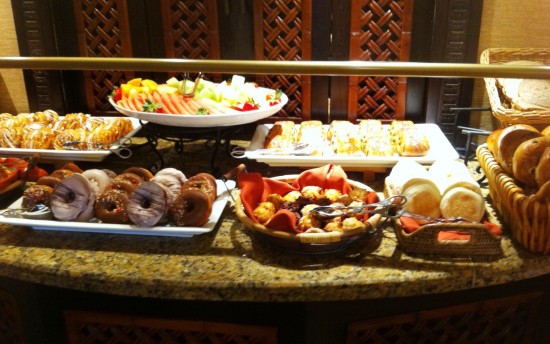 The best bet overall goes to MYTHOS in Islands of Adventure. It is a restaurant that has a lot of hype and deservedly so. Not only is the atmosphere absolutely incredible, the food is top notch as well. The vegan pad thai (see the photo at the top of the post) got rave reviews from both that ordered it and the chef's pizza was best pizza I have had in any theme park restaurant. It doesn't take a "foodie" to tell the difference between eateries that use high quality ingredients, and those that just truck in frozen junk and reheat it. Go out of your way to try Mythos on your next trip.
Editor's note: This is the first post from our newest OI contributor, Derek. We look forward to featuring his writing and Orlando experience on OrlandoInformer.com. If you are interested in learning how you can contribute your own stories and insight, click here.
[sws_author_bio user="derekburgan" size="105″ authorposts="More OI posts by Derek" name_format="About the author"] [/sws_author_bio]