A few times a year, my retired parents visit us from Atlanta for a few weeks. Our plans during their visit always include going to Downtown Disney one afternoon and enjoy a treat at Ghirardelli Soda Fountain and Chocolate Shop. We went back in March and recently we visited Ghirardelli's during Memorial Day weekend.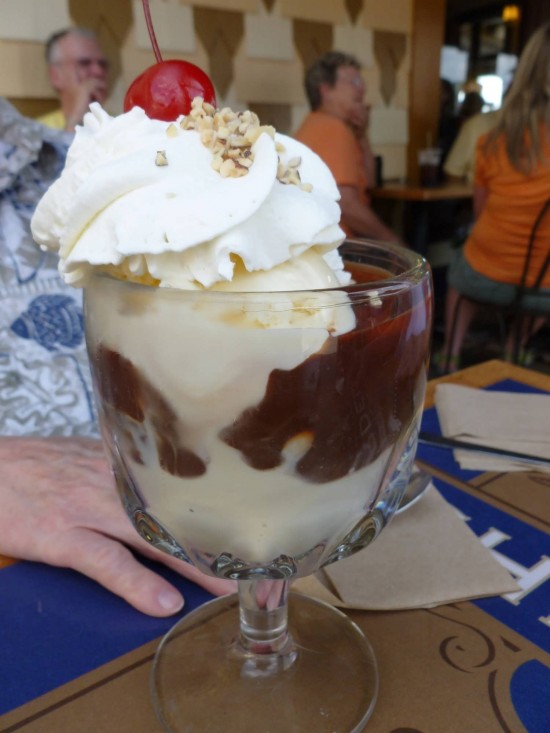 After eating lunch at The Earl of Sandwich and shopping at the various stores throughout Downtown Disney, we stopped at Ghirardelli's around 4:30 on Saturday afternoon Memorial Day weekend. Indoor seating is available and additional seating at bistro-type tables is located just outside Ghirardelli's. Seating is also available across the walkway next to the water at tables with umbrellas. It was a busy, sunny day at Downtown Disney but after a short wait, we were able to find an outside table that was also in the shade.
Ghirardelli's menu offers sundaes, various flavors of ice cream, shakes, and floats; chocolate treats like brownies, several chocolate drinks and fountain drinks. My Dad ordered "The Word Famous" Hot Fudge Sundae which includes two scoops of vanilla ice cream, hot fudge, whipped cream, chopped almonds, and a cherry. My Mom ordered a "Mint Bliss Sundae" which is one scoop of mint chip ice cream, one scoop of chocolate ice cream, dark chocolate hot fudge sauce, whipped cream and a square of Mint Bliss Intense dark chocolate on top. I ordered one scoop of Cookies and Cream ice cream in a dish. The sundaes were $8.95 each and the ice cream scoop was $3.95. After paying for our order, the cashier gave us a numbered sign which we put on our table. When our order was ready, a cast member found our table number and brought our sundaes and ice cream to us along with plenty of napkins and spoons. The scoops of ice cream in the sundaes and in the dish were very generous-sized and the sundaes could easily be shared if you didn't want to eat a lot in one sitting. The verdict was unanimous! Our treats were scrumptious and worth the price and the drive to Downtown Disney.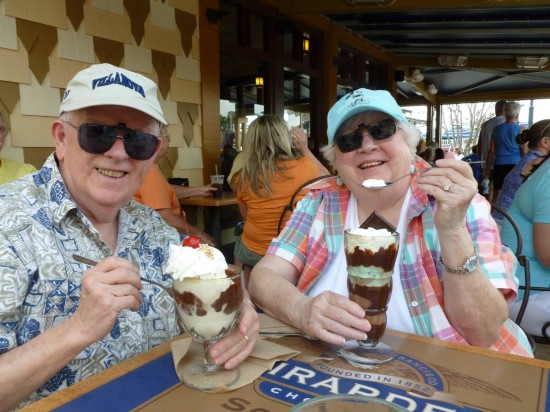 After we finished our delicious desserts, we went into Ghirardelli's Chocolate Shop and purchased a jar of bittersweet chocolate fudge to take home to my husband and son. If you don't have the appetite for something from the Soda Fountain when you happen to be in Downtown Disney, there are plenty of delicious chocolate items at the Chocolate Shop you can purchase to enjoy later or as souvenir gifts for friends and family.
Ghirardelli's Soda Fountain and Chocolate Shop in Downtown Disney is a great place for an afternoon treat or a nighttime indulgence. While it is not cheap to eat at Ghirardelli's, the prices are consistent within Walt Disney World's resort food pricing and it is definitely worth the price in regards to portion size and taste. The next time you are in the area, make plans to visit Ghirardelli's and you'll probably agree it is a sweet spot for a treat.
Ghirardelli Soda Fountain at Downtown Disney – map & links
Click any marker to display the attraction or venue name. To scroll or zoom, use the controls on the top-left of the map. You may also switch to different map views by using the buttons on the top-right of the map.
Official website: http://www.ghirardelli.com/locations-events/ghirardelli-locations/orlando-fl
Ghirardelli Soda Fountain at Downtown Disney – photo gallery
Click any image to view it full-screen. When the full-screen image is open, click to the right or use the right arrow on your keyboard to advance through the gallery. If several thumbnails are missing, try reloading this page in your browser.
[sws_author_bio user="MaureenDeal" size="105″ authorposts="More OI posts by Maureen" name_format="About the author"] [/sws_author_bio]