Festival of the Trees: "Once Upon a Time… a Fairy Tale Festival" at the Orlando Museum of Art
Editor's note: Unfortunately this event has already completed its run for 2012. Nevertheless, we wanted to share this post with you to help raise awareness of Orlando Museum of Art and make sure it gets on your schedule for 2013!
Every year, just as the holiday season begins, the Orlando Museum of Art is converted into an enchanting wonderland of holiday inspired trees, wreaths and gingerbread villages known as the Festival of Trees. I had the great fortune of being able to attend this year's festival and take in the true holiday spirit that this time of year always brings us.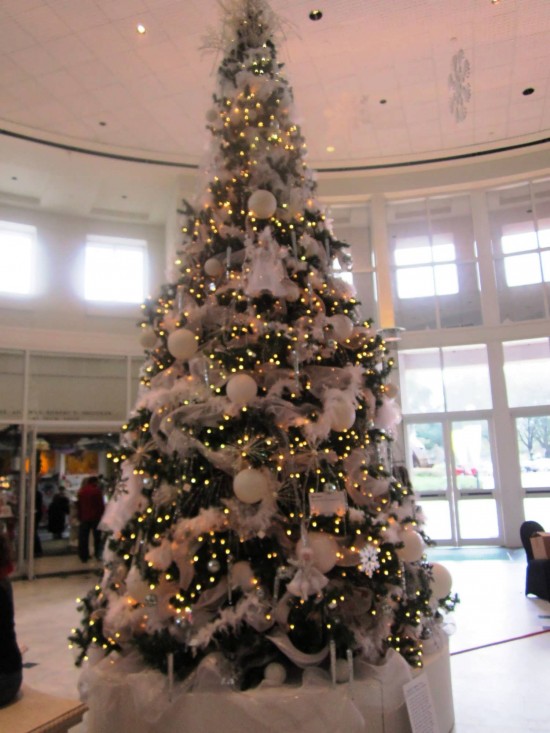 The theme this year was "Once Upon a Time… a Fairy Tale Festival," and I really got the feel of being in an enchanted forest from the fairy tales as I walked through the galleries full of artfully decorated and designed trees and wreaths. One of my favorite exhibits to behold, though, was the ornately crafted gingerbread houses and villages.
For those who are not familiar with the Festival of Trees, they just celebrated their 26th year as the major fundraiser for the Orlando Museum of Art. The Council of 101 sets up the festival every year. It brings thousands of cheerful souls through the doors and helps gain much needed funds to keep the museum at its best. Many businesses in Central Florida, as well as individual designers, sponsor and create the amazing trees, displays and other holiday decorations that are featured throughout the galleries.
Upon walking through the main entrance of the museum I was immediately greeted by the warm and smiling volunteers who donate their time to making this an experience visitors will not soon forget. In the center of the main entrance stood a towering tree adorned with white lights, white trim, and white angel ornaments (see the top photo). It was a beautiful welcome into the whimsical atmosphere in the museum. As I moved through the different galleries and displays, I did not see trees so much as I saw beautifully crafted works of art on which designers spent much time and effort in creating. I felt awestruck and warm as the holiday essence filled my eyes and my mind. Who knew trees and holiday decorations could be so inspiring!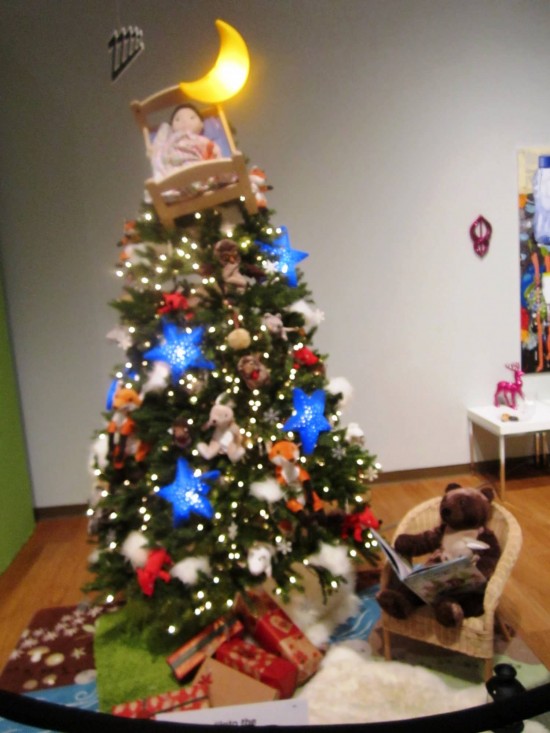 My favorite part was, by far, the gingerbread villages. I absolutely love the acute attention to detail plus the fact that they are completely constructed out of gingerbread, graham crackers, chocolate, candy and, of course, frosting! Designers were really able to show off their talents with these little structures. Many of them looked as though they could be models for architectural designs, you know, aside from being made out of sweets and all. My most exciting discovery as I studied each gingerbread construction was that one of the gingerbread houses on display had been donated by none other than Universal Studios Orlando! My hat's off to the very talented pastry chef, Michael Harman, for his amazing work on the Universal Studios gingerbread display.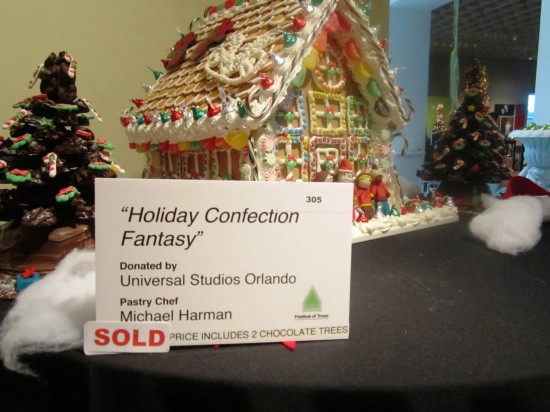 While the Festival of Trees had nothing but beautiful and intricate things in the exhibit, a few in particular stuck out to me most. The New Fantasyland display, sponsored by Walt Disney World, was like a scene right out of Beauty and the Beast as it should be since New Fantasyland has recently welcomed the opening of Be Our Guest Restaurant in Magic Kingdom. Also among the most memorable was Time Worn Traditions sponsored by the Steinway Piano Gallerie and designed by Kathy Grimes. Bedtime "Into the Woods" Storybook is yet another that well deserves mention here. Sponsored by IKEA Orlando and designed by the IKEA Design Group this tree represented a timeless childhood bedtime tradition that speaks to all.
Complete with a holiday themed indoor market, holiday raffle, kids zone and festival café sponsored by Panera Bread, the Festival of Trees left nothing to be desired and made for an absolutely excellent way to spend a crisp fall afternoon. I greatly enjoyed my time spent at the museum, and I will without a doubt be attending next year's festival. I'll also be sure to keep my eyes and ears open for other exhibits to be displayed throughout the year at the ever enchanting and intriguing Orlando Museum of Art.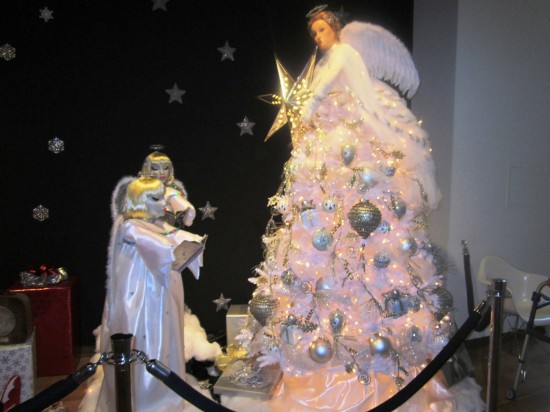 The Festival of Trees is an annual event held in November and can easily be factored into a family outing or vacation in Orlando. The Orlando Museum of Art is conveniently located on Mills Avenue in downtown and is more than worth a visit. For more information on this year's Festival of Trees and other events and exhibits visit http://www.omart.org/programs or http://www.omart.org/exhibitions. To find out how you can get involved in the Festival of Trees contact the Council of 101 at councilof101@aol.com or call their offices 407-896-4231 ext. 254.
[sws_author_bio user="DinaFayeMagdovitz" size="105″ authorposts="More OI posts by Dina" name_format="About the author"] [/sws_author_bio]