Disney's Animal Kingdom is the largest Disney park with over 500 acres. That is a lot of walking around! Luckily there is a 30 minute show that will not only give your feet the rest they deserve, but become one of the most entertaining shows you have ever seen at a theme park.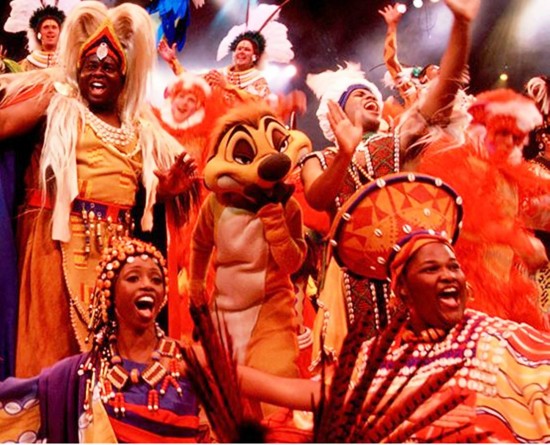 The first time we went to Animal Kingdom my family and I took advantage of this 30 minute break from walking in the hot July sun. Walking towards the show I had no idea what to expect. I was mostly going because I was sure my 6 year old twin girls would enjoy it. Wondering if they had ever even seen the Lion King movie the whole way there, I just assumed the music at least would keep their attention. However, I personally remembered going to the movies three times to see it when it came out and growing up with my VHS copy.
As we walked in we were directed to one of the four sections of seating. Each section is represented by an animal. We were in the warthog section — try imagine what it sounded like to have a big group of people making warthog noises! From the moment the show started I was just so amazed by all I was seeing that I hadn't even checked to see how the two children with us were enjoying it! From the music and dancing to the acrobatics, there is so much to see. The best part is that, even as part of the audience, we felt like a part of the show. The stage props are so detailed and large that stunts and acrobatics are actually performed on some of them. The music is familiar and everyone sings along, adults and children alike.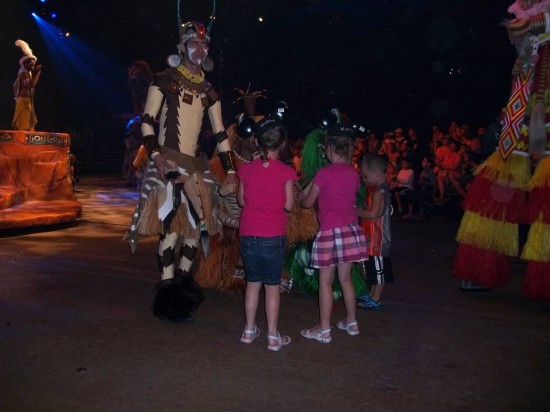 At one point in the show, some of the children are asked to come up and take an instrument and run around with the performers during a song. It is the perfect opportunity to get photos of your children actually performing in the show. My girls were among the children to get selected and every person in my family had tears in their eyes when they saw how happy the girls were. To the girls this was a magical experience! To us it was very special, as both the girls have autism and the performers in this show were able to get them to understand the directions and stay with them to be sure they weren't confused on where to go. They were more than happy to make sure my girls felt included in this experience. To this day my girls still ask me if I remember when they ran with the Lion King. I still get teary eyed when I watch the video of them running around to "The Lion Sleeps Tonight" with magic in their eyes.
[youtube_video]ZLcqAIP1hJw[/youtube_video]
Since that visit I have made sure, whenever we go to Animal Kingdom, we take the time to watch this incredible show. It is a half hour of storytelling and audience participation that you will not forget.
Official website with daily schedule: http://disneyworld.disney.go.com/…/festival-of-the-lion-king/.
[sws_author_bio user="DanielleMurray" size="105″ authorposts="More OI posts by Danielle" name_format="About the author"] [/sws_author_bio]