Summer is over and the sales begin: Stay at Universal's on-site hotels for as low as $129
In case you had any question whether or not September, October, and November are slow months in Orlando, the surest sign arrived in our inbox this morning: Rates as low as $129 for Universal's on-site hotels: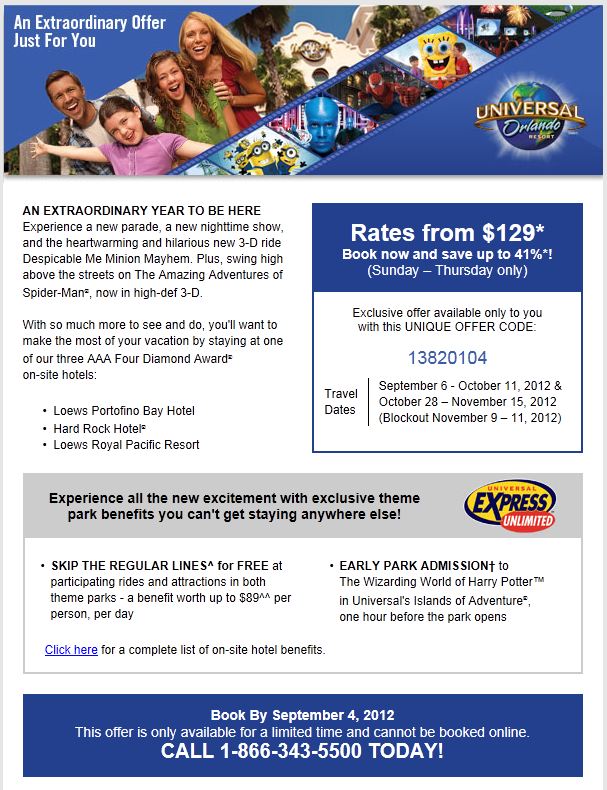 For those of you who may be unfamiliar with Universal's on-site hotels — Royal Pacific Resort, Hard Rock Hotel, and Portofino Bay Hotel — during peak season a standard room can run up to nearly $300 per night. That makes $129 almost a third of the highest rank rate. So, yes, the autumn months are certainly a good time to visit. And not only do you get a great rate on your room, but it will finally have cooled down a bit!
Unfortunately the theme parks don't follow suit, so you will still need to pay the same price for your admission tickets.
Here are a few links if you'd like to learn more:
Universal Orlando crowd calendar
On-site hotels at Universal Orlando
Top 12 easiest ways to save time & money at Universal
PS. I think it is interesting that the promotional image I included above specifically mentions that November 9 – 11 are blocked out after already stating that the rates are only valid Sunday through Thursday. I see that November 11 is Veterans Day, but that by itself doesn't usually bring up the crowd levels much. Is there a special yet-to-be-announced event happening then?