As you enter the grounds of Disney's Polynesian Resort, you notice that you are close enough to the Magic Kingdom to have a monorail stop right at the entrance, but far enough that when you need a break, you can feel as if you are away "in the islands." Waterfalls and tropical foliage add to the atmosphere and welcome you in to the main entrance.
[youtube_video]AqSlVvzC3mw[/youtube_video]
As you enter the lobby you are welcomed with a "Lei" and a warm greeting from the staff. You notice the center atrium full of trees and flowers and the dark wood decor fitting with the Polynesian theme.
Around 6pm, there is a torch lighting ceremony conducted by some of the performers from Disney's Spirit of Aloha Dinner Show, which is also held at the Polynesian. It starts in the lobby and takes you right outside the entrance where the "chief" lights the torches and then does a short "fire dance" for your enjoyment. If you do attend this ceremony, make sure you stay in the center, right outside the entrance for the best view of the fire dance!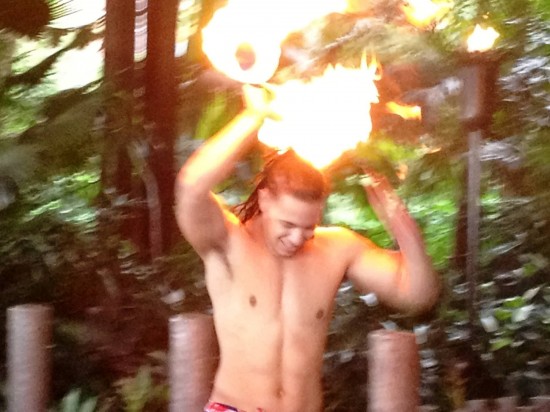 When you make your way to your room, you get to see some winding paths full of flowers and grasses, stroll through a marina area where you can rent boats and surrey bikes and can take in the view of a volcano, complete with rising smoke. It's actually the home of a water slide you can ride from the top of the volcano straight into the pool!
If you get a lagoon view room, you can watch the boats on the Seven Seas Lagoon right outside your window. Depending on which building you are in, you also can see the Grand Floridian Resort or the Contemporary Resort, with Cinderella's Castle in the center of your view. These ground floor rooms have a patio area, other floors have balconies from which you can enjoy the lagoon view and activity.
The resort beach is very relaxing and is THE place for watching the Electrical Water Pageant as well as the WISHES fireworks spectacular later in the evening. This is also where you can watch nightly movies on the beach.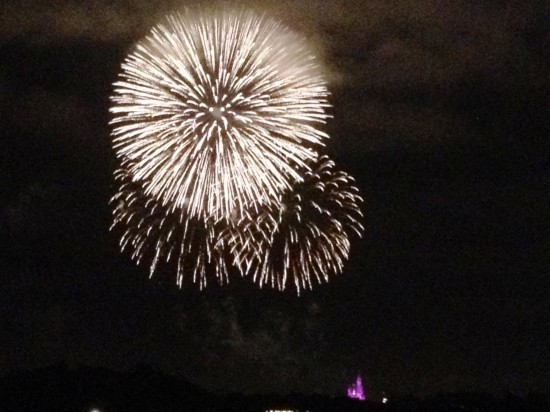 Dining options include full service restaurants 'Ohana, and the Kona Cafe, as well as quick service at Captain Cook's.
During my last visit I was able to enjoy the Best Friends Character Breakfast at 'Ohana. Upon checking in for the breakfast, you are given a pager that lets you know when you can be seated as well as a welcome lei and a photo opportunity. You can purchase the photo package if you like; they will show it to you at your table shortly after being seated. I felt like it was a great souvenir, especially if you are celebrating a birthday or other special occasion. It is an additional thirty dollars plus tax, but you get multiple copies of your picture plus a picture of the characters in a themed folder.
During the Best Friends character breakfast you are given the opportunity to take photographs with Lilo, Stitch, Mickey (wearing a Hawaiian shirt and lei), and Pluto. The characters stopped at all tables to interact with the guests, it was entertaining to watch the younger children – you could see a little of that "Disney Magic" going on. The characters also lead a parade around the restaurant where kids are given maracas to liven things up!
The food is served "family style" and you can ask for more of anything that you enjoy. On your way to the table it is explained to you that everyone is a "cousin" at 'Ohana (which means family) and the server picks up a tray of Pineapple bread and Cinnamon raisin bread for you to start your breakfast feast!
You are then served Orange/Guava/Passion fruit juice which is quite tasty and you can order coffee or any other beverage (including Coca Cola products) that you like to enjoy with breakfast. Quickly, a platter is placed in the center of the table and it contains a generous portion of scrambled eggs, sausage, bacon, biscuits (with accompanying gravy), and potatoes. A smaller platter of fresh fruit is also served. Servers bring Mickey waffles and they keep those coming too, if you'd like more!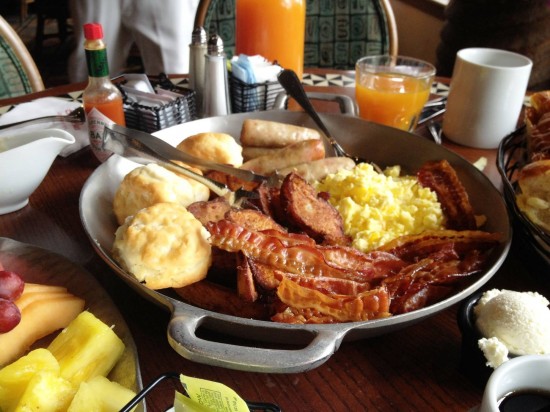 While you enjoy your food, you start to see the characters making their rounds. When they get to your table they will take time to interact with everyone at the table whether young or young at heart!, that's the fun part of being at Disney after all. I enjoyed the breakfast and the characters, it was a great way to start my stay at the Polynesian.
Captain Cook's is the quick service restaurant. You order your food from a touch screen and print a receipt that you use to pay for and receive your items. You can buy your resort refillable mugs here and it is open 24hrs for you to refill your mug with coffee, tea, hot chocolate, or Coca Cola products.
They also have a "Dole Whip" station here! I had never tried one and I asked the manager for a taste. I got a small sample of the pineapple/vanilla swirl. It was sweet and refreshing – just like my stay at this tropical resort where you are transported to "the islands" but can still enjoy all Disney has to offer!
Disney's Polynesian Resort – photo gallery
Click any image to view it full-screen. When the full-screen image is open, click to the right or use the right arrow on your keyboard to advance through the gallery. If several thumbnails are missing, try reloading this page in your browser.
[sws_author_bio user="Carla.G" size="105″ authorposts="More OI posts by Carla" name_format="About the author"] [/sws_author_bio]