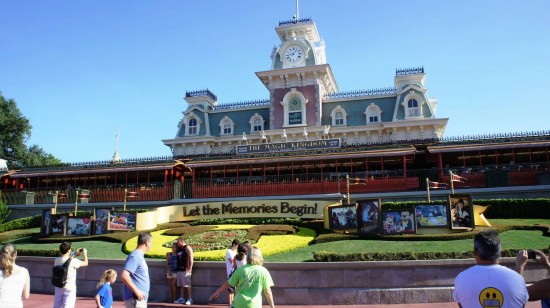 Since we got back from France, I'm still trying to get caught up with Universal Orlando news and updates from the last two weeks! However, Disney has made a few big announcements recently that I definitely wanted to share with my readers. Check it out:
Leap Year 2012 Calls for 'One More Disney Day' At Walt Disney World
The first announcement is that, for the first time ever, Magic Kingdom at Disney World (and Disneyland in California) will be open for 24 hours starting February 29 at 6:00am.
Disney Parks guests can get the most out of February 29 when Walt Disney World Resort in Florida and Disneyland Resort in California celebrate Leap Year by keeping a theme park on each coast open for 24 hours of nonstop memory-making fun.

For the first time ever, both the Magic Kingdom Park and Disneyland Park will stay open for 24 hours straight as part of a bi-coastal salute called "One More Disney Day." From 6 a.m., February 29 to 6 a.m., March 1, 2012, local time, guests can fill the extra day of leap year with a marathon of Disney magic and fun.
In addition to the 24-hour operation, Disney is also giving away 60 Disney park vacations:
And for 60 days straight – from Jan. 1, 2012 to Feb. 29, 2012 – a daily winner will be chosen in the "Disney Parks One More Disney Day Sweepstakes" to receive a Disney Parks vacation. One entrant each day will win a vacation for four to make memories at either Disneyland Resort in California or Walt Disney World Resort in Florida.
To enter the sweepstakes, visit www.OneMoreDisneyDay.com.
Since it is not uncommon for Magic Kingdom to be open until midnight or even 3:00am (especially if you include Extra Magic Hours), I am somewhat at a loss to find the excitement in their 24-hour leap year stunt. But, a lot of people seem to think it is pretty spectacular. I guess we'll just have to see how many of them are actually able to stay up–and happy–during the twilight hours of March 1.
View the full announcement on WDWNews.com
Florida Residents Can Make More Memories in 2012 with 'Wild For Disney' Passes
Florida residents wanting to visit the mouse house can do so a little bit easier as Disney has reduced the prices of 3-day and 4-day tickets for us.
From now until May 21, 2012, Florida residents can purchase a "Wild for 3-Day Pass" for $99 (plus tax) or upgrade to a "Wild for 4-Day Pass" for $129 (plus tax), valid for entry into one Walt Disney World park per day. For even more memory-making, Florida Residents can also add "Park Hopper" or the "Water Park Fun and More" option for $27.50 per ticket.
This is a heck of a deal if you are lucky enough to have a Florida address. A regular 3-day single park Disney ticket currently costs $232 and a 4-day ticket costs $243.
Visit www.DisneyWorld.com/99 to learn more.
View the full announcement on WDWNews.com
Disney and General Motors Re-Imagine Test Track Experience
Disney and General Motors have finally renewed their contract for the sponsorship of Test Track at Epcot.
Disney and General Motors have renewed their long-term business relationship with a new multi-year corporate alliance.

As part of the new alliance, GM will be actively involved with Walt Disney Imagineering in the development of a re-imagined, design-centric Test Track experience. The refurbished Test Track will be presented by one of GM's most famous brands, Chevrolet. As Chevrolet marks its 100th anniversary, the new alliance agreement enables General Motors to tell its story in new and exciting ways to millions of Guests from around the world and continue as the official vehicle sponsor of Walt Disney World Resort.
And here's the most important part:
Plans call for closing the current GM Test Track in April 2012, with an anticipated opening of Test Track Presented by Chevrolet scheduled for fall 2012.
That's a busy time for such a popular attraction to be shut down. I guess the lines for Soarin' will be even longer!
View the full announcement on WDWnews.com
Well, that is it for all the recent news coming out of Lake Buena Vista. I'd like to leave you with this amazing video clip capturing the finale of Magic Kingdom's New Years Eve fireworks.  Unfortunately I wasn't able to witness this in person, but Attractions Magazine was there.
[youtube_video]VI-ZjnTzMH4[/youtube_video]