Last week, of course, was the occasion of much shock and (occasional) awe: George Lucas is retiring, Disney has purchased all three of his remaining companies (Pixar and THX having been spun or sold off years ago), and a brand-new trilogy – maybe even two – of Star Wars films will be released starting in 2015. And just to top things off, media's most popular franchise will see even more leverage into other, non-cinematic markets, most especially television and theme parks.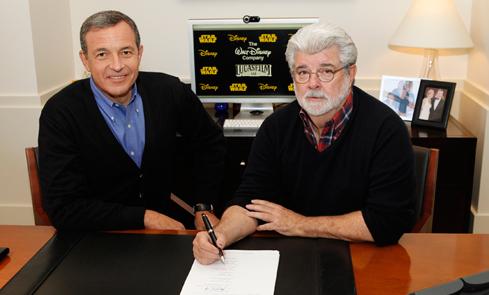 There's much in there to make one's heartbeat kick up a tempo or two – particularly when entertaining visions of an entire Star Wars land, as large as Epcot and as detailed as the Wizarding World of Harry Potter – but most of this pulse quickening actually has to do with sheer and unadulterated terror; just as the potentiality of SW is vast, so are its limitations, and in the case of its crossovers into Disney's themed territories, its track record is muddled at best.
In terms of the movies, Lucas quite conclusively ended his saga with the sixth installment (no matter whether you count that as Episode VI: Return of the Jedi [1983] or Episode III: Revenge of the Sith ['05]), having changed his mind in regards to the structure of his overarching narrative when first sitting down to write the prequels in the mid-'90s. With the Dark Lords of the Sith now extinct, the Force re-balanced, and the Empire toppled, there is literally no bad guys for our intrepid group of heroes to rally against – and since the first rule of drama, dating all the way back to the time of the ancient Greeks, is that conflict is the driving element of story, there's literally no story left to tell in the cinematic SW universe. Whatever Kathleen Kennedy, George's replacement as executive producer (and Steven Spielberg's former assistant), opts to do will, more likely than not, fall into the category of either irrelevance or retread. A promising prospect, this is not.
Then there's the theme park applications, which, upon first glance, seem to be the biggest no-brainer of the entire deal. After being roped into collaborations with Disney thanks to Michael Jackson and the much-troubled Captain EO ('86) production, Lucas was only too open to bringing his bread-and-butter property to the premiere theme parks in the world. The first – and, for a long time, only – manifestation of this was Star Tours ('87), which actually was a more-or-less last-minute replacement of another, jettisoned Imagineering proposal. The finished ride, while flawed, was a great deal of fun, and it not only made its way to nearly every single one of Disney's resorts across the globe (currently, only Hong Kong Disneyland is left without any type of Star Wars presence), it also left George itching to do more.
This, however, was during Disney's evil Empire days, when the Walt Disney Company was subjected to the New Order of CEO Michael Eisner. His effort to minimize expenditures and maximize profits lead the corporation to implement a barrage of highly controversial initiatives, such as a bevy of direct-to-video sequels to classic theatrically-released movies and nearly wiping out the entirety of the parks' operating budgets. With maintenance on pre-existing rides slashed and budgets for new attractions dramatically cut, the relationship between Lucasfilm and Disney soured.
It still continued, however, albeit in the form of Indiana Jones tie-ins. And while a Stunt Spectacular (Hollywood Studios, '89) and several dark rides (at Disneylands ranging from Paris to Anaheim to Tokyo, '93 to '01) were all successfully hatched, the biggest – and, presumably, to Lucas's mind, the most promising template for subsequent SW endeavors – fell apart: a giant land-within-a-land in Disneyland Paris, which would have featured several attractions, restaurants, and shops. It was completely scraped when the park proved to be a financial disappointment for its first several years, and a single ride was fashioned in its place. Star Wars, it seemed, would have to wait on the shelf for happier days.
George thought those had finally arrived in the late '90s, when he was in the midst of composing Episode I: The Phantom Menace ('99). Simultaneously downgrading his vision to fit the production realities of Eisner-controlled Disney and indulging his near-neurotic compulsion of endlessly tinkering with his previous creations (as all subsequent theatrical and DVD releases of SW can easily attest), Lucas wanted to revamp the decade-old Star Tours to tie in with the upcoming prequel. Rather than taking a hapless trip to the forest moon of Endor, riders would instead be transported to the middle of a podrace on Tatooine, perhaps even in 3D. The Disney Company politely refused.
But the idea was reconsidered in '05, when the prequel trilogy had been completed and Eisner had been forcibly removed from the CEO's chair. Reflecting the new availability of all six films, the reimagined attraction – now called Star Tours: The Adventures Continue – would feature randomly generated locations from both trilogies to allow for literally dozens of different ride experiences and would open, after a barrage of delays (truly in keeping with Lucas's style), in '11. Both Lucasfilm and Disney were expecting much fanfare and critical acclaim; this was the first SW attraction to open in 14 years, after all.
They didn't get it. Or, rather, if they did, it's been continually obscured by much-shorter-than-expected lines in the parks and ambiguous fanboy responses on forums. Even with Bob Iger assuming control of Disney and John Lasseter, the head of Pixar, taking up a critical advisory role with Imagineering, the success – let alone the presence – of Star Wars in theme parks has proven to be elusory, at best. This doesn't bode well for its future, one way or the other.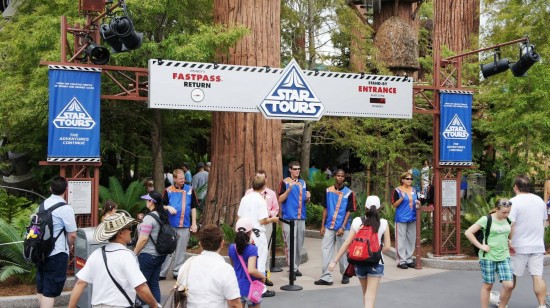 And the simple fact of the matter is George's absence from any and all such deliberations doesn't change this predicament in the slightest. Disney now owns the exclusive rights to themed SW content. So what? They still have to find room in the parks, money to fund the projects, and, of course, a recipe for audience engagement – just like any other property in any of their six worldwide locations. That there will be three new movies only assures the possibility of utilizing new characters, vehicles, and locations in any new undertakings, and that's all.
And this is assuming that Imagineering will only tackle onesie-twosie rides in the near future; taking on an entire theming chunk, whether it be a land-within-a-land or a full park unto itself, presents exponentially greater challenges in design and outreach, contrary, perhaps, to poplar sentiment. But if they do, indeed, end up attempting this route, the likeliest culprit here would have to be Hollywood Studios, which has featured a "Star Wars land" rumor in one form or another for the past ten years and has, more recently, been expected to be the host to a replicated Cars Land from the California Adventure park in Anaheim (a prospect made all the more likely by the all-but-sure cancellation of "Avatar land" in Animal Kingdom; Disney will need something to fend off Universal Orlando's growing Harry Potter presence, after all). But one shouldn't underestimate the appeal of Disneyland getting first dibs on any real SW presence, no matter its extent, given its status as the future home of Iron Man (and, presumably, Avengers) content. The marriage of all three brands – Disney, Marvel, and Lucasfilm – under one roof is more than most fanboys would be able to handle.
Regardless of form or location, content or quality, the likelihood of seeing any finished products in the near-term is a long shot, even with the removal of Michael Eisner and George Lucas from the negotiating table. And in the meantime, all Star Wars fans have to look forward to is debating to what degree Disney will run the franchise into the ground in movie theaters (and on television screens) and wondering why producing a solid theme park attraction has proven to be such an insurmountable challenge.
[sws_author_bio user="msunyata@yahoo.com" size="105″ authorposts="More OI posts by Marc" name_format="About the author"] [/sws_author_bio]