Five tips for making the most of a day at Discovery Cove
SeaWorld's all-inclusive tropical park, Discovery Cove, is one of the best vacation spots in the United States. A visit may be an once-in-a-lifetime adventure for some, but taking a few steps at the very beginning of your trip can help you make the most of the day and have more time for fun in the Florida sun!
Arrive Early
Although Discovery Cove does not technically open until 8:30 a.m., guests can check in before that time, sometimes as early 7:00 a.m. during the park's peak season. Guests who check in before the park opens are able to skip the long lines that form around 8:15 a.m. –  8:30 a.m., and can get settled in before the "water opens" (meaning that guests can enter the Aviary, Grand Reef and Freshwater Oasis). Guests who arrive early can take their complimentary photo, listen to a verbal tour, pick up goggles, snorkels and wetsuits or vests, check out a locker and eat breakfast all before the park opens. That leaves about an extra hour or more for fun in the tropical paradise setting.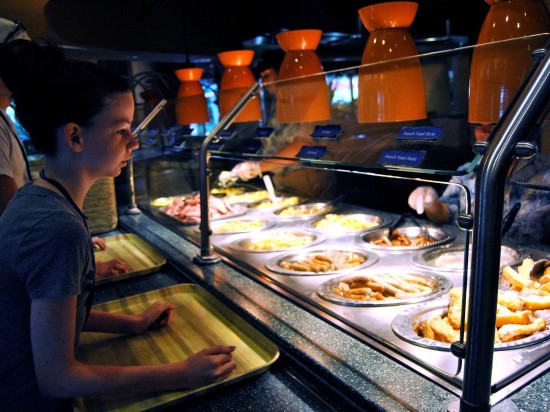 Say Cheese!
Many guests arrive at Discovery Cove in a disheveled state due to the early arrival time and the prospect of spending a day in and out of the water. What they might not know is that each party is photographed in the morning for a complimentary photo that can be picked up free of charge when leaving the park! The photo can be the perfect souvenir, but can also be ruined by a bad hair day. When preparing for a day at Discovery Cove, remember that the photo may be one you will want to display for years to come.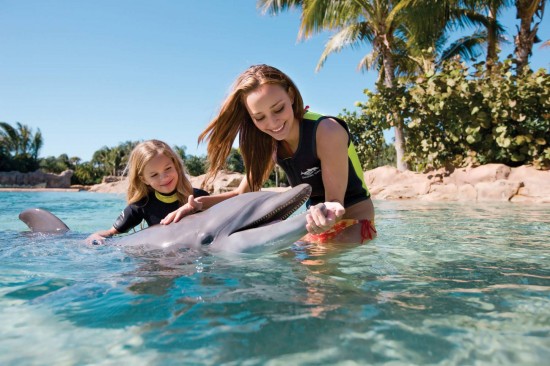 Complimentary Breakfast
Don't eat breakfast before arriving at Discovery Cove! Though Laguna Grill specializes in lunchtime fare, the restaurant offers a light breakfast including eggs, sausage, bacon, potatoes, pastries, fruit, coffee, juice and more. The restaurant opens before the park's 8:30 a.m. opening time, so follow tip #1 and enjoy a relaxing breakfast in paradise before the crowds arrive.
Prescription Snorkel Masks
During a day at Discovery Cove, snorkel masks can be a fixture on your face for hours at a time as you play in the Grand Reef or explore the Freshwater Oasis. If you wear any kind of prescription glasses or contacts, you can check out prescription snorkel masks from the Guest Services desk free of charge! You do not need to know your exact prescription, as the staff will have you try on various sets of goggles. Even if you wear contacts, you may want to consider checking out a pair; saltwater, sand, sun and contacts are not the most comfortable of combinations.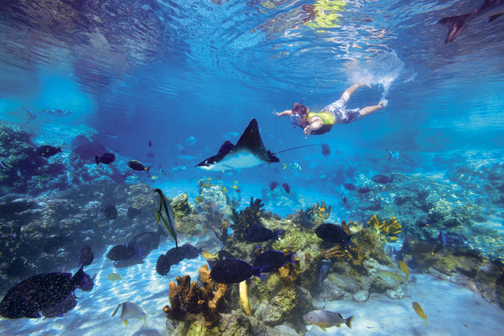 Stop #1 – the Explorer's Aviary!
While many guests will flock to the Grand Reef first thing in the morning, you should instead head to the park's Aviary. In the aviary, guests can feed and interact with hundreds of colorful and tropical birds from all over the world. What most guests don't know is that the birds are always hungriest in the morning! At 8:30 a.m., they gather on low tree branches and around the employee's carts where food is handed out waiting for guests to enter. During my last visit to the Aviary, I counted a personal record of six birds either eating from my hand or sitting on my head, shoulders, and arm… all at once! As the day goes on, the birds will have had their fill and be less interested in guests.
BONUS TIP: When in the Aviary, be sure to ask the Discovery Cove staff for Captain Jack! This sweet little bird has been hand raised, and loves to curl up in a warm hand or on a shoulder to take a quick nap. She's one of the best photo ops in the entire park (see the last photo below).
A day at Discovery Cove now includes unlimited admission to SeaWorld & Aquatica
Discovery Cove is offering the ultimate vacation for Orlando visitors with the introduction of a new, all-inclusive package: A day at Discovery Cove now includes unlimited admission to SeaWorld Orlando and Aquatica, SeaWorld's waterpark.
These three parks — Discovery Cove, SeaWorld and Aquatica — are now known collectively as SeaWorld Parks & Resorts Orlando, the only place in the world that features unique adventures that connect families with animals, the sea and each other. It's the one destination in Orlando where animals are the highlight and includes preferred hotel stays and exclusive benefits.
"This new offer is incredible for guests because it allows them to explore Discovery Cove for the day and also enjoy SeaWorld and Aquatica during their Orlando vacation, so they can experience the amazing animal connections that all of our parks deliver in their own way." said Toni Caracciolo, Marketing Vice President for SeaWorld Parks & Resorts. "It also solidifies the Discovery Cove reservation as a true, all-inclusive package," she added.
For reservations and to learn more, visit DiscoveryCove.com or call 1-877-434-7268.
[sws_author_bio user="Orukana" size="105″ authorposts="More OI posts by Ashley" name_format="About the author"] [/sws_author_bio]