Here's all that I've been able to figure out after about 30 minutes of clicking around.
A few days ago the following description of Hogwarts Express and Gringotts was posted on OrlandoUnited.com:
Hogwarts Express will be the real deal! The train stations include highly detailed scenery and effects. The trains themselves will be very realistic including steam wafting from each car, scenic treatment and sounds. Each interior cabin includes period props and treatments. The window in each cabin will utlize an advanced optics display making it appear as though you are looking outside a window. As the train travels to the station riders will be treated to different storylines depending on which station they are going to. The cabins are also equipped with a full effects package including heat blast, leg ticklers, lighting etc. One storyline includes a dementors attack where it will get dark, the air will go cold and lights will flicker among other things.

Make no mistake the connector train ride is a full E-ticket! The R&D for the display system alone is staggering. Nothing like this has been done before on this scale and it will be spectacular. Avatar looks to be a joke compared to just this attraction. I haven't even mentioned the major new ride for Potter 2.0 yet.

That brings me to Gringott's. The queue, in my opinion, will be even better than Forbidden Journey's queue. Let's put it this way…the queue includes a really cool elevator ride that will simulate moving vertically and horizontally. You'll feel the air coming from the right side as you move to the right and you'll feel the air from below as you travel down. Each of the two elevator simulators include a projection dome above to enhance the visuals. That's just in the queue. Maybe I'll save the actual ride description for another time but suffice it to say that everything from the unique ride system to the exciting show elements will make this attraction one of the most impressive rides to date.
Unfortunately I don't get a chance to visit their pages as much as I'd like, so I wasn't aware of the posting.
But then earlier today a site called Hypable.com picked up the descriptions and posted this article. Once they did so, the information started buzzing on Twitter, where I then took notice.
The details seems well and good, inline with my expectations, and so my first order of business was to publish this post and share it with our readers. Done.
After that, however, questions are lingering. On OrlandoUnited.com's forum, the descriptions appear as a quote. But I don't quite get where the source of the quote is, as my attempt to search deeper and deeper only brought me back to the quote. I by no means am suggesting tomfoolery — I get lots of great info from OrlandoUnited.com — but as someone who is always interested in vetting what I publish, it seems a bit confusing to me.
Maybe you know. Is WhyLightBulb some sort of Deep Throat character?
This quote appears a little further down:
I wouldn't say they opted to make it less spectacular but it was more an issue of execution and Warner/J.K. trusting Creative Studios a bit too much. From what I've seen during the development so far they have learned their lesson. I'm not going to say that Creative isn't still full of incompetent knuckle-heads, along with some very competent and talented individuals, but Warner and J.K. are running the show and have been putting feet to fire to ensure a hgh quality execution.

On top of that understand that FJ was developed under the old Universal/GE regime. Comcast has commited a healthy budget – more than twice phase one's budget – to ensure that the inevitable blunders will be taken care of. They have to because J.K. has already threatened to pull the IP a few times already after some design reviews stating that what she was seeing was not exactly what was pitched initially. She has won every battle so far. They will not risk losing her blessing. One example concerns consumables such as LN2 and steam. UC wanted to cut that budget in half. Instead they were only able to cut about 10 percent. This expansion is about three times the size of the first. Regardless of individual opinions everything I've stated so far will be included. The quantity of props and show sets alone, something you shouldn't be able to complain about with respect to FJ or the existing land, should be enough to get you excited. If you like FJ queue and some of the land details you're sure to love what's coming. There are a few additions s slated for the existing land as well by the way.
Followed by:
Expect some activity around summer of 2014.
And a few pages over you'll find these pictures from yours truly 🙂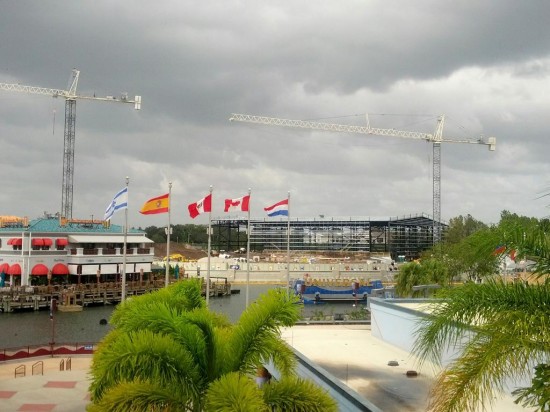 Anyway, I just thought I'd share. If you don't know anything about the Wizarding World expansion of Universal Orlando, be sure to visit our page dedicated to the subject in the OI Universal Center.