SeaWorld Orlando is a great vacation spot for families, but it can also be a fun place to go on a date and reconnect with your special someone. Whether you're visiting the park for the first time with your sweetheart or you're a local with a worn-out season pass, these tips will help you make romantic memories with minimal stress and maximum fun!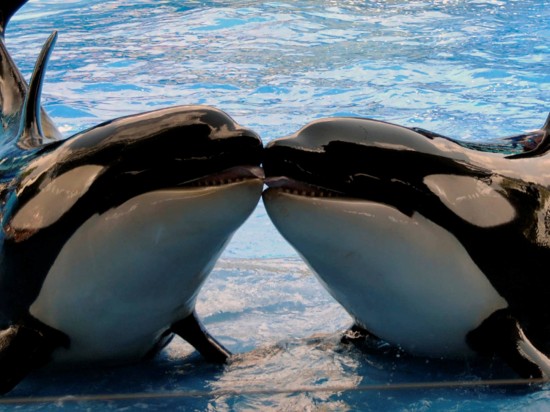 Connect with each other… and with the animals!
SeaWorld offers the unique opportunity to connect with a number of animals including dolphins, sea lions, stingrays and more! If your sweetheart is a dolphin lover, surprise him or her by bringing them to a Dolphin Feeding in the Key West area of the park! A tray of fish is only $7, and guests are invited to touch the dolphins as they come by for their favorite snack. This experience is inexpensive, has the potential to be a lifetime memory, and will delight any animal lover. If you want to remember the moment forever, you're in luck; SeaWorld photographers capture the interactions!
Secret spots at SeaWorld
SeaWorld has an impressive number of almost "secret spots" that guests rarely frequent. On romantic evenings, my boyfriend and I often make our way to one of these spots just to talk, to enjoy the cool night air or to watch the fireworks. These spots are also great for resting your feet if you've been in the park all day, or eating dinner if you've purchased food from one of the quick-service restaurants. My top three "secret spots" at SeaWorld, all of which have beautiful views of the park's fountain shows and fireworks, are the patio behind Fins (the gift shop across from the Shark Encounter), the dining area that wraps behind Mango Joe's, and the patio directly beneath the Sky Tower, known as the "Sand Bar."
Be sure to try and find at least one of these spots the next time you visit the park; it's always good to have a place to catch a break from your vacation!
A romantic dinner
No date is complete without a nice dinner! While "nice" varies depending on one's definition, SeaWorld's signature restaurant, Sharks Underwater Grill, is breathtaking. Guests dine next to an aquarium full of sharks and other marine life, or can enjoy a drink at an aquarium bar that is home to colorful fish. This is the best restaurant in the park for a quiet dinner, an adult beverage or a decadent dessert. It has limited seating, and is far less crowded than the other restaurants in the park. While this ensures a more relaxed atmosphere, it can spell trouble for the unprepared visitor; if you're hoping to have a meal at the restaurant, be sure to stop by earlier in the day for a reservation. That being said, the bar is open seating and there are a few tables in that area that are first-come first-serve, so be sure to stop in even if you haven't been able to make a reservation.
Updated this summer, here's a look at the Sharks Underwater Grill menu:
Appetizers
Potato Gnocchi Casserole
Braised Beef Short Rib Ravioli
Chilled Jumbo Shrimp Cocktail
Heirloom Tomato and Spinach Salad
Entrees
Grilled Chicken Risotto
Pork Osso Bucco
New York Strip Steak
Pasta Purse
Tempura Shrimp
Desserts
Fresh Fruit Tart
Tiramisu
Loaded Brownie Sundae
Chocolate Marquise
Banana Crem Brulee
And as always, the Children's Menu is filled with foods they love:
Pasta Marinara
Jumbo Grilled Hot Dog
Shark's Chicken Tenders
Mac and Cheese
Kid's Steak Kabob
End the night with a bang
Through August 11, 2013, SeaWorld's Summer Nights keeps the park open later (typically until 11 p.m.). In addition, more shows are offered like Shamu Rocks (see the video below), and nightly fireworks put the finishing touch on each day. SeaWorld's fireworks, while less flashy than those offered at other parks, are well done and the perfect complement to a romantic evening. Even if you're over fireworks, be sure to stay for the fountains; they are an integral part of the show, and are absolutely dazzling. You can even make a competition out of it by challenging your sweetheart to spot the whale tail-shaped firework before you do!
[youtube_video]k_ogrPd8qFc[/youtube_video]
I love SeaWorld for date nights because of the park's relaxing atmosphere and its attractions and offerings that can be enjoyed by all ages. While some may claim that other theme parks in the Orlando area are a more traditional spot for the perfect date, SeaWorld has my vote for the best date spot theme park in Central Florida.
[sws_author_bio user="Orukana" size="105″ authorposts="More OI posts by Ashley" name_format="About the author"] [/sws_author_bio]