It was a night that NO ONE should ever miss! On Saturday, July 14, I attended the annual "Crazy 80s" pub crawl in downtown Orlando for the first time. After spending the whole week prior to the crawl shopping and planning my outfit for the evening I was more than ready for this new experience.
My friends and I arrived at check-in on Wall Street at about 8pm on Saturday evening, armed with our tickets, sunglasses and more Aqua Net in our hair than is probably legal according to fire safety standards. We received our pub crawl badges and eagerly made our way onto Wall Street amidst a sea of neon, high tops, big hair and Hulk Hogan costumes. It was like stepping through the doorway of a really awesome time machine. I was already having a fantastic time and we weren't even at the first bar yet.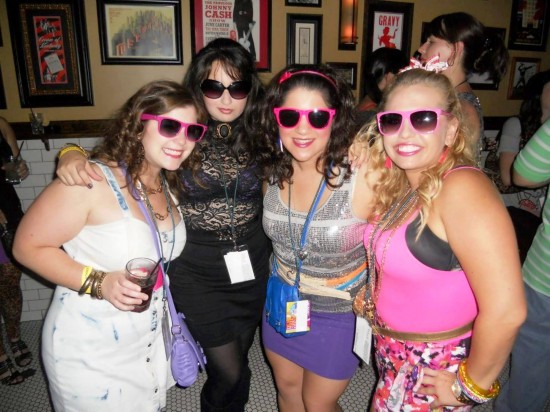 We started our night (and received our first complimentary drink) at Finn Henry's where Corey Hart's "Sunglasses at Night" put us all in the 80's groove. It was a sight to be seen! As soon as the DJ began playing this song everywhere I looked I saw sunglasses. Who knows how many of us at Finn Henry's actually knew the real lyrics, but we all rocked out together like we were a part of some secret club that no one else was in on. The Lodge was our next stop where we compared outfits, hung out and soaked up their AMAZING air conditioning while we waited for our next complimentary beverage at 9:15 over at The Beacham.
So as not to let our partying slow down too much we hit The Beacham right at 9:15, where the music was blaring and the lights made everyone glow. After a quick stop at the bar, conveniently located right inside the doors, we all made our way up the stairs and found an open table on the balcony where we danced to some of the best and most popular music of the 80's. This was probably one of my favorite stops on the whole pub crawl.
Around 11pm, when we were good and danced out at The Beacham, our crew headed over to Chillers for another round of complimentary drinks. The place was crowded, but we didn't let that stop us from moon walking, doing the safety dance or line dancing when Electric Slide came on. Yet another phenomenal stop on the pub crawl.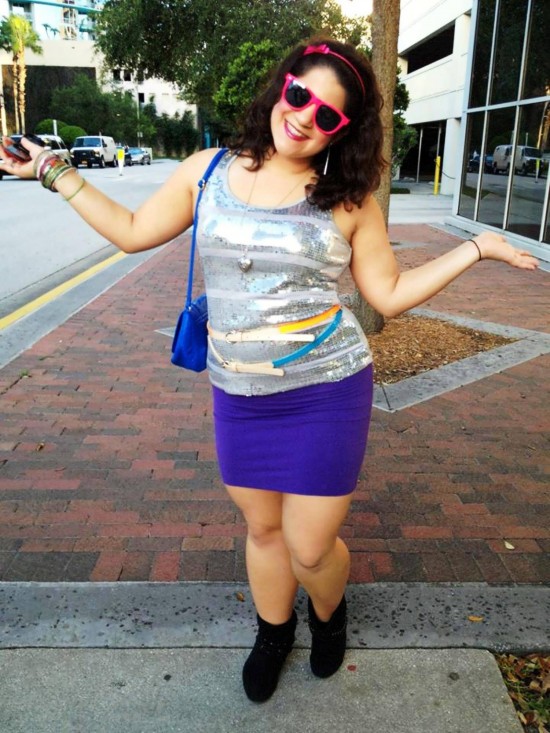 Finally at around 12:15am we made our way over to the Wall St. Street Party and got our last round of complimentary drinks at Slingapours. I ended up with two due to a very nice person who went home early and graciously gave me their final free drink ticket (Lucky me!). Here we continued to rock out our best 80's moves on the dance floor and were even so bold as to dance on stage for all to see. We sang along to all the songs, "jumped around," and made some amazing, unforgettable memories.
We continued to dance our way towards the street exit just after 1:30am laughing hysterically because our hair was still perfectly intact from when we started the evening. Why did people stop using Aqua Net on a regular basis? We caught a cab home, de-80'ed ourselves and went to bed. As I drifted off to sleep I was thinking one thing: I am so going back next year!
Since this is an annual event it is easy to factor into your vacation. Also, there are more than a dozen such events year-round in downtown Orlando. So, if you like dancing, dressing up — and in the case of the 80's pub crawl, wearing your sunglasses at night — go to either www.orlandopubcrawl.com or www.wallstplaza.net to check out more information. Hope to see you all from far and wide at next year's "Crazy 80s" pub crawl!
Next official Orlando Pub Crawl: The Little Black Dress pub crawl, August 11
Next Wall St. Plaza event: Margarita Fest, July 28
Editor's note: This is the first post from our newest OI contributor, Dina. We look forward to featuring her writing and Orlando experience on OrlandoInformer.com.
[sws_author_bio user="DinaFayeMagdovitz" size="105″ authorposts="More OI posts by Dina" name_format="About the author"] [/sws_author_bio]