My teenaged son's birthday was a few days ago and since Orlando's theme parks are his favorite place to be, my husband scheduled a vacation day and we planned to spend the day celebrating at one of the parks. Some background information to better understand our experience: my son has severe autism and is non-verbal.
Each weekend, my son chooses which theme park he wants to visit and writes it on his calendar. We felt certain on his birthday he would pick Universal Studios Florida because that has been his favorite park for the past year. I even dressed in my Minion t-shirt that morning in anticipation of the fun day ahead. When asked where he wanted to spend the day, he wrote "Typhoon Lagoon".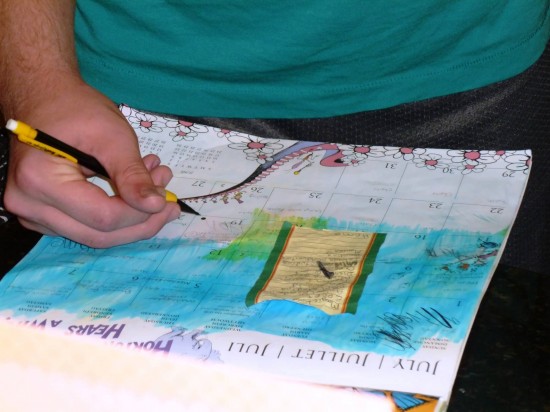 My husband and I thought, "Huh? Typhoon Lagoon? In July? The most crowded time of the year for the water parks? And he has a low tolerance for kids yelling and waiting in long lines?" We asked several times if he was certain he wanted to go to Typhoon Lagoon or maybe Islands of Adventure and get wet on their water rides? No. He insisted on Typhoon Lagoon. Needless to say, my husband and I were very skeptical about how long we would be there. As a precaution, we packed extra clothes to keep in the car in case we left Typhoon Lagoon after only 10 minutes.
We arrived at Typhoon Lagoon around 12:30 and the parking lot was the fullest we had ever seen. (We later found out Blizzard Beach closed earlier because it had reached crowd capacity that morning and visitors were being directed to Typhoon Lagoon.) We parked in a grass lot far from the regular parking lot and entrance. "Um hmm", I thought "It's so crowded he won't stay longer than it takes to get a locker." The line to get into the park wasn't long and soon we were placing our items in our locker.
Contrary to our assumption and the crowds, my son had a fantastic time — he was all smiles and laughing the entire afternoon. We spent a long time in the Surf Pool being pelted by the large waves.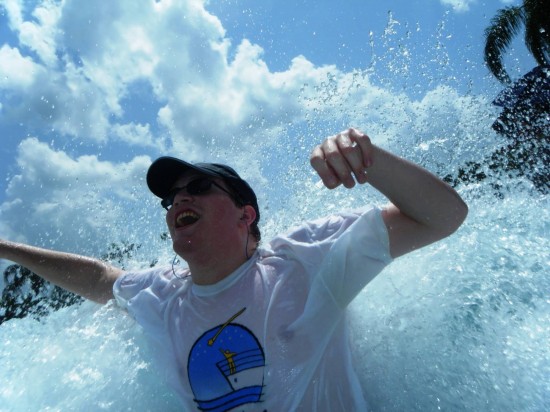 We rode Keelhaul Falls water slide and floated along Castaway Creek lazy river. Thanks to some wonderfully accommodating Disney cast members, we were able to ride Crush 'n' Gusher water roller coaster. Then we returned to the Surf Pool for some more waves. My husband and I were very wrong to doubt how much fun we'd have at Typhoon Lagoon, even on a crowd capacity day.
After about four hours of non-stop fun, our son was ready to leave Typhoon Lagoon. We changed into dry clothes and hiked back to the car. To our surprise, our son then requested Universal Studios next!
Arriving at Universal CityWalk, it was dinner time and knew it was best that our son eat before he started riding the attractions. We had a great dinner with live entertainment, excellent service, and very accommodating staff on the Porch of Indecision at Margaritaville. Our son was growing impatient because he wanted to ride Rip Ride Rockit, so he and my husband left for Universal Studios after they finished eating. I paid the bill and browsed the shops along the route to Universal Studios.
At Universal Studios, the team members in Guest Relations gave my son a button recognizing his birthday. I purchased a Minion shirt for him and he changed.
He and my husband rode Rip Ride Rockit several times in a row and we posed for several pictures. Later, all three of us rode Revenge of the Mummy and E.T. (These three rides are my son's favorites at Universal Studios). My son and husband went back to Rip Ride Rockit to ride several more times. My son received a lot of happy birthday wishes and after some pictures with team members at Rip Ride Rockit.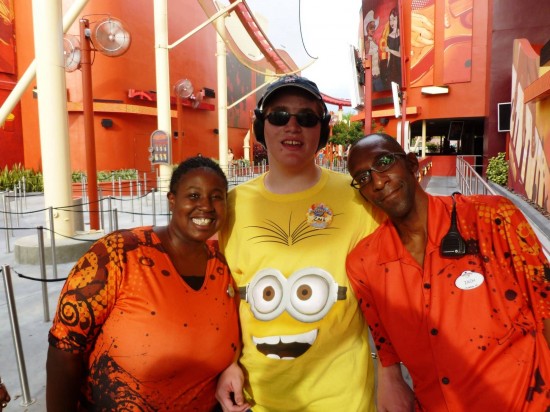 Now it was time to head home to sing happy birthday, eat cupcakes and open presents.
We had a splendid time celebrating my son's birthday at Typhoon Lagoon, Universal CityWalk and Universal Studios. Was it crowded? Yes, but the crowds didn't prevent us from having fun and the team members at both parks were wonderful. Where there any potentially upsetting sounds? Sure, but if they bothered my son, we were able to adjust where we were located and he did great. My husband and I also learned a lesson: never doubt our son's choices when he wants to go somewhere special for his birthday. Would we do it again? Absolutely. And we will be at one of the theme parks in the next few days having fun all over again. But we know it's anyone's guess, and sometimes a surprise, which park he will choose and what adventure awaits us regardless of the crowd levels.
Celebrating a special birthday across Orlando – photo gallery
Click any image to view it full-screen. When the full-screen image is open, click to the right or use the right arrow on your keyboard to advance through the gallery. If several thumbnails are missing, try reloading this page in your browser.
[sws_author_bio user="MaureenDeal" size="105″ authorposts="More OI posts by Maureen" name_format="About the author"] [/sws_author_bio]