If you've visited Epcot you've probably noticed the candy apple red phone booths that are located in the UK Pavilion. You may have even posed for a photo inside, tried to cram your whole family into the booth, or even picked up the receiver to see if the phone actually works. Well, you might just get a surprise one day and find out there really is someone on the other end!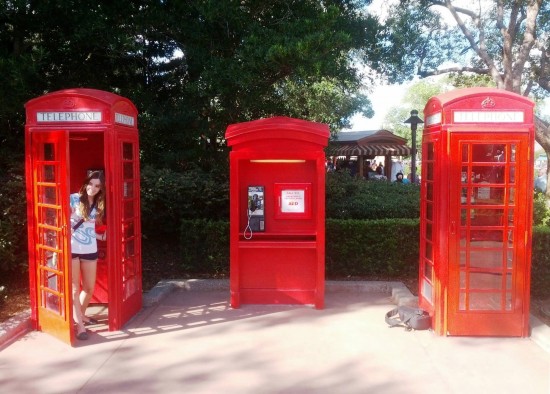 I recently learned that the phones at Epcot do indeed receive calls, and I was immediately intrigued by this. To be able to make a call into the park and see how someone's visit was going seemed like such a fun idea, so I decided to give it a try! The first few times I tried the phone just rang and rang and eventually turned over to the sound of a fax machine. I finally got a few answers, but I think whoever was on the other end was too afraid to actually speak as they never said anything and then just hung up. I also had a few "Hellos" and when they heard someone was actually on the line they would quickly hang up. I heard one person start to shout and say "someone is really on there!" then I heard another voice say "there is no one there!" and slam down the phone. It's quite entertaining.
I decided to try a few more times and finally I got a friendly "Hello" from a women. When I told her I was calling from Ohio, she asked if I was pulling her leg. I assured her I was telling the truth and told her to Google it when she got home. She was laughing and having such a fun time. She told me they were trying to see how many people they could fit into the phone booth and all of her children wanted to say hello as well. They were all very excited to be in the phone booth and receive a mysterious call. Turns out they were from Indiana, which we thought was neat seeing as we are neighboring states. I asked them if they had been to Club Cool to sample the Coca Cola's from around the world. They had never heard about this and were excited to check it out. It was cool to know I was able to give someone right inside the park an Epcot tip and bring some extra fun to their day (and mine also!)
That was so cool I decided to try again. I eventually got a hold of two local girls named Ruby and Maddy/Maddie. They told me they were heading over to a bench that they always take a photo at and as they were passing by the phone booth heard it ringing and decided to pick it up. They were so stoked that someone was one the line. We talked about everything from the weather to restaurants, crazy drivers, seasons and more. They are both hoping to attend school in the Northern States so they can truly experience the different seasons. They had recently played Hollywood Drive-In mini golf at CityWalk and loved it! However, they have not been to the Universal parks in years. I told them they definitely need to check out the Superstar Parade and Cinematic Spectacular nighttime show.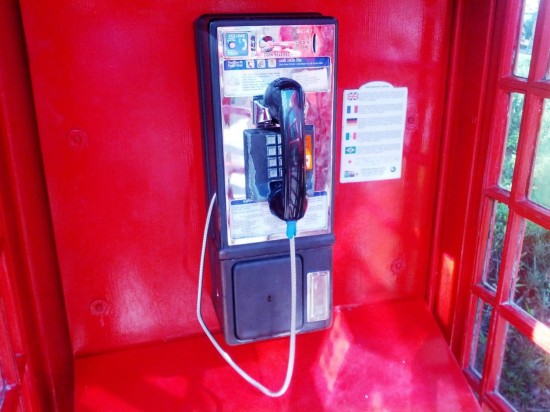 We also talked about frozen yogurt and how there are so many different frozen yogurt shops in the Orlando area. I told them they HAVE to get the Peanut Butter and Jelly when it is available at Pinkberry and how I dream of it because it is so amazing! Soon enough the call wrapped up and I thanked the girls for taking time out of their park visit to chat with me. They said that our call was the most random and memorable phone call ever and was way more fun than their usual visit to the park (they have a family member who works there so they visit often.) Talk about a nice thing to hear!
Something that I thought was really cool about both of my conversations: the parties wanted a photo in the booth while talking on the phone to add to their memories.
Just in case the family from Indiana or Ruby and Maddie stumble upon this I'd like to say Hello. I'm glad you picked up the mysterious ringing phone!
During my last call a woman from Israel picked up. It was her first time to Disney and she said it was her last day in town before heading to New York and Seattle. Who would ever guess you would be speaking to people from all over the world and hearing about their adventures.
Another fun thing you can do is make a call from inside the park. Find a bench nearby and wait for an unsuspecting guest to enter the booth. Getting to watch their reactions as they answer your call will be priceless. This would also be a great way to surprise other people in your group. Sneak off while near the phone booths and call them up. Have a little fun with them or give your kids a special call from a Disney character and really make their day.
Want to give it a try yourself? Here are the phone numbers – keep in mind long distance rates may apply.
UK phone booth numbers
Right booth: 407 827-9861
Left booth: 407 827-9862
Center booth: 407 827-9863
If you decide to ring up the booths at Epcot and the person on the other end is curious how you found out about calling you can tell them you saw it on OrlandoInformer.com! This is a great way to bring the magic of Disney to your day when you can't be there in person.
Red telephone booths in Epcot's UK Pavilion – photo gallery
Click any image to view it full-screen. When the full-screen image is open, click to the right or use the right arrow on your keyboard to advance through the gallery. If several thumbnails are missing, try reloading this page in your browser.
[sws_author_bio user="jewels" size="105″ authorposts="More OI posts by Julie" name_format="About the author"] [/sws_author_bio]