Guide to vegetarian dining in Orlando: Babycakes NYC at Downtown Disney
If you travel with a vegan, or someone in your party with food allergies, you know how impossible it can be to find something sweet for them to enjoy. There are a whole bunch of incredible bakeries and sweet shops in the Orlando theme park market, but none of them have options for people who choose not to eat (or are allergic to) dairy products, soy, gluten or wheat.
Enter Babycakes NYC at Downtown Disney.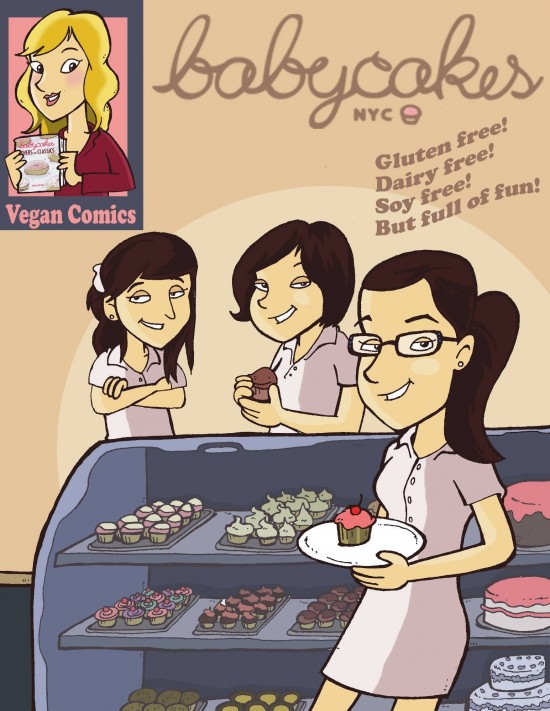 Located in the building that also houses Pollo Campero and Fresh A-Peel, Babycakes NYC sits directly in-between the Lego Store and T-Rex in Downtown Disney's Marketplace. Every single one of Babycakes NYC's baked goods are made from all-natural, organic ingredients and are refined sugar free, gluten free, wheat free, soy free, and casein free. They are 100% vegan and kosher as well.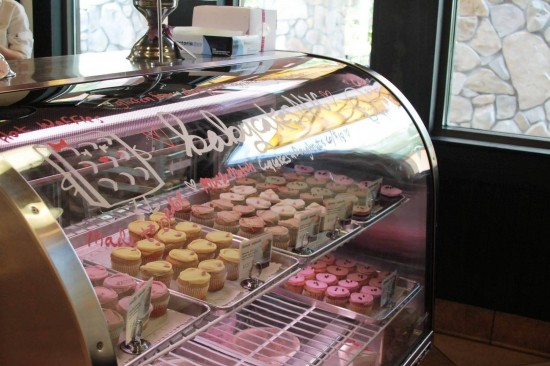 As I mentioned before, vegan bakery items can be more elusive than obtaining a FastPass for Toy Story Mania after 1 PM. And good tasting ones? You might as well search for a unicorn. Somehow Babycakes NYC not only has a huge selection of vegan items, they taste incredible.
A wide variety of donuts often include: Vanilla glazed, Chocolate dipped, Cookie crunch and Cinnamon sugar (my personal favorite.) But I've also seen Double Chocolate Chip, Toasted Coconut (my girlfriend's favorite) and Maple Glazed. Besides the full sized donut, Babycakes NYC also offers a "mini" sized version, which was perfect for the two year old we brought with us.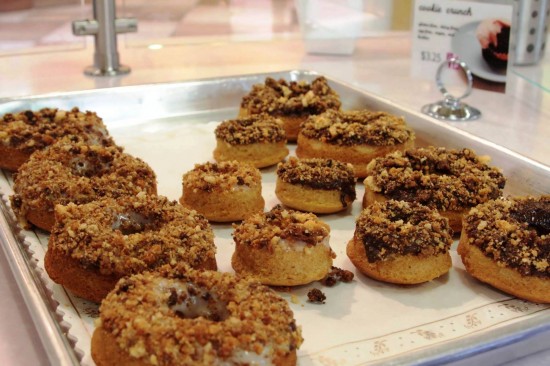 Cupcakes are Babycakes NYC's specialty and the menu usually includes: Blondie, Brownie, Vanilla, Lemon, Chocolate and Red Velvet. And I've also seen Lemon, Pumpkin and Carrot for sale. The frosting Babycakes NYC uses tastes wonderful and they also offer "cupcake toppers," which is a whole bunch of frosting on a little bit of cupcake. Highly recommended.
What else does Babycakes NYC have to offer? How about cookies, brownie bites, and cookie sandwiches (frosting held in place by two cookies)? They also sell loaves of various types including Chocolate Chip, Banana, Pumpkin, Cornbread, and Cinnamon Sugar Toastie.
Babycakes NYC's newest (and possibly greatest) creations are Waffle Sandwiches and Mounds bars. The waffle sandwich includes a freshly made waffle that has frosting and cookie crunch on the inside with maple and vanilla sauce drizzled on the outside. I've dubbed it the vegan version of KFC's Double Down, except twice as tasty and you don't need to be within 50 feet of a defibrillator when eating one.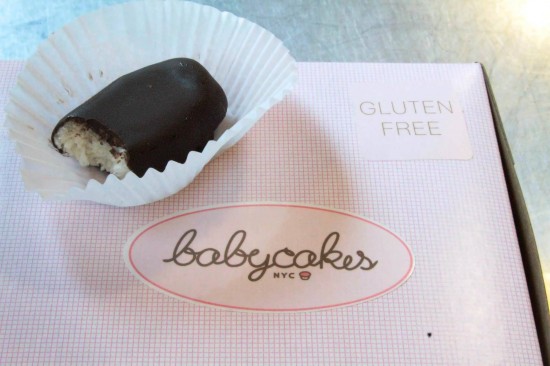 Now I'm not a big fan of coconut, in fact I don't like it at all, but everyone else I know who has tried the Babycakes NYC Mounds bar says it is the best item on the menu. Through Babycake's Twitter (@DTDBabycakesNYC), I've been alerted to the production of salted caramel topped donuts and it's taking all of my will power to not end this review immediately, get in the car, and drive up to Orlando!
Babycakes NYC's kitchen is completely sealed off from the kitchens of Pollo Campanero and Fresh-A-Peel to prevent any cross contamination. These pastry chefs are put in a glass front room (possibly straight from the set of Silence of the Lambs) where guests can watch as they make all the delicious treats. You can tell a lot about a restaurant by how clean they keep their kitchen, and Babycakes NYC's full transparency assures nothing but the highest standard.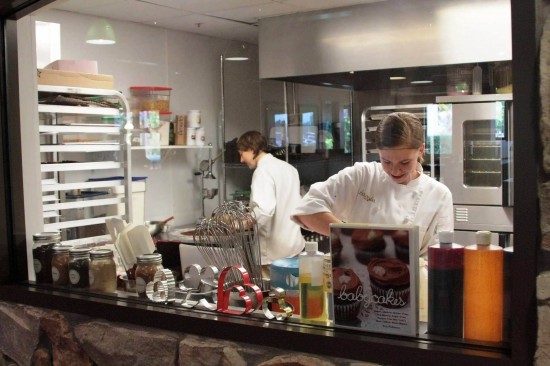 Babycakes NYC is on the Disney Dining Plan, as almost all of their items can be bought using the "snack credits," and they also offer a service where you can add a two-layer, six inch cake (that serves 8-10 people) to any meal already booked Advance Dining Reservation at any Walt Disney World restaurant. The cakes will be served at the end of your meal and is a great idea for anyone down at Disney celebrating a wedding, birthday, or just want to have a great dessert. For this option you need to call the bakery directly (407-938-9044) and you will need to have your ADR reservation number, date, and time of the meal handy.
The highest praise I can give Babycakes NYC is that I have been to the bakery several times with many people who would normally look down upon vegan food and they have had nothing but raves. The cupcakes and donuts are just as moist and tasty as the much unhealthier ones you will find at Starbucks, Dunkin' Donuts or Krispy Kreme.
Many say they like to stay on Disney property and go to Disney parks because for that brief moment of time the rest of the world disappears. If you have a vegan in your life, or a child with severe food allergies, taking them to Babycakes NYC in Downtown Disney can give them an opportunity to have the same amount of choices the rest of us have every single day. They get to experience the magic of the "Disney Bubble" with something that many people take for granted. For the rest of us who can eat whatever we want, Babycakes NYC just so happens to offer some of the best tasting bakery items in Florida.
Babycakes NYC at Downtown Disney – map & links
Click any marker to display the attraction or venue name. To scroll or zoom, use the controls on the top-left of the map. You may also switch to different map views by using the buttons on the top-right of the map.
Official website: http://www.babycakesnyc.com/downtown-disney-orlando-fl.html
Babycakes NYC at Downtown Disney – photo gallery
Click any image to view it full-screen. When the full-screen image is open, click to the right to advance through the gallery. If several thumbnails are missing, try reloading this page in your browser.
[sws_author_bio user="derekburgan" size="105″ authorposts="More OI posts by Derek" name_format="About the author"] [/sws_author_bio]