Agave Azul: Top-rated Mexican dining just a short drive from Universal Orlando
My wife and I love Mexican food; everywhere we've lived we have visited the various Mexican places in the area to try them out to find which one we like best. So when we relocated to Orlando this winter from South Florida, we knew we'd need to find a new Mexican place to enjoy. I did a quick search on TripAdvisor to find the best Mexican places in the Orlando area. Agave Azul was number one on the list (see how it is ranked now) and also conveniently just a couple miles down Kirkman Rd. from Universal Orlando. Since we visit Universal on a weekly basis, we knew after one of trips we'd have to get dinner here so we could hopefully find our new Mexican spot.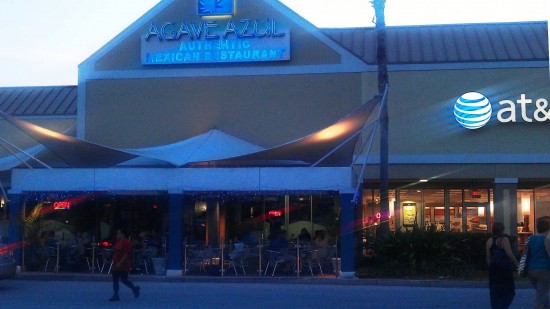 We arrived at Agave Azul around 6pm on a weekend and it was relatively busy, but not overcrowded. The restaurant has a more chic look to it than most Mexican places. It makes ample use of different colored lighting and a brushed stainless steel look. All in all it's a much more "hip" Mexican place than I'm used to.
We were seated right away, and the chips, salsa, and their cool ranch dip were brought out immediately. The chips and salsa are both good, about what I expected from a good Mexican place, but they also have the cool ranch dip which really tastes like a fresh version of Doritos cool ranch chips when you dip the tortilla chips in it. That was interesting and different, but good. After looking at the menu a bit I noticed a pleasant surprise — their pricing. Many of the dishes are less than $15, and some are even less than $10. I don't think I've seen less expensive, quality Mexican food before, so not only is it good, it's also very economical for a sit-down meal.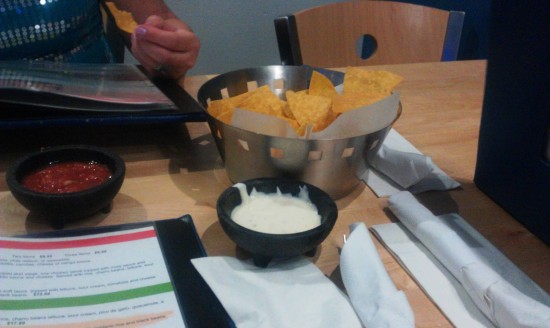 Something else I wanted to add here: Agave Azul, from my experiences, has had very good service. However, multiple reviews I had read in the past said the food was good but the service was subpar. I disagree. I've never had anything but quality service when dining here and think it's definitely worth a visit for fans of Mexican food.
We brought my mother-in-law along on this trip and ordered our food, getting the Carne Asada, Tacos Al Pastor, and a Combo Plate (chile relleno, taco, and enchilada). Our food all came in a timely fashion which was as expected. My Tacos Al Pastor were delicious and definitely reminded me a bit of the authentic tacos in Mexico, which is hard to find. Here in the U.S. we like to douse our Mexican food in cheese, so it was a welcome sight to see my tacos come out with cilantro and onion to lend their authentic Mexican flavors to my dish. My wife's Carne Asada was tender and tasty, and the combo plate was as expected: nothing out of this world, but for $9.99 it can't be beat!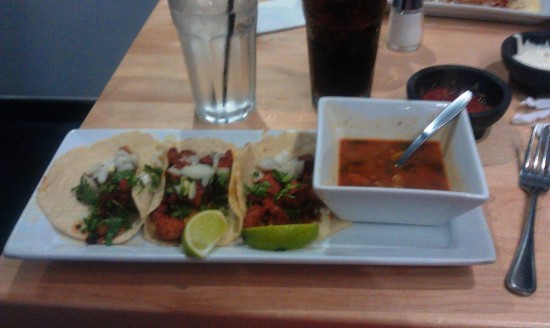 We enjoyed every aspect of our meal — the food, the setting, the service, and even the price! If you are visiting Universal Orlando area, or even Orlando in general and looking for some tasty Mexican this is the place to be. They also have $2.99 margaritas all day on Tuesdays and a live Mariachi band from 7-10pm on Thursdays. See the links and such below for more information.
Agave Azul – map & links
Click any marker to display the attraction or venue name. To scroll or zoom, use the controls on the top-left of the map. You may also switch to different map views by using the buttons on the top-right of the map.
Official website: http://agaveazulorlando.com
Agave Azul – photo gallery
Click any image to view it full-screen. When the full-screen image is open, click to the right or use the right arrow on your keyboard to advance through the gallery. If several thumbnails are missing, try reloading this page in your browser.
[sws_author_bio user="JTorrenga" size="105″ authorposts="More OI posts by JT" name_format="About the author"] [/sws_author_bio]