Through the eyes of a little princess: A child's first visit to the New Fantasyland
We recently had the opportunity to visit New Fantasyland in Disney's Magic Kingdom. Considering our granddaughter Lily has been a fan of Belle of Beauty and the Beast since she was old enough to understand the difference between the princesses, it became our great pleasure to visit with the "princess in the yellow dress."
As I watched Lily that evening, I realized that most of the articles I see about theme parks are written for adults. I thought it would be fun to ask her what she was seeing and thinking as we explored the expanded area.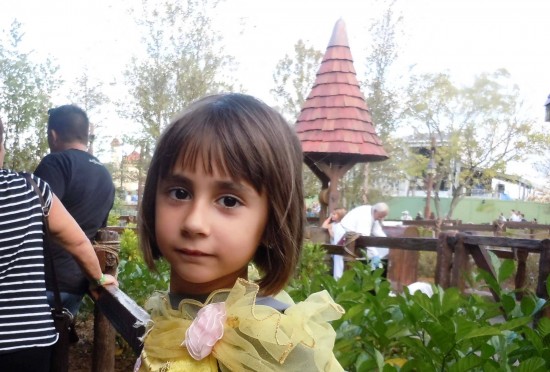 Of course Lily HAD to wear her Belle dress. At the new bridge she was welcomed as "Princess" and directed us to the Enchanted Tales with Belle attraction. Lily took many of our pictures because she also had been assigned to make a "photo journal" for Kindergarten homework. She snapped the gardens and thought they would be a good place for rabbits and other creatures to live, because there were lots of juicy leaves for them to eat.  On the day we were there you could see inside the construction of the Seven Dwarfs Mine Train ride, and Lily was really excited when I told her it was going to be a roller coaster. "Like Thunder Mountain?" Yes, Lily, very much like Thunder Mountain. "Will we be able to ride it next week?" Five-year olds don't understand this concept of time as yet.
She took a picture of the shutter on Belle's Cottage window because she liked the heart carved into it, and another picture catching her Pop eating a quick snack and giggled that she had done so.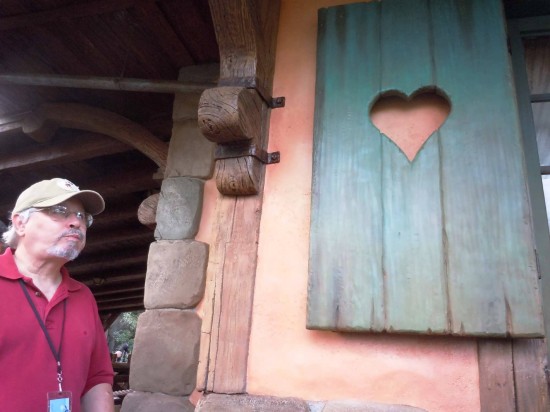 Once inside she touched the books on the floor and was disappointed to see they were "stiff" and not real. She pointed the camera at the portrait on the wall and said it was probably Belle and her mommy. Looking up she noticed the stenciling around the ceilings and marveled at how much it looked like the flowers in the bedroom where she sleeps when staying with us. She also recognized the same design was on the fireplace. I marvel at the way she observes details most adults miss.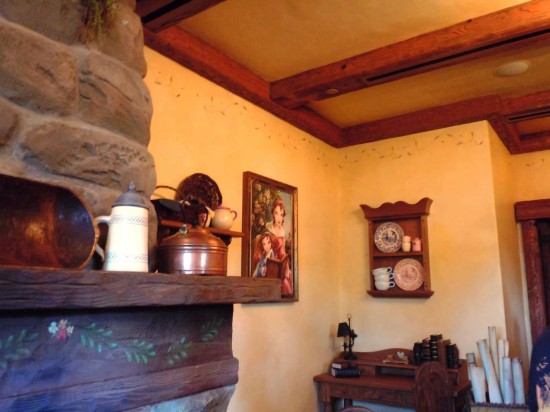 In Belle's father's workshop our attention was directed to a large mirror on the wall, which started with a movie but then began to glow. Within seconds it transformed into a doorway, quite magical in every sense of the word! Lily took off to the next room with the camera before we could stop her and was greeted by Madam de la Grande Bouche, the Wardrobe. A costumed helper announced that it was Belle's birthday, and as a present, those chosen would perform the story of how Belle fell in love with Beast. The helper then picked not only children but a couple adults for the roles in the show; anyone who wanted to participate was given a large placard of the character they would play from the inside of the Wardrobe. Lily jumped for joy at being chosen for the role of Mrs. Potts!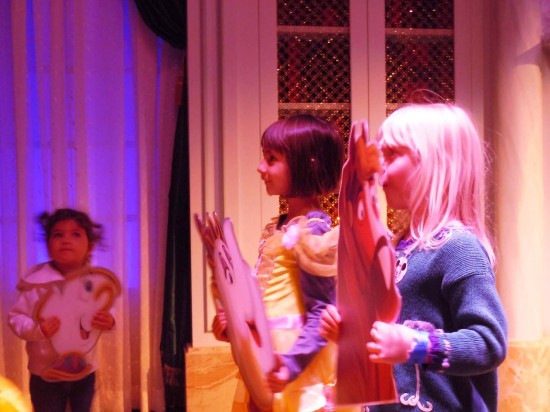 Moving into the Library, performers sat on the floor in the front of the room while the rest of us sat on benches, and waited for Belle to enter the room. Lily told me later, "Belle was so amazingly beautiful in her flowing gown."  But my heart burst with pride as Lily, who seemed to be completely in heaven as Belle patted her head and said, "Oh, look! My Twin!" Lily said "she put butterflies in my tummy."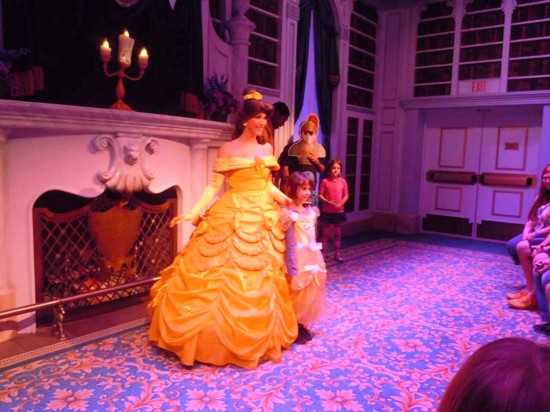 Disney cast members directed the actors with their parts at the appropriate time, each child with the look of complete awe and joy on their faces! The entire attraction was a mixture of technology and theater and as entertaining for adults as it was for children. At the end all performers took their curtain calls with Belle and photos were taken by a Disney photographer. Our daughter, who is in a wheelchair, was also invited to have her picture taken; all were given PhotoPass cards with memories of the event which could then be viewed and purchased online.
We moved on to see Under the Sea with Ariel, then walked through the Be Our Guest Restaurant and enjoyed everything in New Fantasyland. But all Lily seems to talk about was her time with Belle. She asks to look at the pictures frequently as this visit was especially meaningful for her.  The magic, for her, is still there.
I urge you to try and see the joy of any park through the eyes of a child during your next trip and gain a wonderfully new perspective.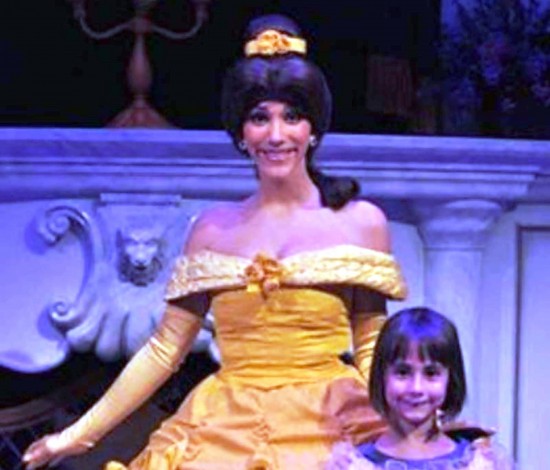 Lily's photos of our trip to New Fantasyland
Click any image to view it full-screen. When the full-screen image is open, click to the right or use the right arrow on your keyboard to advance through the gallery. If several thumbnails are missing, try reloading this page in your browser.
[sws_author_bio user="iamdollie" size="105″ authorposts="More OI posts by debi" name_format="About the author"] [/sws_author_bio]