4Rivers Smokehouse: Best barbecue in Orlando
When I first moved to the Orlando area, I kept seeing these bumper stickers everywhere as I drove along in the city over my first week and wondered exactly what it was that they were referring to.

I felt like on any given drive, even short ones I'd see at least a few of these bumper stickers. Finally one day as I drove along Fairbanks Ave. in Winter Park I saw the physical location that the bumper stickers were referring to, 4 Rivers Smokehouse.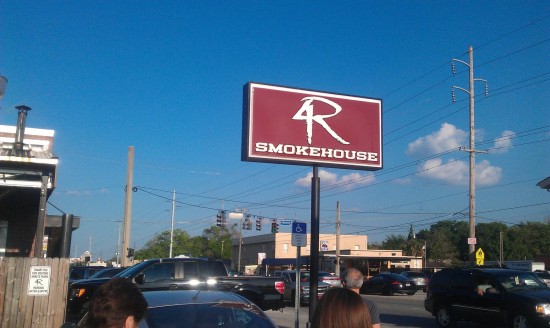 It turns out that 4 Rivers is a neighborhood barbeque restaurant that has quickly become a local favorite. It has recently won awards like Best BBQ in Orlando 2011 from the Orlando Sentinel and #1 restaurant in Winter Park according to Zagats. 4 Rivers first opened in 2009 in Winter Park and has since expanded to two other locations in Longwood (the Longwood location also includes a "sweet shop" which I will touch on later) and Winter Garden.
Coincidentally for me I was staying right around the corner from 4 Rivers for a month, and after seeing all of the "hype" surrounding it I just had to try it. My wife and I decided to go on a weekday evening, and we were surprised to find a line out the door. We then proceeded to wait about 10 minutes before getting in the door.
Once inside we continued to wait in a snaking line around the inside of the restaurant, but we also got our first look at all of the delicious options available for dinner. There is a large selection of craft sodas in the cooler to choose from, many of which I hadn't seen before. On top of that there are of course a variety of meats to choose from (they're famous for their brisket), and 10+ options for sides. They also have a dessert case which offers a variety of delicious desserts, all made fresh daily by the 4 Rivers Sweet Shop, which is at their Longwood location.
We ordered our food and proceeded to their outdoor seating. The inside of the restaurant area is only for ordering, if you want to eat at the restaurant you have to do so outside on their "deck area." Fortunately they have a ceiling above with numerous fans. There are also fans on the posts along the perimeter that have a built in mist sprayer (kind of like the ones you see at theme parks) to keep the area relatively comfortable with the consistently hot Florida weather on top of the meat smoker right outside. Something to note is that the seating style throughout has a very community-like feel to it, where you'll likely be sitting at a long table that you're sharing with other people. Normally I'd probably consider this a drawback, but honestly once you get your first bite of 4 Rivers you won't care how close you're to the strangers around you. All that will matter is your delicious food!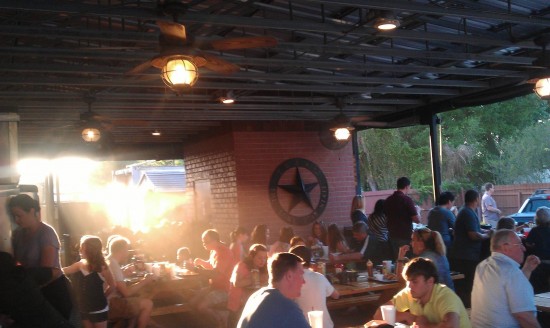 After we paid, stepped outside, and seated ourselves we finally got to start digging into our meals. I had ordered the brisket sandwich (includes 2 sides) along with a sarsaparilla soda, some baked beans, and mashed sweet potatoes. Everything I ordered was outstanding! The brisket was smoky and succulent. The mashed sweet potatoes were absolutely perfect (sweet potatoes are one of my favorite things to eat). They had pecans mixed in along with some cinnamon for an ideal blend. The baked beans were superb with a full, balanced flavor, not too sweet or bland.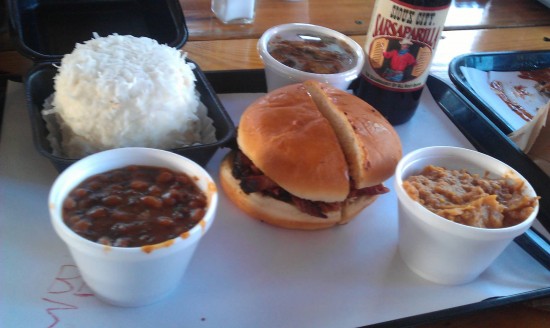 My wife got the pulled pork dinner plate which included 3 sides and cornbread or a biscuit. She got the cornbread, bacon wrapped stuffed jalapenos, corn salad, and baked cheese grits. She is pretty particular on what she deems to be good food and at the end of her meal she didn't have one negative thing to say about it, but rather raved about how excellent everything in front of her was.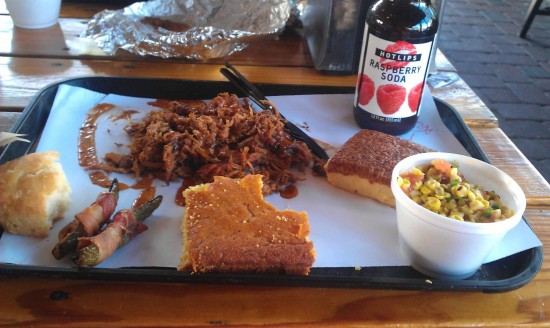 We also ordered a coconut cupcake to split (seen above) which was outstanding. It was probably one of the best cupcakes either of us has ever had. The rest of the desserts looked wonderful as well, and we'll definitely be making return trips to satisfy our sweet tooths.
All in all after experiencing 4 Rivers Smokehouse it surprisingly not only met my expectations that had been built up so high from all the hype, it actually exceeded them! We have since gone back to 4 Rivers and consistently enjoyed a wonderful experience, and meal. Despite all of 4 Rivers build up it doesn't fall short, and whether you're a barbeque lover or not 4 Rivers should definitely be on your list of places to eat while in Orlando.
Looking for more information on 4 Rivers Smokehouse? Check out all the info and links below!
4Rivers Smokehouse – map & links
Click any marker to display the attraction or venue name. To scroll or zoom, use the controls on the top-left of the map. You may also switch to different map views by using the buttons on the top-right of the map.
Official website: http://www.4rsmokehouse.com
4Rivers Smokehouse – photo gallery
Click any image to view it full-screen. When the full-screen image is open, click to the right or use the right arrow on your keyboard to advance through the gallery. If several thumbnails are missing, try reloading this page in your browser.
Editor's note: This is the first post from our newest OI contributor, JT. We look forward to featuring his writing and Orlando experience on OrlandoInformer.com. If you are interested in learning how you can contribute your own stories and insight, click here.
[sws_author_bio user="JTorrenga" size="105″ authorposts="More OI posts by JT" name_format="About the author"] [/sws_author_bio]