When our family isn't visiting one of the theme parks in Orlando, we will most likely be at our son's Special Olympics practices or competitions. Special Olympics Florida is an outstanding organization and provides year-round sports training and competition to children and adults with intellectual disabilities at no cost to the athlete or their caregiver as a means to achieve physical fitness, self-esteem, socialization skills, and the life skills necessary to be productive, respected and contributing members of their communities. Currently 16,000 athletes, 1,200 coaches and 14,000 volunteers participate annually across Florida.
One of the categories of sports that Special Olympics Florida offers is the Summer Games. These games consist of track and field, soccer, cycling, tennis, bocce and volleyball. After qualifying at their local games and then designated area games, athletes are selected to participate in the State Games held at Disney's ESPN Wide World of Sports Complex on Friday and Saturday, May 18 & 19, 2012. The State Summer Games are the single largest Special Olympics event held in Florida annually. More than 5,400 Special Olympics athletes, coaches, volunteers and family members from throughout Florida will take part in this two-day event.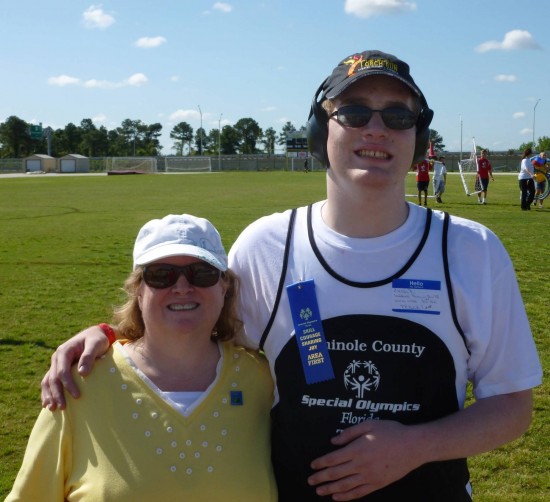 1,600 of the participants are athletes of all ages and skill levels that will compete in the various games throughout the weekend. Preliminary competition for the State Games will be held on Friday, May 18 from 2:00 – 4:30 p.m. and final competition in all sports will be on Saturday from 8:30 a.m. – 4:30 p.m. Volunteer positions are still available for Athletics (track & field), Bocce, Soccer, Tennis, Volleyball, Cycling (Saturday only), Meals, Opening Ceremonies, Healthy Athletes, and more. If you or your organization is interested in volunteering, please click here.
Special Olympics Florida Opening Ceremonies
Our son was able to participate in the State Summer Games a few years ago and will be participating again this year. One of the highlights of the weekend for us was the Opening Ceremonies. If you are in the Orlando area Friday, May 18, I wholeheartedly recommend you take the time to attend these ceremonies. The Opening Ceremonies at Champion Stadium are free to the public and start at 8:30 p.m. and last until approximately 9:30 p.m. Make sure you arrive early so you have enough time to purchase souvenirs and get a good seat.
According to Special Olympics Florida, the Opening Ceremonies this year will feature:
A Parade of athletes
Remarks by Pam Bondi, Attorney General, State of Florida and Special Olympics Florida Board Member
Remarks by Mike Hansen, Director, Agency for Persons with Disabilities
A check presentation from Publix Super Markets by Tom McLaughlin Vice President, Publix Super Markets, Inc, Lakeland Division and Special Olympics Florida Board Member
The culmination of the 29th Anniversary Law Enforcement Torch Run, including remarks from Chief Deputy Dave Sklarek, Osceola County Sheriff's Office.
Fireworks
Although all aspects of the opening ceremonies were great, the culmination of the Law Enforcement Torch Run was to me the best part of the Opening Ceremonies when we attended a few years ago. This year, more than 300 law enforcement officers/deputies' vehicles, motorcycles and runners, representing an array of Florida law enforcement agencies, bring the five week-long statewide relay run to a close by escorting the Special Olympics "Flame of Hope" into the stadium. The "Final Leg" of law enforcement runners then pass the torch to Special Olympics Florida athletes who light the Special Olympics Florida cauldron. Words can't describe the sight and sound of the vehicles' and motorcycles' lights flashing, sirens wailing and the overwhelming scene of law enforcement personnel and Special Olympics Athletes lined up around the entire perimeter of the field at Champion Stadium. It is something you have to experience to understand just how amazing it is.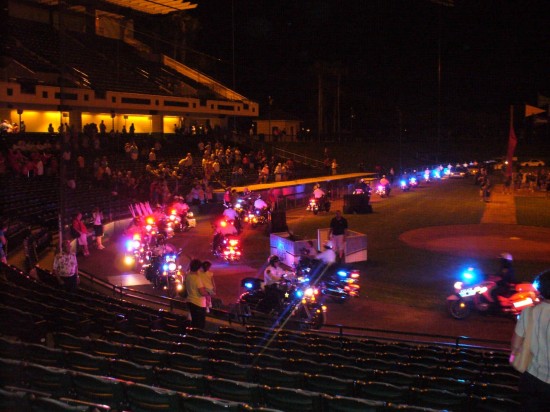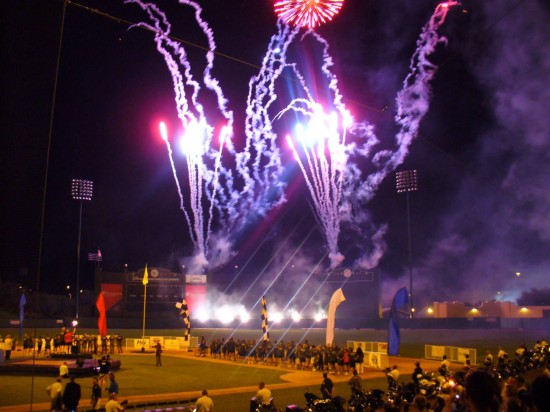 I hope you can attend some aspect of the Special Olympics Florida State Summer Games the weekend of May 18 & 19, 2012. If you can't attend, follow me on Twitter, I'm sure I'll be updating my followers frequently throughout the weekend, because I'm A Fan. For more information on Special Olympics Florida, visit www.specialolympicsflorida.org.
Photo gallery
Click any image to view it full-screen. When the full-screen image is open, click to the right or use the right arrow on your keyboard to advance through the gallery. If several thumbnails are missing, try reloading this page in your browser.
[sws_author_bio user="MaureenDeal" size="105″ authorposts="More OI posts by Maureen" name_format="About the author"] [/sws_author_bio]